The little brother to the 6800 GT and 6800 Ultra comes out to play in this review. Read on to see how the Leadtek Winfast A400 TDH performs in todays newest benchmarks and games.
Introduction
---
Being the older brother in my family, I have always seemed to pick on my little brother, from as far back as I can remember.  I had always thought that being the little brother probably sucked while growing up.  But Leadtek has changed my mind about that.  The Winfast A400 TDH, their name for the GeForce 6800, makes being the little brother not so bad after all.
There are a few differences that separate the vanilla 6800 from its older brothers the GT and Ultra.  For one, the 6800 only has a 12-pipe GPU architecture, compared to 16 in the GT and Ultra.  The 6800 also sports only 128MB of DDR RAM, opposed to the 256MB of DDR3 its older brothers have.
With a core speed of 325Mhz and an effective RAM clock of 700Mhz, the A400 is well on its way to running the latest games at the resolutions and frame rates you crave.  Read ahead to see how Leadtek's A400 TDH fares against last generations technology.
Features and Specs
---
Features
3 Air-Surround Cooling System
TV-out Support
Full-version Game Bundle(Prince of Persia & Splinter Cell)
Video-editing software bundle(DVD Player, WinFox II, Cult 3D)
Full Accessories pack
1st to support Shader Model 3.0 – a must have function for future game development
Breakthrough 64-bit Blending & Filtering – a must have for ultra-realistic animation creation
Superscalar 12-Pipe GPU Architecture
CineFX 3.0 Engine
UltraShadow II Technology
Intellisample 3.0 Technology
Unified Driver Architecture (UDA)
0.13 Micron Process Technology
Specs
NVIDIA GPU:  6800
Form Factor:  1-slot
Clock:  325Mhz Core/700Mhz Memory
Memory:  128MB DDR1
Output:  DVI, VGA, TV-Out
Data Bandwidth:  256-bit
Superscalar GPU Architecture:  12
Graphics Core: 256-bit
Memory Bandwidth:  22.4GB/sec
Fill Rate:  3.9 billion texels/sec
Vertices per Second:  406 million
Memory Data Rate:  700Mhz
Pixels per Clock (peak):  12
Package Contents
---
Winfast A400 TDH
Instruction Manual
Quick Install Guide
Driver and Utilities CD
Splinter Cell: Pandora Tomorrow DVD
Prince of Persia: The Sands of Time
DVI to VGA Adapter
A/V Cable
S-Video Cable
Detailed Look
---
Packaging
The retail box that my A400 shipped in features a wizard-type character that is found on all of Leadtek's latest A400 series graphics card boxes.  Showing off the included games on the front is a good tactic for retail outlets, because who doesn't like a nice bundle with their new graphics card?  The back of the box details some of the features of the A400, and has a lot of good information.
Detailed Look
---
WinFast A400 TDH
The first thing I noticed when inspecting the A400 is its large cooling aparatus.  The A400 features a dual-heatsink cooling solution that places a heatsink on the top and bottom of the card.  The bottom heatsink is more for looks, as there are no memory modules to cool on the bottom side of the card.  Unless Leadtek is trying to cool the memory by cooling its pins on the bottom of the card, this heatsink is a waste of material, and may have been able to lower the price of this card if removed.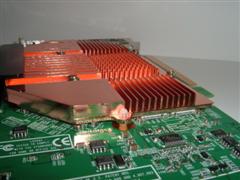 The fan on the A400 is not very loud when under the control of the video card drivers, but when booting up, this fan is a real screamer.  A grill for the fan helps to keep some of the dust off the blades, to ensure a longer lasting, quiet fan.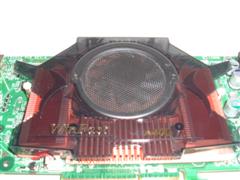 Power for the A400 is supplied via a single Molex connection towards the rear of the card.  This type of power connection is not going anywhere anytime fast, so get used to supplying your video card with its own dedicated power connection.  A power supply with at least 300 watts is recommended.
Connecting the new video card to your display should be a breeze with the A400's DVI, VGA, and S-Video output connections.  The included DVI to VGA adapter allows for easy hookup of two analog displays.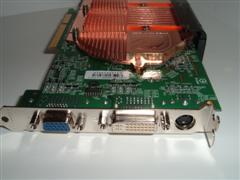 With the A400, there is no need to sweat over the amount of PCI slots to be used up.  The A400 only uses one slot, but it is always a good idea to leave a couple slots below your graphics card empty for proper cooling.
Benchmarks
---
To really see how the Leadtek's 6800 stacks up against the previous generation's technology, the A400 will be competing with a BFG GeForce 5950 Ultra.  The BFG core runs at 475Mhz and has an effective RAM clock of 950Mhz.  With 128MB more RAM, the 5950 was a force to be dealt with at its peak.  Generic benchmarks like AquaMark3 and 3DMark05 are always a good way of showing off your rig's power, but these benchmarks do not always reflect the performance of real game engines like the DOOM 3 engine and the new Source engine (used in Half-Life 2).  To test these two new engines, I will be benchmarking with id Software's DOOM 3 and Valve Software's Counter Strike: Source.
For both cards, the official NVIDIA 66.93 drivers were used, with settings for Antialiasing and Anisotropic Filtering being application controlled.
Test System
AMD Athlon64 3200+ (2.2Ghz, 512k L2 Cache)
Biostar K8VHA Pro
Corsair XMS 3200 RAM 1x512MB
Maxtor 120GB HDD
Lite-On 4xDVD+-RW
Antec True 430 power supply
AOpen A600 case
NVIDIA 66.93 Drivers
AquaMark3
1024×768 – noAA/4xAF, very high

Videocard

FPS

BFG 5950 Ultra
46.06
Leadtek A400 TDH
55.16
3DMark05
1024×768 – default settings

Videocard

3DMark05 Score

BFG 5950 Ultra
1276
Leadtek A400 TDH
3362
Source Stress Test
1024×768 – noAA/noAF, high detail, reflect world

Videocard

FPS

BFG 5950 Ultra
117.21
Leadtek A400 TDH
136.42

1600×1200 – noAA/noAF, high detail, reflect world

BFG 5950 Ultra
58.79
Leadtek A400 TDH
80.03
Source Stress Test
1024×768 – 4xAA/8xAF, high detail, reflect world

Videocard

FPS

BFG 5950 Ultra
76.25
Leadtek A400 TDH
115.42

1600×1200 – 4xAA/8xAF, high detail, reflect world

BFG 5950 Ultra
36.82
Leadtek A400 TDH
26.03
DOOM 3
1024×768 – noAA/noAF

Videocard

FPS

BFG 5950 Ultra
54.1
Leadtek A400 TDH
86.1

1600×1200 – noAA/noAF

BFG 5950 Ultra
26.1
Leadtek A400 TDH
52.0
DOOM 3
1024×768 – 4xAA/8xAF

Videocard

FPS

BFG 5950 Ultra
38.5
Leadtek A400 TDH
58.5

1600×1200 – 4xAA/8xAF

BFG 5950 Ultra
18.3
Leadtek A400 TDH
22.4
As you can see, the A400 tops the top of the line from last generation in every test.  Being just the normal 6800, you can expect to see even better numbers from its big brothers, the GT and Ultra.
Overclocking
---
BFG's 6800 OC core comes overclocked 25Mhz from the factory and Bjorn3D's own Adam Erker was able to squeeze another 24Mhz from the core and a whole 48Mhz from the RAM, resulting in a final 374/745 combination.  Anxious to see if Adam's numbers were achievable with the A400, I set out to push the 6800 to the limits.  The included Winfox software is what I have chosen to overclock the A400 with.  Sure, there are other choices like Coolbits and Riva Tuner, but why not just use the software from the card manufacturer?
After slowly making my way up the megahertz scale, I finally reached a 375Mhz core clock and 750Mhz memory clock, the same clocks Adam reached on his 6800 OC.  These increases in speed did help out in the benchmarking some, but the differences are very hard to see with your own eye in gaming situations.  Below are the AquaMark3 and 3DMark05 scores obtained with the overclocked Winfast A400 TDH, as well as the stock clock scores.
AquaMark 3
1024×768 – noAA/4xAF

Videocard

FPS

Leadtek A400 TDH (325Mhz Core and 700Mhz Memory)
55.16
Leadtek A400 TDH (375Mhz Core and 750Mhz Memory)
59.12
3DMark05
1024×768 – default settings

Videocard

3DMarks

Leadtek A400 TDH (325Mhz Core and 700Mhz Memory)
3362
Leadtek A400 TDH (375Mhz Core and 750Mhz Memory)
3773
The few extra frames picked up in Aquamark 3 and the couple hundred 3DMarks gained from the overclocking of the A400 TDH show that there is some performance increase at a higher clock, but don't count on a huge improvement on the visual quality or framerate from your overclocking.
Included Software
---
The included software bundles that come with video cards these days can often be the winning combination for card manufacturers looking to beat out their competition.  Leadtek has included a decent bundle with their A400 TDH; one that includes many handy applications and utilities, as well as a few games.  The only thing I think Leadtek may want to change with their bundle is the number of games.  There are many videocard manufacturers that include more than two games.
Also included with the drivers and manual on one CD are the following appliations and utilities:
Colorific True Internet Color – Used to ensure proper colors on internet pages
Muvee 3 – Video editing software
AGP Update – Application for updating AGP
Winfast DVD – DVD playback software
Coloreal – Used to ensure proper colors on internet pages
DirectX
3Deep – Corrects lighting, shading and color in 2D and 3D applications
Cult 3D – 3D editing tool
Winfast PVR – Think Tivo
Winfox 2.0 – Special Leadtek software, including overclocking capabilies and other handy features
The games that come with the A400 are not just "no-name, cookie-cutter" games.  Leadtek put forth the effort to include both Splinter Cell: Pandora Tomorrow on DVD, and Prince of Persia: The Sands of Time.  Both of these games are sure to show off your new video card's power.
Conclusion
---
With a strong performance in multiple benchmarks, the Leadtek A400 TDH proves that being the little brother is not always a bad thing.  The A400's missing pipelines and slower clocks do not hold it back much, as it is able to put the hurt on last generation's highest performing videocards.
With a generous overclocking capability and great cooling performance, the A400 will also fit into the budget of the price watching gamer.  For around $280, this card is far from the top of the price list.
Pros
Looks great
One-slot design
Good performance to price ratio
Overclocks like a dream
Cons
Mediocre bundle
Excessive cooling solution on back of card
If you are in the market for a new videocard and cannot afford to pay the high prices for a top of the line card, the Leadtek A400 TDH offers great performance at a great price.  After many benchmarks and many hours of great looking gaming, I am proud to give the Leadtek A400 TDH an 8.5 out of 10.