Clever Power is a newcomer to the computer power supply scene. Bjorn3d reviews not one, but TWO of their PSUs to see if they offer a compelling value and if they bring a new features to the table!
Introduction
---
With ever more demanding hardware constantly appearing on the market, computer users are finding that ignoring the power supply is a serious mistake.  Fortunately, relative newcomer Clever Power Inc. is onboard with a new and innovative solution for your power needs.  Featuring a unique built-in power strip and surge protector, these nearly-silent power supply units offer a great value for those especially with limited power outlets or who already have jam-packed power strips.
Being a college student myself and having helped many of my fellow students with their computer problems in dorm rooms and apartments, this power supply certainly would have saved a ton of effort.  Anyone who remembers older PCs (I'm talking 8088/286, etc.) remembers the giant clunky power supplies that had a power outlet meant for a monitor.  You probably also remember how they required odd cables as well to do the trick; this likely was why they never quite caught on.  Clever Power's power strip, on the other hand, works with any standard power plug, which effectively eliminates any such hassle.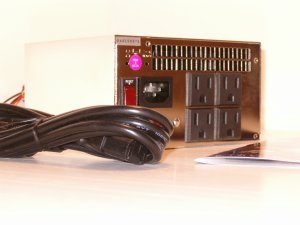 Thanks to the good folks at Clever Power Inc., I was provided with two review units:  The SPS-400 and SPS-500 power supplies.  They both look exactly the same to the eye; differences lie in their watt output which is 400W and 500W, respectively.
Packaging
---
Each provided review unit came in a colorful cardboard box complete with product photos and a model number table specifying which type is enclosed.  There are apparently different styles, but both units I recieved were configured with the same exterior style and features.
Opening the package reveals the the power supply and a full-color, printed glossy user's manual detailing the DC output load current ranges for each model, pinouts and layouts for each of the connectors (molex, floppy, SATA, ATX, etc), a tiny section on troubleshooting, and other miscellaneous information.  Certainly a rather impressive manual for a power supply!
Contents & Appearance 
---
Besides the user manual, Clever Power includes only a power cable and the power supply itself.  Fortunately, this is all you need…but if you have a server-style ATX board, no converter is included here!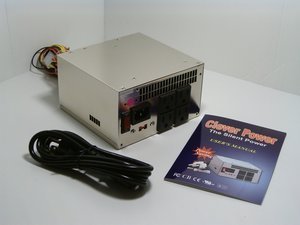 The power supply itself is sturdily built, and considerably heavy.  Some may take this as a general trend towards higher quality, and fortunately this trend is upheld with these power supplies.  If you are looking for trendy LEDs and dazzling casing then certainly this power supply is not for you (unless you are very handy with tools);  however, it still sports a simple and attractive glistening metal chassis that certainly won't detract from a setup.  If you click on the photo above, you will see that its sheen holds reflected surfaces quite nicely indeed.
Features & Specifications
---
Like usual, I always try to put together a quick lineup of the major features:
Plenty of power output for the most demanding applications

Built-in power strip with surge protector for more power outlets

Very silent operation, courtesy of a "smart" blower featuring a large 15cm fan

Serial ATA 2 power connectors

All Clever Power products meet or exceed newest INTEL® ATX 12V Ver. 1.3 specification.
Connectors included (standard on both power supplies):
6 x 4 pin peripheral plug (standard molex connectors)

2 x 4 pin peripheral plug (floppy connectors)

1 x 6 pins Aux plug

2 x Serial ATA Connectors
DC Output Load Current Range of SPS-400
DC O/P Load
Max
Peak
+3.3V (Amps)
28.0A
+5V (Amps)
40.0A
+12V (Amps)
20.0A
21.5A
-5V (Amps)
0.5A
-12V (Amps)
0.8A
+5VSB (Amps)
2.0A
2.5A
+3.3V & +5V Combines load: 225W; +3.3V, +5V & +12V Combines load: 380W
Total Maximum output power: 400W
DC Output Load Current Range of SPS-500
DC O/P Load
Max
Peak
+3.3V (Amps)
28.0A
+5V (Amps)
45.0A
+12V (Amps)
25.0A
26.5A
-5V (Amps)
0.5A
-12V (Amps)
0.8A
+5VSB (Amps)
2.0A
2.5A
+3.3V & +5V Combines load: 275W; +3.3V, +5V & +12V Combines load: 486W
Total Maximum output power: 500W
Usability and Performance 
---
In practice, this power supply installed simply and easily (just like any power supply should) and performed without any issues.  There are plenty of molex connectors (6 of them) so every device will be powered.  The dual SATA connectors further add to value, as a molex->sata convertor is not needed.
After installation of the PSU and testing of the computer to make sure everything functioned properly, I decided that it was time to test out the included power strip.  With the computer off, I plugged in the monitor into an outlet.  The monitor remained off even when I pressed its power switch, but upon power-up of the computer the monitor turned on.  Unfortunately, Clever Power didn't list this in their user manual; this would have been helpful to know.  The power strip is initialized only while the computer is powered up – I even shut down the computer to see what would happen, and it did indeed turn off all items connected to the power strip as well.  This is both good and bad.
First of all, this may not be good for some printers if connected.  It is always a good idea to turn off the printer by its own power switch/button, to allow the printer to "shut itself down" and prevent head dryout.  If the computer turns off without the printer being shut down properly, you could find the printer unusable at the next power-up.
Secondly, be careful what devices are connected.  I certainly wouldn't suggest connecting another computer to this power strip, as shutting down one computer would turn off the other.  Not good!  However, as long as you are careful and only connect things that are needed "per computer", you should be fine!  It certainly would be handy for college students, who are often plagued with lots of power strips and cables running to and fro.  My girlfriend's computer could certainly benefit from such a setup…having the computer, monitor, printer, cable modem, router, speakers, and a light all running off of two power outlets in the wall and a power strip is a little crazy.  In this case she could hook up the monitor and speakers to the back of the computer, cutting down on hassle.
How quiet is quiet?  Clever Power touts their power supplies as being silent.  In practical operation, I couldn't tell that the power supply was running unless I stuck my hand behind it to feel the air movement.  True that its sound output was overwhelmed by the hard disks and stock CPU fan, but even when I placed my ear near the PSU it was barely discernable.  This is due to a large blower in place, featuring a 15cm fan running in low RPMs.  Clever Power claims that the unit produces "less than 25 db of noise at full load, down to 18 db while system standby."  In other words, an internal thermal sensor within the PSU determines the airflow needed and throttles the fan accordingly.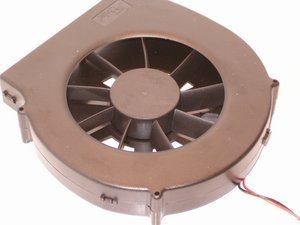 You can see the blower is indeed rather large and sucks up air from over the PSU's heatsinks.  This allows for good thermal efficiency while not compromising reliability.
Performance, Continued 
---
In order to give an idea of the power supplies' abilities to deliver power while under load, I set up a simple situation to stress my test system.  First, I loaded up nVidia's Grove demo (unfortunately the test system has a Geforce2 MX and that demo was about all it could handle) and cranked up the complexity.  I then loaded up http://www.planetside.co.uk and set up a map to render (to push the CPU).  The final step…I had 2 hard drives already hooked up to the system and powered up, and 4 more sitting ready.  I hooked up 2 of the 4 to a Y splitter, and plugged it in (hereby having the load of spin-up).  I then hooked up the last two immediately.  I recorded the effects of the load with Motherboard Monitor 5.3.7.0 .
Below is are the results obtained using the 400w unit.  The additional system load hardly dented its performance.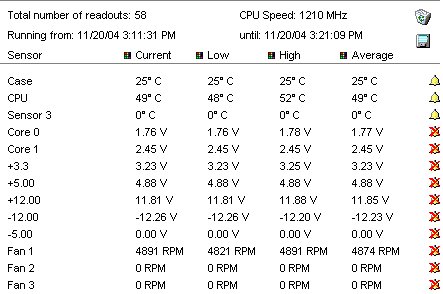 Here are the results from the same testing done with the 500w version.  The voltage differences varied even less than before.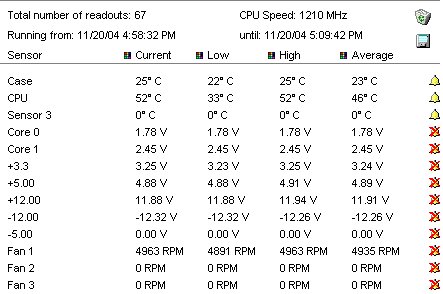 The + rails are all a tad low, but remember that this is being read with software so it may be a tad off.  In all my testing, stability has been no issue.  There are a few areas where I can see a need for improvement, but otherwise Clever Power has put together a very solid package.
Conclusion
---
For being a new face in the computer power supply market, Clever Power certainly has delivered quite a compelling product.  Although the product may not have a clear casing, LED studded lights, or other fancy frills, it still looks sharp and feels solid.  The feature list is sure to impress, especially in tight power circumstances were the built-in power strip is of use.  Finally, by including plenty of power connectors (and SATA) Clever Power has made certain that you won't find yourself in tight circumstances within your computer either.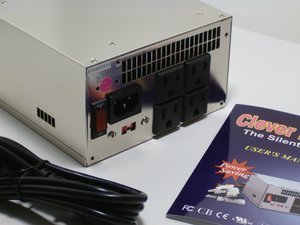 The very biggest issue, unfortunately, seems to be finding these in stores.  The brand is proliferating, however, and I suspect to see it around more and more as demand goes up.  Right now only a handful of online retailers seem to have the item.
Good performance combined with whisper-soft operation further contribute to the package.  Add in the fact that these power supplies come in 500W, 400W, and 300W varieties and you have a sure fire winner for all ends of the user spectrum.  I award both units a "very good" 7.5 because they bring both innovation (the built-in power strip) and performance to everyone!
Rating:








(7.5/10)
Price: $44.95 at ioCombo.com for the 400w model (SPS-400), $69.95 at SharkA Computers for the 500w model (SPS-500)
Pros:
+Shiny, polished finish
+Solid construction
+Built in surge protected power strip
+Reasonable prices
+Good performance
Cons:
–Some risks associated with auto power-on/off power strip
–Looks are spartan when compared to other PSUs
–Still a bit hard to find
–Only one color at this time, but a black-matted version is due out soon!