The AG8 motherboard from ABIT is based on Intel's 915P chipset and includes plenty of nice features, like ABIT's innovative µGuru utility, four SATA ports, three IEEE1394 ports, 5.1 audio and more. Check out how this board compares to its big brother, the ABIT AA8 DuraMAX (a 925X board).
Introduction
---
ABIT is one of those companies that people seem to continually expect a lot from. When so many enthusiasts flock towards ABIT's products, that's bound to happen. Enthusiasts expect and demand more, and ABIT delivers that time and time again with abundant tweaking options and innovative features. A company like ABIT is good for all of us really, as it makes other companies think about innovation and staying ahead of the game as well.

One of ABIT's more interesting innovations, µGuru, can be found in its latest Intel LGA775 motherboards. As one might expect, ABIT offers several flavors of both 915-based and 925-based boards. I first looked at ABIT's flagship (at the time) 925X mainboard, the AA8 DuraMAX, a couple months ago. Now, for my second LGA775 board review, I'm taking a look at one of its close relatives, the AG8.
Like the AA8 DuraMAX, the AG8 features the feature-packed ICH6-R southbridge, which means it includes four SATA ports and Intel's SATA Matrix RAID. The AG8 uses the 915P northbridge though instead of the 925X found on the AA8 DuraMAX. Another major difference between the two boards is that the AG8 only supports DDR while the AA8 only supports DDR2. Read on to find out how the AG8 compares in performance to the AA8 DuraMAX.
Features, Specifications and Bundle
---
Features
µGuru
µGuru is a new microprocessor designed by the ABIT Engineers for use only on ABIT motherboards. µGuru combines the ABIT Engineered features ABIT EQ, ABIT FanEQ, ABIT OC Guru, ABIT FlashMenu, ABIT AudioEQ and ABIT BlackBox into a user-friendly interface providing users the perfect environment with which to maximize performance and stability.
Serial ATA 150 RAID
Serial ATA is an evolutionary replacement for the Parallel ATA storage interface. This new high-speed interface boosts data transfer rates to up to 150 MB/sec. More flexible power tolerances allow for smaller and more efficient cables.
IEEE 1394
Supports 400/200/100 Mb/s data transfer rate, let you easily connect to most kinds of Digital Video and Digital Camera.
6-Channel Audio and S/PDIF In/Out interface
Lets you enjoy 6-channel audio without having to buy advanced sound cards.
Gigabit LAN
Lets you easily connect to the world wide web at high speeds without having to buy a separate 10/100/1000 Ethernet card.
Overall, the features on the AG8 are pretty nice. µGuru is a cool and unique touch, and I'm sure some users will appreciate and enjoy using it. You can read a little more about it in my ABIT AA8 DuraMAX review if you want or go to ABIT's site to learn more. One of the biggest things to note as far as basic features are concerned when comparing the AA8 DuraMAX and AG8 is that the AA8 DuraMAX includes 7.1 audio while the AG8 only includes 5.1 sound.
Specifications
LGA775 CPU Socket
* Designed for Intel® 90nm Prescott LGA775 processors with 800/533MHz FSB
* Supports Intel Hyper-Threading Technology

Express Chipset
* Intel 915P / Intel ICH6R Express Chipset
* Supports Hi-Speed Universal Serial Bus (USB 2.0)

Flexible Memory
* Four 184-pin DIMM sockets (Un-buffered Non-ECC DIMM)
* Supports Dual channel DDR 400/333 (Max. 4GB)

PCI Express x16 graphics
* PCI Express x16 graphics delivers up to 8GB/s per direction for 3.5 times more bandwidth than AGP8X at 2.1GB/s

PCI Express x1 I/O
* PCI Express x1 I/O offers 500MB/s concurrently, over 3.5 times more bandwidth than PCI at 133MB/s

SATA Matrix RAID
* Four ports SATA 150 RAID 0/1, deliver higher performance and data protection
* Supports SATA AHCI, providing native command queuing and native hot plug

6 Channel Audio
* On board Theater-class 6 Channels Audio
* Professional digital audio interface supports auto jack sensing and optical S/PDIF In/Out

IEEE 1394
* Supports 3 Ports IEEE 1394 at 100/200/400 Mb/s transfer rate

Gigabit LAN
* On board GbE Gigabit LAN controller supports 10/100/1000 BASE-T Ethernet

Internal I/O Connectors
– 1 x PCI Express x16 slot
– 3 x PCI Express x1 slots
– 2 x PCI slots
– 1 x Floppy Port supports up to 2.88MB
– 4 x SATA 150 Connectors
– 1 x Ultra ATA 100/66/33 Connector
– 2 x USB 2.0 headers
– 2 x IEEE 1394 headers
– 1 x FP-Audio header
– 1 x CD-IN

Back Panel I/O
– 1 x PS/2 Keyboard, 1 x PS/2 Mouse
– 1 x Serial Port connector, 1 x Parallel Port connector
– 1 x S/PDIF IN/OUT
– 1 x Audio connector (Center/Subwoofer, Rear Surround)
– 1 x Audio connector (Line Out, Line-in, MIC-in)
– 2 x USB Connectors, 1 x IEEE1394 Connector
– 2 x USB Connectors, 1 x RJ-45 GbE LAN Connector

Miscellaneous
ATX form factor (305 x 245 mm)
For more info on the AG8, go here and here.
Bundle
AG8 standard User's Manual x 1
B5 multilingual Quick Installation Guide x 1
uGuru Introduction x 1
Jumper Setting Label x 1
Installation CD x 1
SATA Utility Disk x 1
SATA cable x 4
ATA IDE Cable x 1
FDD Cable x 1
USB2.0 + IEEE 1394 bracket cable x 1
I/O shield x 1
The bundle is far more practical than it is impressive, but ABIT does include some nice touches, like actually including one SATA cable for every SATA connector on the board (four in total). The included manuals are decent, and the included I/O shield is the typical cheap, flimsy type I've come to despise.
Board Layout
---
Just like the AA8 DuraMAX, ABIT does a nice job on the layout of the AG8. I didn't run into any annoying issues while installing this board and setting up the test system.
One of the best things that ABIT did with this board was to include cooling on both the northbridge and the southbridge. The southbridge only includes a heatsink, but that should be plenty. Innovation was put into cooling the northbridge though. ABIT slapped a nice little fan and heatsink on that puppy, and the fan is mounted vertically and not horizontally on top of the chip, as is more common. With the fan sideways, air will blow across the hot chip instead of down onto it, which should be more efficient.
ABIT allows plenty of clearance around the CPU socket for large coolers. The retail Intel HSF fits easily. The board features a PCI-Express x16 slot for graphics (the long black slot) and three PCI-Express x1 slots for add-in cards (the short black slots). Additionally, two regular PCI slots are included on the AG8. My only suggestion in this area would be for ABIT to use a different style of locking mechanism for the PCI-Express x16 slot. The style of the locking lever on this board is definitely the most common for AGP slots, but I hope it won't be the most common for PCI-Express x16 slots, as they can be a real pain to push down when your video card has a large heatsink that gets in the way.
The AG8 also includes four DDR DIMM slots, which can take a total of 4GB. It's nice to see that ABIT color-coded each memory channel (the AG8 is of course a dual-channel DDR motherboard). One channel is a light purple, and the other is blue. Just like the AA8 DuraMAX, the AG8 only includes one Ultra ATA 100/66/33 connector, but SATA users will be happy to see four SATA connectors all huddled together in one of the corners. In this corner, you can also see the µGuru chip, and the two-digit POST code display, which should be helpful should you ever need to troubleshoot a problem with this board.
Test Setup and Overclocking
---
Just like ABIT's AA8 DuraMAX that I reviewed a couple months ago, the AG8 is set at a default front side bus (FSB) clock of 204MHz. While the AA8 DuraMAX has a default CPU to memory ratio of 3:4, the AG8's is set at 1:1. I will be comparing these two boards at their default settings, which gives a slight edge to the AA8 DuraMAX because its memory is set at 542MHz with that 3:4 ratio. The AG8, on the other hand, has a default memory clock of 408MHz. For what it's worth, there is no option in the AG8's BIOS to set a 3:4 ratio. The memory timings for the AA8 DuraMAX, which was using Corsair Twin2X1024-5400 PRO DDR2, were 4-4-4-12, and the timings for the AG8, which was using Corsair Twin1024-4000 PRO DDR, were 2-4-4-7.
You may be wondering why I used DDR2 with the AA8 DuraMAX board and DDR with the AG8. Well, the AG8 doesn't support DDR2, and the AA8 DuraMAX doesn't support DDR. The AA8 DuraMAX is based on Intel's 925X chipset while the AG8 is based on the 915P chipset. Some 915 boards do support both DDR and DDR2, but ABIT didn't take that route with the AG8. At least you don't have to buy new RAM if you switch to the 915 platform!
| | |
| --- | --- |
| Test System Configuration – AG8 | Test System Configuration – AA8 DuraMAX |
ABIT has catered to overclockers for years, and I was expecting at least decent results from the AG8 in the overclocking department. Unfortunately, I wasn't so lucky in my attempts to squeeze more juice out of this board. Even after bumping the voltages up considerably, I didn't get a stable overclock past 220MHz FSB. I'm not sure if I was just being limited by the chipset or if something else was holding the system back. I have seen others get better results, but mine are nothing worth bragging about.
To test the performance of the AG8, I ran the following tests: SiSoftware's Sandra 2004 SP2b (CPU Arithmetic, CPU Multi-Media, Memory Bandwidth and File System), Futuremark's PCMark04, Bapco's SYSmark 2004, Super PI, POV-Ray 3.6, AquaMark3 and Futuremark's 3DMark03.
Performance – System
---
It is not surprising that the AG8 falls behind the AA8 DuraMAX when it comes to memory performance since the AA8 DuraMAX has a higher default memory clock. But, I was curious how this difference would affect other benchmarks. For the most part, the AG8 holds its own against the AA8 DuraMAX in other benchmarks, which you can see if you take a look at the comparison graphs below.
SiSoftware Sandra 2004 SP2b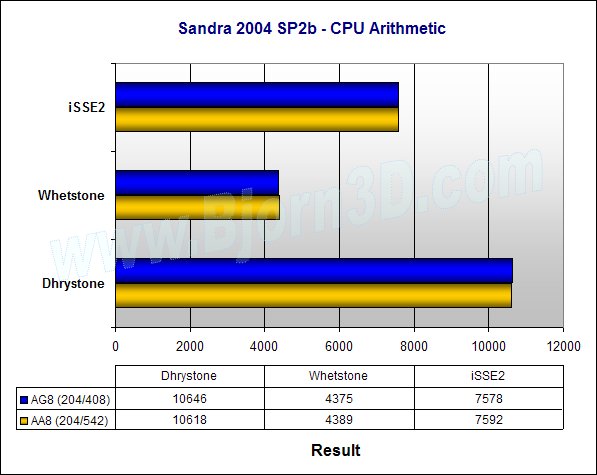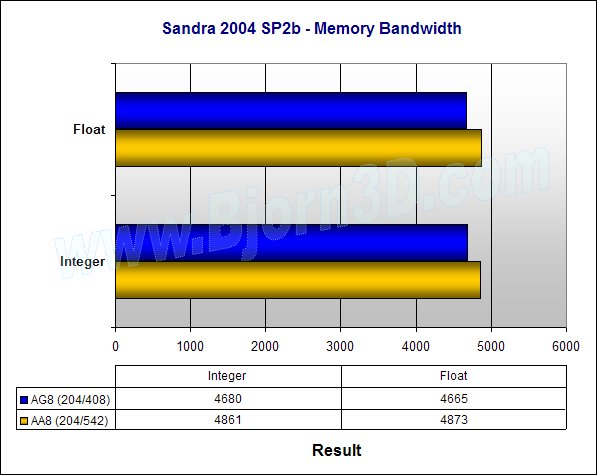 The Sandra results show exactly what I was talking about. In CPU performance, the AG8 performs equally when compared to the AA8 DuraMAX. However, the AG8 falls behind in memory bandwidth. You can bet that the AG8 would put up similar numbers if clocked the same as the AA8 DuraMAX, no doubt about it.
Futuremark PCMark04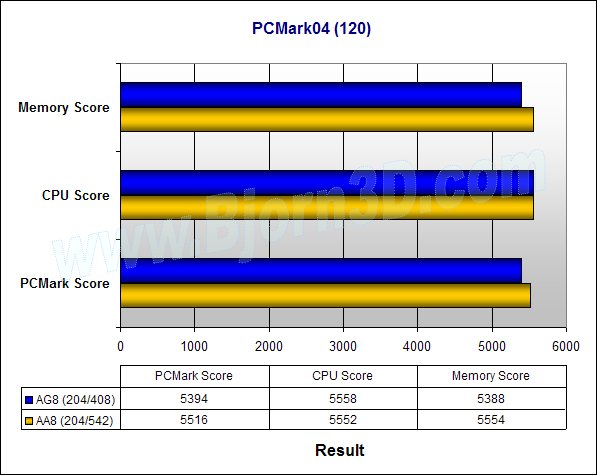 PCMark04 shows the same thing that Sandra did, so no surprises here at all.
Performance – System (cont'd)
---
Bapco SYSmark 2004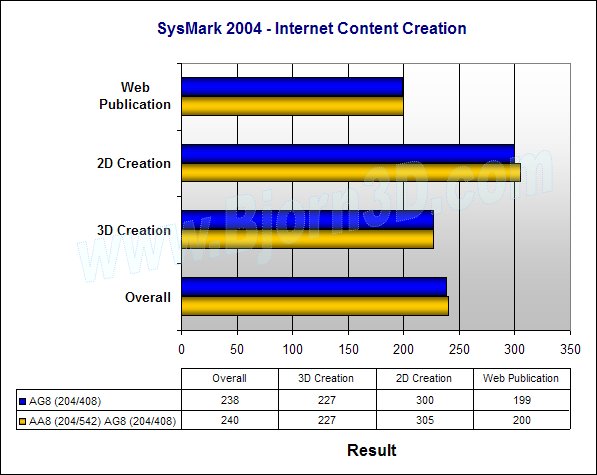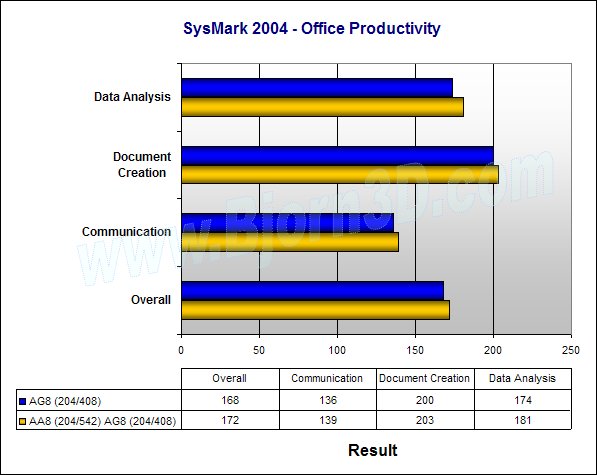 The AG8 doesn't quite keep up with the AA8 DuraMAX in SysMark2004, but it is not too far behind.
Super PI and POV-Ray
The Super PI benchmark calculates the number pi out to a specified number of digits. I selected the highest option, 32 million. This benchmark really tests the CPU more than anything, so close results should be expected, and that's exactly what we see. The two boards put up identical numbers.
Super PI – 32M

Mobo
Result

AA8 (204/542)

30 min 11 sec

AG8 (204/408)

30 min 11 sec
Another CPU-intensive benchmark that I ran is POV-Ray 3.6 (Persistence of Vision Ray-Tracer). POV-Ray is a freely available tool that can be used for ray-tracing, and it has a built-in benchmark capability, which is what I used for this comparison. Some how the AG8 edges out the AA8 DuraMAX in this benchmark!
POV-Ray 3.6

Mobo
Result

AA8 (204/542)

88.80 PPS

AG8 (204/408)

89.77 PPS
Performance – Gaming, Audio and File System
---
Although a little unorthodox for a motherboard review, I decided to compare the boards' performance with high image quality settings rather than disabling them. I prefer to see how they rank against each other at settings that I'd actually use rather than lower ones.
AquaMark3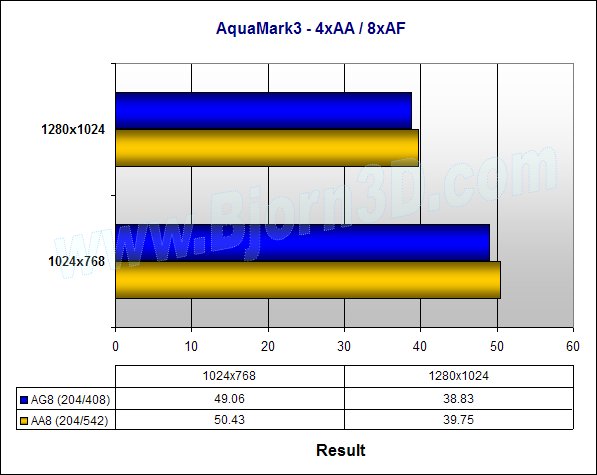 Futuremark 3DMark03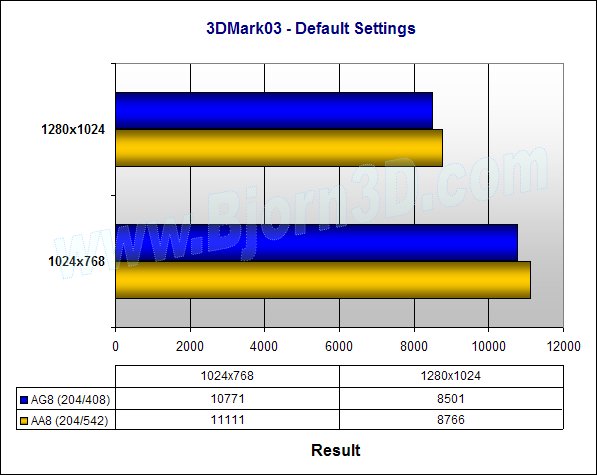 The AA8 DuraMAX beats the AG8 by a slight margin in both of these benchmarks, but I think it is at least due in partly to the higher memory clock.
Audio
ABIT uses Realtek's ALC658 codec on the AG8 to offer 5.1 sound. This AC'97 audio codec is inferior to the HD audio codec (Realtek's ALC880) found on the AA8 DuraMAX, but it still provides decent sound.
Thanks to the digital optical output on the board, hooking up the onboard sound to my Logitech Z680 speakers was quick and easy. During gameplay, the sound was pretty good. Overall, I'd be happy enough to just use the onboard sound.
File System
I ran some simple hard drive benchmarks, like the Sandra File System test, and the AG8 performs as expected. While the AA8 DuraMAX scored 94MB/s in the test, the AG8 score 95MB/s. Other tests showed similar results – the two boards are equally capable when it comes to drive performance. Obviously, the fact that the systems were set up in RAID 0 explains how they scored such high marks.
Conclusion
---
Overall, ABIT's AG8 is a good 915P offering. I'm not sure why I didn't have better overclocking results, but I'm not really comfortable blaming the disappointment on the board since I have yet to have an excellent overclocking experience with my current LGA775 processor. I have read about other users getting the FSB well over 240MHz and some even as high as 280MHz. This was with different components though.
There is a lot to like about the AG8. During my testing, the board was very stable. Additionally, it has a lot of tweaking options in the BIOS, but you can tweak within Windows if you want to take advantage of the µGuru feature and its software utilities. In addition to µGuru, ABIT packs in other nice features, like 5.1 audio, four SATA ports, Intel's Matrix RAID, three FireWire ports and gigabit LAN.
The AG8 can be found for around $125 ($127 at Newegg and $129 at ZipZoomFly) according to our PriceGrabber search. This is a fair price, and one I wouldn't mind paying for this board.
Pros:
+ Good performance
+ Affordable
+ Nice features
+ Stable and easy to work with
Cons:
– Doesn't have HDA (High Definition Audio)
Final Score: 8.5 out of 10