The LX 501 has it all: ergonomic ultra flat design, user oriented function keys, grade "A" optical mouse with scrolling tilt-wheel and application switch button, wireless range up to 6 feet and most importantly maximum efficiency — a key factor when it comes down to productivity. Whether you work in your office or at home, you need to be efficient. With this combo you will open and control your applications with one single button just under your fingertips.
Introduction
For those that don't know, Logitech manufactures personal interface devices — call it peripherals if you like though the company recently broadened its product lines. Mice, keyboards and the like are no longer the only products. You will find a wide variety of devices ranging from headphones to cameras and full fledged sound systems. I must say I've been always impressed by Logitech products — the company makes truely competitive entertainment solutions for both home and office use. Today we will be looking at the Logitech Cordless Desktop LX 501. Call me old-school, but I was never a fan of multimedia keyboards nor wireless devices. I'm a gamer and few years back wireless technology was not as mature as it is today. The LX 501 however is a very slick combination when it comes to functionality and usability. For the past two weeks of using this combo I've been starting to like it. To the best of my knowledge LX desktop models are available in Europe as well as North America. Kind regards to Logitech Poland for sending us a sample.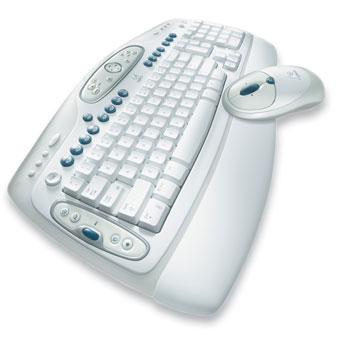 Features
There are two versions of Logitech's LX series — 500 and 501. The only difference is the color however (500 being dark blue with black keys and 501 white). The blue model looks more appealing in my opinion, but that's really one's preference. Did I mention the keyboard comes with an optical mouse? It does, and it's very neat too!
Okay so let's check out some of the features carried by Logitech's Cordless Desktop LX 501.
Ultra-flat profile with Zero-Degree Tilt: Striking new keyboard design delivers ergonomic comfort — without changing the way you work.
New Logitech® Media Life™ software: Bring together your digital pictures, video clips, and music playlists in a single bold interface with easy navigation.
Sleek keyboard controls: Control audio/video playback, launch Microsoft Office applications, and more… or reprogram the buttons to do whatever you want.
One-touch communications: Access email, activate a webcam, launch your instant messenger, and even change your online IM status… all with just a click of a button!
Powerful two-handed navigation:  Keyboard scroll and zoom features complement the scroll, pan, and zoom on the optical mouse to make using your computer more convenient, more efficient, and more comfortable.
Higher standard of comfort and style: Precision refinements to key shape, feel, identification, and layout make keystrokes effortless and sure.
Secure, reliable cordless technology: Encrypted wireless technology avoids interference for completely reliable performance with no cord clutter, and Fast RF gives crisp, immediate mouse response.
Premier optical mouse technology: Smooth, precise tracking on a wide range of surfaces.
Enhanced mouse features: Use Logitech's Tilt Wheel Plus Zoom scroll anywhere in a document (up, down, side-to-to-side) without going to a scroll bar, then shift to zoom mode with one click. Also the mouse is sculpted to fit either hand.
Technical Features:
Dual channel
Optical 800 DPI resolution
Range: up to 6 feet
Transmission rate: 6 kbps
 System Requirements:
IBM-compatible PC
Windows 98 SE, Windows ME, Windows 2000, or Windows XP
1 USB port or 2 PS/2 ports
CD-ROM drive
Let's take a look at packaging and bundle.
Packaging and Bundle
The packaging itself is pretty big (size-wise of course), but it's understandable if you want to make sure everything stays intact. The bundle is standard, although let's take a peek inside. I'd like to praise Logitech for including 4 top-brand AA batteries — this is something a lot of manufacturers will not do (keeping the costs at minimal).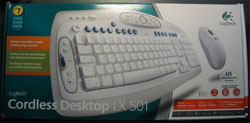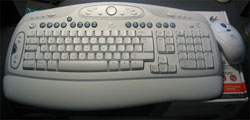 The box and two main components wooo!
Package contents:
Logitech Cordless LX 501 Keyboard
Logitech Cordless Click! Optical Mouse (with tilt-wheel)
Compact USB/PS/2 RF receiver
USB to PS/2 adaptor
4 AA batteries (2 for keyboard, 2 for mouse)
CD with software, comfort guidelines, and Help Center
Quick Start Guide
5-year limited hardware warranty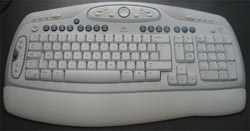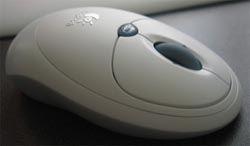 The keyboard and mouse. Click on images for larger pictures.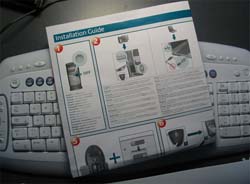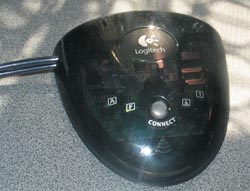 LX 501 comes with a nice Installation Guide in 16 languages. And the little black box you see on the right is the RF receiver.
The Quick Start Guide is in form of a poster. Inside you will find pretty straight forward instructions, even for a less knowledged individual. On the back side you will notice some troubleshooting tips, helpful if you are having issues with installation. Logitech also shows how to achieve proper wireless connection.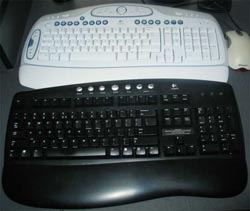 Top: Logitech Cordless Desktop LX 501, bottom: Logitech Internet Keyboard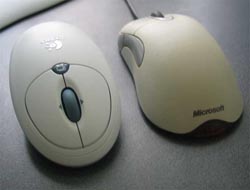 Left: Logitech Cordless Click! Optical Mouse, right: Microsoft IntelliMouse Optical
As you can see, the black Logitech Internet Keyboard is a more standard one with nicely situated 7 function buttons. Maybe it's hard to notice this on picture, but the LX 501 is a bit wider due to Navigation Controls on the left
Installation
In the case of our Logitech Cordless Desktop LX 501, there isn't much to say about installation. After unpacking the contents, I plugged in the cables from RF receiver into PS/2 ports (without first shutting down the PC, although Logitech recommends to do that first). Everything went smooth. I did not even have to hit the connect buttons on both devices. Albeit I did not follow the Quick Start Guide at all, both devices 'talked' to the receiver properly.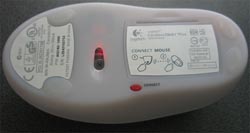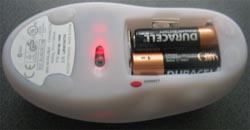 The mouse also has instructions on how to properly connect with RF receiver. Notice the little connect button.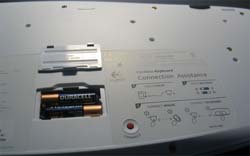 On the back of the keyboard you will notice a large sticker titled "Connection Assistance" Follow it if you are experiencing issues.
A little info about the receiver. There are four LEDs and a Connect button on the device. Each LED indicates function key status. For example (Going from the left we have: Caps Lock LED, Mode F LED, Num Lock LED, Scroll Lock LED):
When the Caps Lock LED is on, the alphabetic keys are typed in uppercase

When the Mode F LED is on, the F function keys are enable. When the LED is off, the enhanced F function keys is enable (Documents, Undo, Programmable key a etc.)

When the Num Lock LED is on, the numeric keys are enable on the numeric keypad. When the LED is Off, the secondary navigation keys are enabled (Home, Page Up, etc.)

When the Scroll Lock LED is on, the arrow keys behaves as a scrolling device (4 directions) in a document instead of changing the position of the cursor within it
Usage
When it comes to usage, there are really two sides to this story. First of all, I would not recommend the LX to a gamer — the mouse does not include side buttons which are essential, at least to me. While we are at it, the tilt-wheel works pretty good, it's kind of hard to get used to however. Clicking the wheel does require some effort, not that I have weak fingers or anything. I just think IntelliMouse has a nicer wheel. When it comes to ergonomics, I cannot get used to that mouse's particular design — it's totally okay though for office work.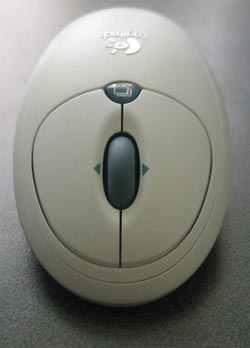 Logitech Cordless Click! Optical Mouse — standard two buttons, a tilting-scroll-wheel and a Quick Switch Application button.
One thing I like more about the Logitech Cordless Click! Optical Mouse is higher resolution. The mouse is very responsive. Now that we took care of the little one, let's have a look at the keyboard. First the layout.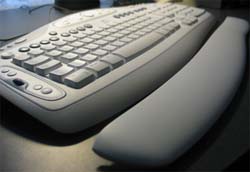 Wrist support is easily attached to the keyboard. All you need to do is slide it under until you hear a click.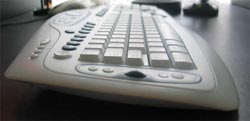 Nicely designed — notice the smooth rounded shape.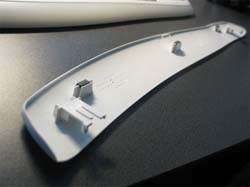 The bottom of the wrist support — equipped with rubber insets for better grip.
When it comes down to symmetry and style of the keyboard, Logitech sure spent some time polishing it up. The color scheme seems to be carefully chosen with a nice touch of white fluorescent (outer layer) as seen in the pictures above — this gives the keyboard a more attractive look. Focusing on the buttons, they are nicely designed, however I'm not fond with the F-keys being round-shaped (same with the Escape key). The problem is that you may have a hard time accessing them when playing games.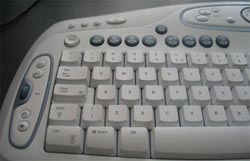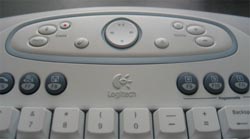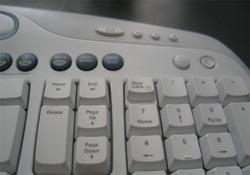 Left: Navigation Controls, middle:Media Controls, right: Real Time Communication Controls.
Looking at the function keys, there are ~36 all together (counting programmable buttons under F9-F12 keys). Not bad if you ask me. In order to take advantage of all of them you need to install the software from the included CD. From the first picture on the left you will notice Logitech's iNav, mainly for internet browsing. It includes the scroll-wheel, back / zoom / search and homepage buttons. If you look at the top left of the keyboard, you'll see additional 4 buttons — those are Digital Media Library keys and can open 'My Documents' or your favorite media application. In the middle picture above we have Media controls.  As the name implies they control your media applications. There are ten supported apps that work well with the keyboard. Next up are the Real Time Communication Controls. Using those keys you can open your e-mail client, instant messenger or a webcam. There is also a status button which lets you set away messages for your IM clients. Last but not least are the calculator and suspend buttons.
If you are used to standard keyboard layout, you will probably encounter problems while getting used to this one — like the F-keys or the position of Home / End / Delete / Page-Up and Page-Down buttons. It is totally different than on most keyboards. If you look at the picture on the right (above) you will see what I'm talking about. This has probably something to do with the width of the keyboard. The keys themselves are large and readable. The included wrist support is really a plus here, even though it's a Zero-Degree Tilt keyboard (Ultra flat design). If you are a journalist or just write a lot, you will definitely fall in love with this setup.
Conclusion
The Logitech® Cordless Desktop® LX 501 is basically the cheaper version of the Logitech® Cordless Desktop® MX™ series. Albeit both are wireless, the MX combo uses Bluetooth technology and includes the MX™900 Bluetooth Optical Mouse with a (rechargeable) docking bay. This is really a more budget friendly desktop product, but with all bells and whistles that the MX combo has.
The LX 501 has it all: ergonomic ultra flat design, user oriented function keys, grade "A" optical mouse with scrolling tilt-wheel and application switch button, wireless range up to 6 feet and most importantly maximum efficiency — a key factor when it comes down to productivity. Whether you work in your office or at home, you need to be efficient. With this combo you will open and control your applications with one single button just under your fingertips.
Although there are some small quirks (mostly with the design), the LX 501 is a very solid product. You will most likely find this combo very comfortable and easy to use, I know I did.
Pros:
+ Wireless
+ A lot of function keys
+ Cheaper than the MX
+ Ergonomic
+ Symmetrical mouse — for both right and left hands
+ Scrolling tilt-wheel with application switch
Cons:
– Might take long to get used to
– May not be suitable for gamers
Logitech® Cordless Desktop® LX 501 gets the rating of 8.5 (Very Good) out of 10 and the Bjorn3D Seal of Approval.