Check out the contest we are having for our 8th anniversary. Also, find a link to Bjorn3D's history in this article.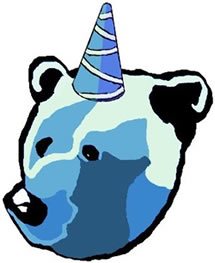 Happy Birthday, Bjorn3D.com!
Bjorn3D.com saw its roots in humble beginnings but over the years has grown to serve the enthusiast community in a powerful way.  To further commemorate the site's history, the founder, Bjorn, has created a through-the-years look at Bjorn3D.com history here.
As you can see, we have reason to celebrate.  Bjorn3D.com has held firm and grown where other similar sites failed, and we strive to continue moving forward.  Bjorn3D.com is known for giving back to the community; it has a forum where users can ask for assistance and enjoyment with the assurance that both plight and pleasure will not go unanswered.  We love giving readers and viewers an opportunity to win prizes through our fun, creativity-provoking contests.
This September, Bjorn3D.com turns 8 years old!  As a toast to a cheery past and a bright future, we've decided to throw a huge party here on the site.  That's right, folks – it's time for a contest!  Read on to discover how to partake in the birthday bash!
THE CONTEST
---
Join the celebration by sending us a greeting of some sort.  You could, for example, make a video showing us why you still visit Bjorn3D or how you promote Bjorn3D.com to others; you could help us create a new logo or write a Bjorn3D poem and let your hot blond 20-year old sister read it to us. Why not make a Bjorn3D modded computer case? Those are only a few ideas; the only limit is your imagination!
A birthday wouldn't be a birthday without gifts, and in this case, it is us who want to thank you all for supporting us and continuing to visit this site.  We've gathered up a bunch of very cool prizes for you all, and from all the submissions, we will award those who put forward the best effort and present the best greeting!
So what are you waiting for?  Let the celebrations begin!!
Contest Rules:
One entry per household.

No copyrighted material.

Video size limited to 20MB (contact the staff if you need help with this).

Deadline is 11:59PM EST on Sunday, September 26th.

Staff of Bjorn3D.com are not allowed to participate in the contest (although they are welcome to send in greetings).
All submissions should be done electronically by mailing us at [email protected] or by contacting us to get temporary access to an FTP site for uploading.
While you are working on the contest, you can discuss it in our Contest Forum.
How will we pick out the winners?
Since we have so many cool prizes, both small and big, we will judge the entries by a variety of criteria. While we don't want to spoil the fun by telling you everything, we can assure you that regardless if your entry is a small or big, has taken a lot of effort to do or less effort to do, you will all have a chance of winning one of our cool prizes.
The decisions regarding who gets the prizes are final and cannot be appealed.
OUR SPONSORS AND PRIZES
---
ATI has kindly supplied us with this prize:
---
BFG has kindly supplied us with these prizes:
---
Corsair has kindy supplied us with this prize:
---
Crucial has kindly supplied us with this prize:
---
Ideazon has kindly supplied us with this prize:
---
SanDisk has kindly supplied us with these prizes:
---
SilverStone has kindly supplied us with this prize: