Quakecon 2004 is in full effect and Bjorn3D is there to cover all the action. Take a look at our daily updates and see what's happening at the event.
Quakecon Day 1
---
We have arrived at Quakecon 2004, the uber gaming party and conference on the planet. The events are non-stop and there are a ton of things to see and do from gaming, product launches, and even private parties. No time to waste, let us take you on a tour of our first day here at Quakecon 2004.
We packed into a fairly small car early in the morning to make the five hour drive to Grapevine, TX to join in the fun of one of the largest LAN parties on the planet. Upon intial arrival we proceeded to the BYOC (bring your own computer) line to register for the LAN party. Surprisingly the line was not too long as we arrived early in the afternoon after much of the initial rush to get in. We setup our rigs, grabbed something to eat, and we were off to the Quakecon Kickoff Party hosted by NVIDIA.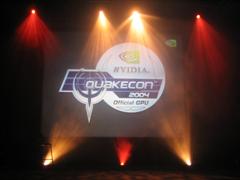 At the NVIDIA event hosted by Cat Schwartz from TechTV there were several announcements made concerning the new GeForce 6600 graphics cards and their entrance into the market. Ujesh Desai announced some of the specs for the new 6600 including it's ability to move the shader model 3.0 and the 64 bit floating point calculations to the lower end 6600 cards. That's putting the same technology of a $499 card to a card that is priced at $199. The 6600 has been tested to provide 43 fps on Doom3 at 1024×768 with 4xAA and 8xAF. That 43 fps mark is also met at 1600×1200 with AA and AF turned off.
You probably thought I was done, but it keeps coming with these guys. The 6600 is also much smaller than most of the recent NVIDIA cards and does not require any external power with it's PCI-E interface. There was also a demonstration of the 6600 running in SLI mode with another 6600 on levels from Doom3. All I can say is wow, this is a very powerful solution that will be available for around $400. They also mentioned that there is addional scalability in the works to allow maybe three or four cards working together. Yes folks, that's three or four GPUs working away inside your case. The potential is amazing for this technology. Initial specs for the 6600 have already shown it is more than three times more powerful than the FX5700 card from last year.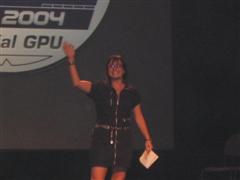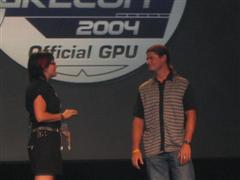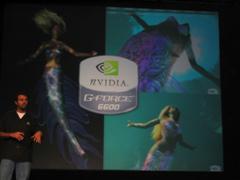 Yes, many of you may be wondering about Doom3 and the developers thoughts about its initial release and its success so far in the market. Todd Hollenshead, CEO of ID Software, predicted that Doom3 could very well be the largest initial release in North American PC gaming history when the numbers come in. Definitely great news from their camp. He also spoke a little bit about their next project that will be completely seperate from their powerful line of Quake, Doom, and other succesful games. This will more than likely be based around the Doom3 engine.
We had the chance to talk to a couple developers from RavenSoft at the NVIDIA party after the opening event here at QuakeCon. More specifically we were able to talk to a level designer and their Senior Sound Designer, Zach Quarles. We chatted with Zach about one of the most important and overlooked aspect of any game – audio. This has almost always been overlooked in many raves of games, until the recent release of Doom3. The following is a summary of our conversation.
Zach creates all those wonderful noises from the footsteps that gives away a player's position to a shotgun as you blow him away. From what we gathered he uses the best means necessary to create the best audio for us gamers including "the real thing" and synthesized sounds. Most of the time it's just playing a sound over and over tweaking it till it sounds just right. Best part about his job is when he is making noise everyone thinks he is working! His most recent works include Soldier of Fortune 2, X-men Legends, and is currently working on Quake 4. That's right, Quake4 is in the works, but were not able to get anymore information than that.
Stay tuned as we will continue to cover events here at Quakecon 2004. There will be much more to come and will have a roundup article shortly after the event ends. Until tomorrow, this is the Bjorn3D team signing off from Quakecon 2004 in Grapevine, TX.