Low latency, super fast, and overclockable. Sounds like a nice list of characteristics for your next memory upgrade. How does Kingston's latest offering add up on that checklist? Grab a pen and start marking them down.
Introduction
---
Remember that age old saying your parents used to drop on you when you might be making trouble. Yes, you know what I'm talking about…."If your friends jumped off a bridge, would you???!!!" Yeah mom, I have a date with the Golden Gate. Well as far as memory companies are concerned, if they do it you bet we are going to do it. Kingston is pulling this off nicely with their offering in the PC3200 low latency market. Yes, we are dropping the clocks down to 2-2-2-5 with a no holds barred speed war in full effect.
In this latest offering to the 2-2-2-5 market Kingston is throwing in their KHX3200ULK2/1G Dual-Channel memory kit.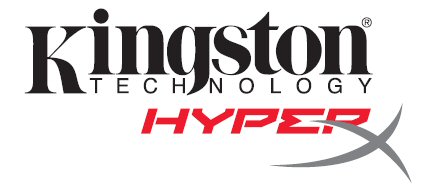 Specs and Features
---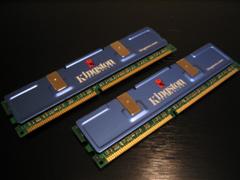 Here's a snippet of what Kingston has to say about their low latency memory in a press release.
"Kingston's HyperX modules are designed for the avid gamers and PC enthusiasts who like to maximize the performance of their systems to allow for the optimization of memory parameters. With the lower latency timings, enthusiasts can take their systems to a higher level with the increased performance provided by HyperX."
HyperX Features:
Power supply : Vdd: 2.6V ± 0.2V, Vddq: 2.6V ± 0.2V
Double-data-rate architecture; two data transfers per clock cycle
Bidirectional data strobe(DQS)
Differential clock inputs(CK and CK)
DLL aligns DQ and DQS transition with CK transition
Programmable Read latency 2 (clock)
Programmable Burst length (2, 4, 8)
Programmable Burst type (sequential & interleave)
Timing Reference: 2-2-2-5-1 at +2.7V
Edge aligned data output, center aligned data input
Auto & Self refresh, 7.8us refresh interval(8K/64ms refresh)
Serial presence detect with EEPROM
High Performance Heat Spreader
PCB : Height 1.250" (34.75mm), double sided component
The Kingston kit sports the classic blue colored heat spreaders across each module. Construction is solid as memory can be. I have had memory modules in the past that had a shimmy or wobble to their heat spreaders. I always found this was due to using flimsy or poorly attached clips to the heat spreader. There is no evidence of any kind of slack in the Kingston product. Solidly built for solid performance I always say.
Testing
---
For testing I used my MSI 865PE Neo2 Pentium 4 system. I have had great success at overclocking with this system and wanted to find the best performance possible for the RAM. Tests run during the performance testing were SiSoftware Sandra 2004 SP2, PCMark04, and 3DMark 2003.
For comparison I also tested the KHX3200ULK kit alongside the KHX4000K 1GB kit from Kingston. Along with the faster speed memory I tested the PC3200 kit at 2-3-3-6 as well as the 2-2-2-5 setting.
Test System:
Motherboard: MSI 865PE Neo2
Processor: Intel Pentium 4 2.4C
Vid Card: Leadtek 5900 Ultra
Hard Drive: WD 80GB 7200RPM
OS: Windows XP Professional w/ SP1
NVIDIA drivers 61.77
I started off with SiSoft Sandra's memory bandwidth benchmark to get somewhat of a baseline of the memory's performance. As you can see by the results, that lower latency is definitely a performance kick for the KHX3200ULK kit. The tightly wound PC3200 kit did quite a bit better than the PC4000 kit right from the start.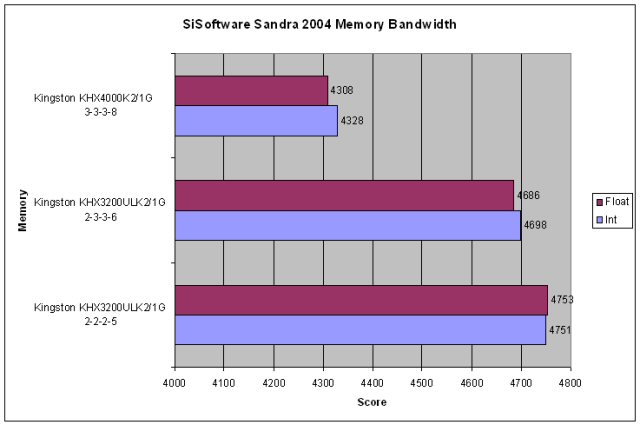 PCMark 2004 also brought some interesting results. The KHX3200ULK kit at 2-3-3-6 has greater numbers than when set at 2-2-2-5. I tested this several times and came up with the same results continually. The KHX4000K kit continues to lag behind a little bit with its conservative 3-3-3-8 settings.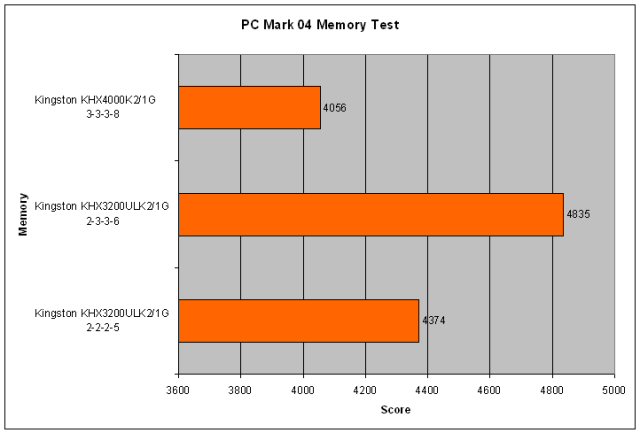 It is good to see an actual performance increase with the 2-2-2-5 timings on the Kingston kit on a gaming benchmark. The amount may not seem large, but it is a very noticeable increase. That speed and lower latency definitely shows its stuff in the benchmarks so far. All tests with 3D Mark 03 were run at 1024×768 with no AA or AF.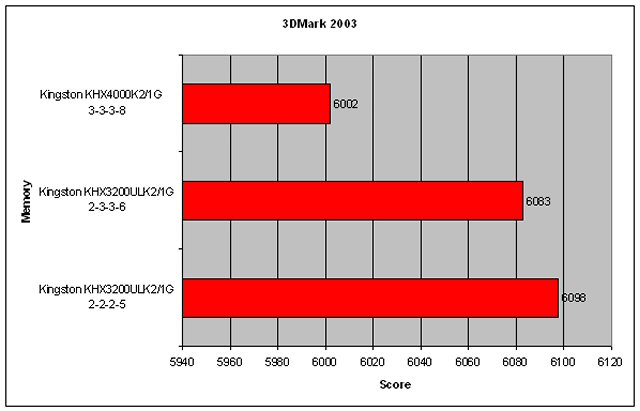 When overclocking the modules I wanted to see just how high I could bump them up with the settings still at 2-2-2-5. I was hoping for the DDR500 realm, but unfortunately came up a little short. I pressed the memory up to DDR420 and then easily went to DDR460 speeds. Past that point though, any increase in speed led to noticeable problems or complete system instability. I was impressed that the kit could keep its 2-2-2-5 settings clear to the DDR460 level. Although some have surpassed DDR460 with lower latency kits, I was happy to reach this level with the great stability I was encountering. Relaxing the modules to a more conservative 2.5-3-3-6 pushed them up to the DDR480 point, but the stability was always an issue past DDR460 speeds.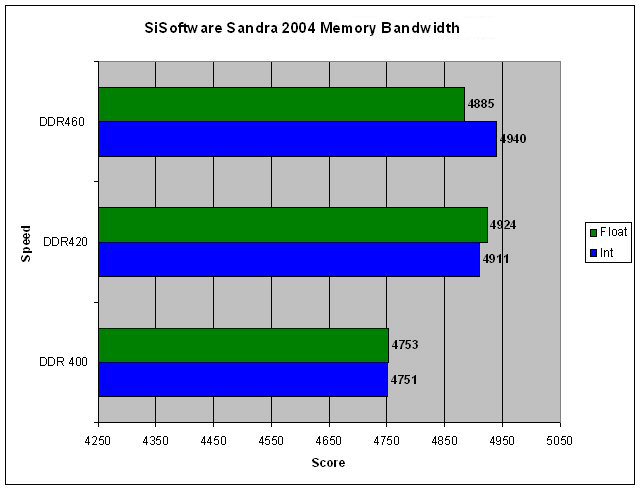 Final Thoughts
---
As you can see Kingston has brought a true contender to the table. Great performance and awesome overclocking ability shines through with the KHX3200ULK 1GB kit. Of course it is a pricey item, as most memory right now is. You can find the KHX3200ULK2/1G for around $300 on internet retail sites. Not a small chunk of change, but worth it for a very important part of your machine's performance.
Pros:
Good overclocker
Great performance
2-2-2-5 timings
Cons:
Expensive
Instability problems past DDR460
I definitely recommend a look at the Kingston KHX3200ULK2/1G memory kit. I give the kit an 8.5 out of 10 and the Bjorn3D Seal of Approval.