We at Bjorn3D are always excited when we get a board from Leadtek since they have always offered a good board with custom cooling and a decent bundle. The Leadtek Winfast A400GT TDH does not disappoint and offers excellent performance together with an great bundle.
INTRODUCTION
---
Leadtek is one of the oldest NVIDIA board partners around.  They actually have been working with NVIDIA since the GeForce 256 back with their WinFast GeForce256 DDR.  We at Bjorn3D are always excited when we get a board from Leadtek since they have always offered a good board with custom cooling and a decent bundle.
The Winfast A400GT TDH I am looking at today does not use the NVIDIA reference cooler, but instead, uses the same cooler they use on the Winfast A400 Ultra TDH.  The one thing that some may find as a problem is that this means you have a GeForce 6800 GT taking up two slots, like the GeForce 6800 Ultra does instead of the normal 1-slot solution.  Personally, that doesn't bother me that much since I always make it a habit to leave the slot next to the AGP slot free anyway. What is more interesting to see with this cooler is if it improves the overclocking potential of this card. Read on to find out more.
FEATURES AND SPECIFICATIONS
---
Features at a Glance
•  Superscalar GPU architecture
•  NVIDIA® CineFX(TM) 3.0 engine
•  On-chip video processor
•  High-speed GDDR3 memory interface
•  NVIDIA® UltraShadow(TM) II technology
•  64-bit texture filtering and blending
•  NVIDIA® Intellisample(TM) 3.0 technology
•  NVIDIA® ForceWare(TM) Unified Driver Architecture (UDA)
•  NVIDIA® nView(TM) multi-display technology
•  NVIDIA® Digital Vibrance Control(TM) 3.0
•  AGP 8X
•  Microsoft® DirectX® 9.0 Shader Model 3.0 support
•  Tech support available 24 hours, 7 days a week 
Specifications
•  GPU NVIDIA® GeForce 6800 GT
•  Bus Type AGP
•  Memory 256MB GDDR3
•  Core Clock 350
•  Memory Clock 1000MHz (effective)
•  RAMDAC Dual 400MHz
•  API Support Microsoft® DirectX® 9.0, OpenGL for Microsoft® Windows®
•  Connectors VGA, DVI, S-Video-Out
•  525 Million /sec setup
•  32.0GB/second memory bandwidth
•  Minimum 350 Watt PSU
THE CARD, PACKAGE CONTENTS AND INSTALLATION
---
The card came in a very attractive box with a wizard on it and images of games that come with the card.
Package Contents
•  Leadtek WinFast A400GT TDH
•  Quick install manual
•  1 DVI-I to VGA connector
•  1 "Y" power cable
•  NVIDIA® Unified Drivers
•  Video cables for TV Capture and Output
•  The following games: Prince of Persia, Splinter Cell (Pandora Tomorrow, DVD Version), Gunmetal, Big Mutha Truckers
•  DVD  Player
•  WinFox II
•  Cult 3D
•  Coloreal Embedded
•  Coloreal Visual
•  Coloreal Bright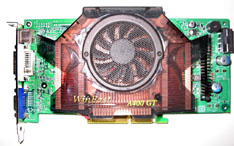 The custom cooler is so high that it requiers you to leave the PCI slot
next to the AGP slot free. On the back there is a huge pice of copper.
Installing the card was pretty straightforward.  You do need to have the AGP and the PCI slot next to it free.  The card uses both slots like past NVIDIA flagship products have.  As I said early, it is strange to see the GT using both slots like NVIDIA's flagship GeForce 6800 Ultra.  The nice thing about the GeForce 6800 GT is the fact that the card only uses one Molex connector and does not need as big of a power supply as the GeForce 6800 Ultra.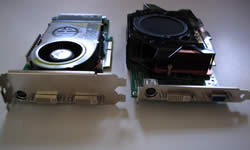 The huge cooler. Impressive, isn't it?

The Leadtek WinFast A400GT TDH  is just 
as long as the BFG 6800 Ultra OC
PERFORMANCE/BENCHMARKS
---
To test out the Leadtek WinFast A400GT TDH, I'm going to use the same benchmarks and games I used when testing the Visiontek X800 Pro, which includes AquaMark3, X2: The Threat Rolling Demo, Unreal Tournament 2004 and Far Cry. I am also including the scores from both the BFG GeForce 6800 Ultra OC and the NVIDIA 5950U.
Test system:
• Asus SK8N (nForce3 150PRO)
• AMD Athlon 64 FX-51
• 2 x 1GB Legacy DDR 3200 ECC
• Leadtek WinFast A400GT TDH, BFG 6800U OC,  VisionTek Xtasy X800 Pro and NVIDIA 5950U
• 2 x 36GB WD Raptors RAID 0. 2 x 200GB Maxtors RAID 1
• DirectX 9.0b, Catalyst 4.5, ForceWare 61.34
• Windows XP SP1a
• Antec True Power 550Watt
• SB Audigy 2 ZS
All benchmarks were run with AA (anti-aliasing) and AF (anisotropic filtering) enabled. Additionally image quality were set to "High Quality" and trilinear optimizations were disabled in the ForceWare driver control panel.
AquaMark3
The AquaMark3 benchmark is based on an actual game engine, and it can really stress even the most modern cards. I ran all tests with 4xAA and 8xAF in the application and "Application Preference" set in the driver control panel.
The Leadtek A400 GT trails behind both the BFG 6800U OC and the VisionTek X800 Pro.
X2 – The Threat, Rolling Demo
This demo is also based on a game, and that is X2: The Threat of course. The Rolling Demo renders a bunch of different game scenes and reports scores for each scene and an average score in frames per second (FPS). The chart below just shows the average. This benchmark was run with bumpmaps, shadows and anti-aliasing set to "On" in the application and with 4xAA and 8xAF set in the driver control panel.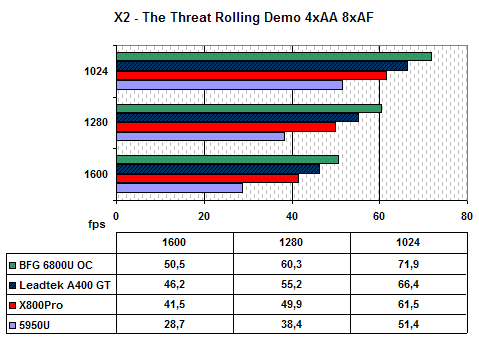 The picture is a bit different here than in AquaMark3. The BFG 6800U OC, which is clocked 21% higher than the Leadtek, of course takes a lead over the Leadtek A400GT, but this time the VisionTek X800 Pro has to settle for third place.
Unreal Tournament 2004 Demo
In order to benchmark UT2K4, I used the botmatch timedemo from 3dcenter.de. The botmatch demo is a multiplayer game with 16 bots in Assault-Mode on the map AS-Convoy.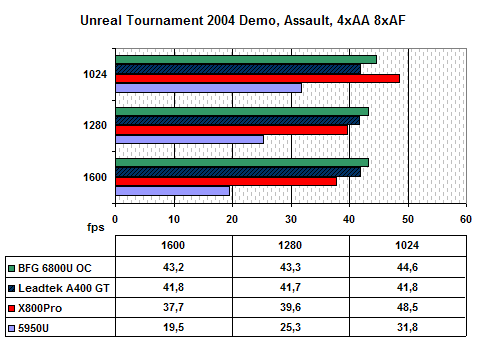 Except for 1024×768, the Leadtek A400GT once again sits firmly on second place. Obviously this benchmark is very CPU dependent, and we will probably switch to the flyby-demo next review.
Far Cry
Far Cry is currently one of the most pipeline-punishing PC games available. Playing at the highest resolution with eye candy maxed out and still getting playable frame rates is not really possible for even the most powerful systems and graphics cards. The benchmark we have chosen to use with Far Cry for now is the PCGH_VGA Timedemo from 3dcenter. Everything is set to "Very High" and AA and AF is set inside the game. NOTE: We still do not have the patch for Far Cry that includes PS3.0 optimizations.
While the BFG 6800U OC still wins in all resolutions, the fight for second place is close with the Leadtek loosing to the X800 Pro in all resolutions, although the difference at the higher resolutions is very small. It will be interesting to see what the new patch can do for the Leadtek. It should be able to move ahead of the X800 Pro with the patch.
A Note About Temps
Some of you are probably wondering how hot the Leadtek WinFast A400GT TDH runs. Well, when my system was idle and doing no 3D rendering, the GPU core maintained a temperature of about 59C while the ambient temperature was 46C. Load temperatures are of course a bit higher. Immediately after running the Far Cry benchmarks, the core was reading over 72C, and ambient reached 54C. Therefore, you can figure load temps for the core to be mid to upper 70s Celsius.  When overclocking the card, the reading did raise up to the same reading that I got on my BFG 6800U OC, around 80C.
OVERCLOCKING
---
I am happy to report I was able to overclock the WinFast A400GT TDH to 400MHz, which is a 50MHz core overclock from the stock speed of 350MHz (14%).  This also brings us to stock GeForce 6800 Ultra speeds.  The memory was also able to be overclocked to 1100MHz effective, like the GeForce 6800 Ultra.  Not bad for a card that requires a smaller power supply and only uses one molex connector.
Unfortunately, the results didn't shown any huge gain while overclocking. I'm not sure why, but the biggest difference I saw was just a 6% increase in performance in Far Cry (around 1-2 fps in all resolutions).
SCREENSHOTS
---
As with the BFG GeForce 6800U OC, I've taken a few screenshots from three of the games I am currently playing. Each small image opens up to a big image (1024×768, 1280×1024 or 1600×1200), which ranges in the size between 300KB and 700KB. The format used is JPG with quality set at 90% to make sure minimal quality is lost when converting them from the BMPs.
CONCLUSION
---
The Leadtek WinFast A400GT THD is another great package from Leadtek.  The card's performance puts it in a heated battle with the X800 PRO.  With Doom III now Gold, we are waiting for its arrival to test the A400GT THD on a game I have been waiting for since I saw the preview back when GeForce3 just came out. It is clear that the new generation video cards need a new generation of games.
The bundle that Leadtek puts together with this card is great!  Two very good newer games (Splinter Cell: Pandora Tomorrow and Prince of Persia: The Sands of Time) and two fun older titles plus all the editing and burning software is awesome.  And get this, USA MSRP is $399.00 for the card.  Usually with such a bundle, I would expect a card to have a higher MSRP.
Leadtek also throws in a three year warranty to back their product.
Pros:
+ Excellent performance
+ Excellent game bundle
+ Not too noisy
+ Reasonable power requirements
+ 3 year warranty
Cons:
– Uses 2 slots like the GeForce 6800 Ultra
– Relatively large card (length-wise and HSF)
– GPU runs hot 
 
Final Score: 9 out of 10 and the Bjorn3D Golden Bear Award