Frontier Labs designed the NEX KUBE to be a small, very portable and flexible MP3 player, and that's what it is. It has its drawbacks and quirks, but for the price, it's not a bad little unit.
Introduction
The Frontier Labs NEX KUBE is an attractive, versatile MP3 player / USB 2.0 Flash Disk.  It has a few flaws, but it does a lot of things well.  The unit is quite stylish with its silver finish and its flashing blue LEDs.  I really like NEX KUBE; I take it with me to break the monotony on long bicycle rides (50+ miles).
Package Contents
The box looks like OEM packaging and is fairly ecological.  There's not much plastic and the packing material seems to be made from wood pulp.  The manual is pretty good.  I actually did read the manual and use it to fix an MP3 playback issue that cropped up.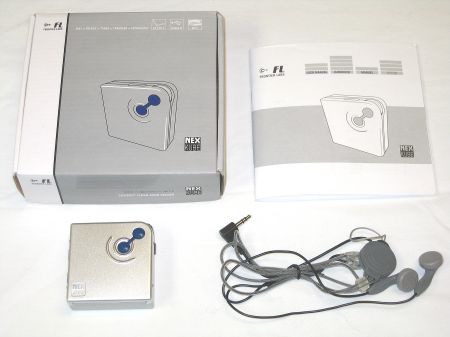 Box, Manual, integrated lanyard (neck strap) / earbud cable set, and NEX KUBE.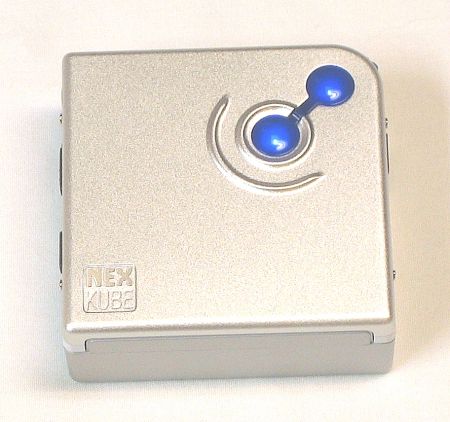 The NEX KUBE is very stylish with its bright silver paintjob and blue LEDs.  The top piece is actually metal, not plastic.
The NEX KUBE's main issue is its lack of a LCD display.  There are no song names, track numbers, or anything like that.  Instead, there are 2 blue LEDs that blink to display status info.  That's not necessarily a big drawback, but if you want a playlist, you'll be a lot happier with something like Frontiers Lab's Nex IA.  I thought the lack of the LCD would be a pain, but it really hasn't been all that bad now that I've used the unit for a few weeks. 
One of the main things I like about the NEX KUBE is that it is fast (USB 2.0), and it uses a standard CompactFlash memory card.  That's the same kind of memory card that my digital camera uses, which is very convenient.  Basically, I'm using my "spare roll of vacation film" (a 512 MB card) as the memory for this player.  Most of the year that memory card is just sitting around gathering dust, so it's nice to be able to use it for other things when my family is not on vacation.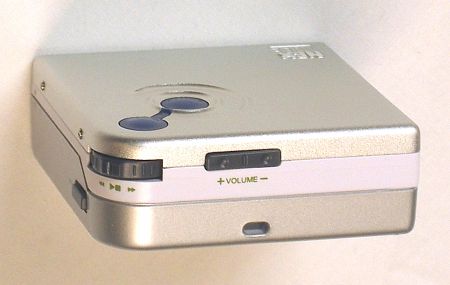 The controls are easy to use, although it's easy to mistake one of the case-open buttons for a playback control.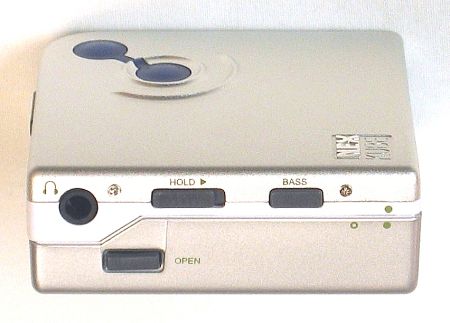 There are more controls on the other side.
The sliding HOLD switch is a nice touch and useful too.  It deactivates all the other controls.  There have been a couple of times (while I was NOT using the hold feature) when the player turned itself off.  I was riding my bike (both times), and the player was bouncing around on my chest and turned itself off accidentally.
Unfortunately, the NEX KUBE is difficult to open, even after you've done it a few times.  No doubt it gets easier with practice, but if you have manual dexterity problems, you might want to consider other MP3 players.  One good thing about the design is that it does not pop open, even when you accidentally drop it, like I did. 
To open and close the unit, press the two OPEN buttons (there's one on each side) and slide the hollow green circle towards the upper solid green circle.  (All the markings are visible in the photo above.)  To close the unit, tuck the USB cable into its slot, align the hollow circle with its mate, and slide the door closed.  With practice, you can soon learn the knack of opening the unit, but it's still a bit tricky to close, since the USB connector cable has a tendency to pop out of its slot. 
As you can see, there is no LCD screen, so no status or song information can be displayed.  Instead, the NEX KUBE makes due with 2 LEDS, which blink in various patterns based on the unit's status.  (For example, the bottom light blinks while playing a song.)  Since there's no LCD screen, the LEDs are used a lot during the normal operation of this player, which must surely reduce the battery life.
The NEX KUBE is lightweight (at least until you add a CF card and a couple of AAA batteries); it only weighs 1.7 oz / 49 grams (empty).  The front plate is made of some rigid, lightweight metal (not plastic), so it should be fairly durable.
The included earbuds are fine but not exceptional.  They are of similar quality as my other MP3 player, a Eumax 4-in-1. In fact, both lanyards seem to be made by the same manufacturer, probably some OEM in Asia.  (The quick-release mechanism is identical on both neckstraps).  Anyway, the earbuds sound decent – perfect for use while riding a bike, jogging, etc.  If you are a sound quality perfectionist, you will probably want to upgrade the earphones, but for most folks, the included earbuds will be acceptable, especially if you intend to exercise while listening to music (like I do). 
I have noticed that an earbud would occasionally fall out of my ear, but that hasn't been much of a problem.  In fact, last time it happened was really more of a blessing (true story):  A few days ago while riding my bike on the local bike trail, a HUGE hornet flew right into my ear!  I was going about as fast as I can ride 20+ MPH (32 KPH), when the hornet (which hadn't seen me yet) flew across the path and hit my ear hard.  Luckily the earbud took most of the damage (none!) and popped out of my ear when the hornet rebounded.  Anyway, I escaped without getting stung and I credit wearing the earphones for that.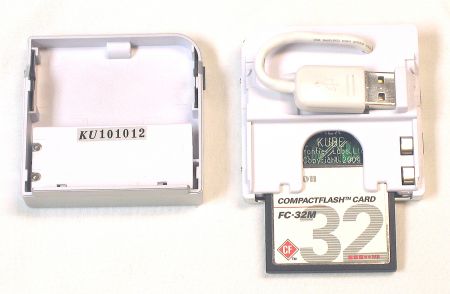 The battery compartment is on the left; the USB 2.0 cord and Compact Flash card slot are on the right.  (Note that NO memory ships with this unit — also the memory card shown is too small for practical use; you'll want at least 64MB, preferably 128 MB or more.)
Every time I switch batteries, I worry that I'll break the cover door.  Luckily the (very) thin plastic seems to be pretty tough.  The only way I can figure out how to open the compartment is to use a finger to pull upwards on the edge of the compartment door.  You'd think there would be some sort of clearly marked latch on the door.  The best battery door designs use raised finger ridges (often in the shape of a arrow molded into the plastic).
Another nice thing about the NEX KUBE is that the battery orientation is clearly indicated by a highly visible sticker inside the battery compartment.  Small electronics (not necessarily this unit) can be ruined if you if you insert the batteries incorrectly — I've actually had it happen to me.  Too often, the battery orientation is hard to read and sometimes omitted entirely.  The Frontier Labs NEX KUBE has the best-marked battery compartment I've seen in years.
No batteries or memory card are included.  The lack of batteries, while no biggie, seems cheap; still, this is an inexpensive unit.  The lack of a memory card is a plus, in my opinion, since you can customize the player's memory size to your preferences.
I really like the fact that the unit uses standard CompactFlash cards.  That means that you can easily customize it with as much memory as you can afford: up to 2 GB.  You can also upgrade it in the future, or even carry around several CF cards and swap one in whenever you get tired of your current selection of tunes.  I have several smaller CF cards just sitting around gathering dust.  The cards came with other electronics, like digital cameras, but were too small for genuine use.  The biggest is 64MB.  I plan to fill them all with music and see how well swapping works.  I also will borrow a 256 MB card from my camera and test with that as well.
Testing
I've used the NEX KUBE extensively over the last few weeks.  I really like it overall, especially when I'm riding my bike for hours at a time.  I have a 512 MB memory card in the unit, so it plays for hours at a time before the songs start repeating.
Another true story: The NEX KUBE got wet during a long bike ride.  It was under my jersey, so it wasn't soaked, but it scrambled the mem-card, which had to be re-formatted.  After that, I could use the NEX KUBE as a flash drive, but it wouldn't play music. 
I tested the batteries, which were low, so I replaced them.  Still no luck.  I opened up the unit to investigate with my multi-meter.  After I tested the power being supplied to the circuit board, I took a good look at the impressive circuitry.  It looks a lot like the insides of a cell phone.  Also, the thin metal cover was a LOT sturdier than I though.  I think it might actually be titanium or some other very strong alloy.
I thought the playback circuit had died, but everything looked fine.  Now what?
I resorted to reading the manual.  There's my problem on page 6: "…do not expose the player to rain, moisture, or extreme temperatures." I knew that.  And later: "Keep the unit away from water."  Take it from me, avoid getting it wet.
I kept on reading.  Eventually, I discovered that the mem-card needed to be formatted with FAT16; unfortunately, WinXP uses FAT32 by default.  Once, I re-formatted it again with the correct FAT size, it started working properly.
In my opinion, part of what made the problem hard to fix is that the NEX KUBE doesn't have an LCD display.  It would have been a lot easier to figure out what was wrong if a "Format Error" message was been displayed.
In general, the batteries lasted about 6-8 hours, which is less than the 10 hours claimed.  I'm sure the power requirements vary depending on the brand of memory card and batteries that are used.
Test Files
The test consisted of reading and writing of 100 MB of mp3 files.  There were 13 files of an average size of 7.7 MB. The minimum file size was 5.2 MB and the largest was 12 MB.  The actual total size was 99.9 MB.
The file transfer tests ran perfectly.  I discovered a feature that wasn't in the manual:  If you press the Play switch while the NEX KUBE is connected to a USB port, it will automatically disconnect from the computer. You don't need to fool with the Windows tray icon to disconnect.
Transfer Speed Test
Read – 99.9 MB (13 MP3 files)

Seconds

Kingston on P4 system
23.02
Kingston on Athlon system
24.99
SanDisk on P4
18.88
SanDisk on Athlon
20.18

Write – 99.9 MB (13 MP3 files)

Kingston on P4 system
25.76
Kingston on Athlon system
26.13
SanDisk on P4
43.54
SanDisk on Athlon
42.91
Throughput Test
Read – 99.9 MB (13 MP3 files)

MBytes/sec

Kingston on P4 system
4.3
Kingston on Athlon system
4.0
SanDisk on P4
5.3
SanDisk on Athlon
5.0

Write – 99.9 MB (13 MP3 files)

Kingston on P4 system
3.9
Kingston on Athlon system
3.8
SanDisk on P4
2.3
SanDisk on Athlon
2.3

USB Theoretical Max Transfer Rate 

USB 2.0 Theoretical Maximum
30
USB 1.1 Theoretical Maximum
2.3
Throughput Comparison
Read – 99.9 MB (13 MP3 files)

USB 2.0 Theoretical Max
30
Kingston in Dazzle
2.9
SanDisk in Dazzle
2.8
USB 1.1 Max
2.3

Write – 99.9 MB (13 MP3 files)

USB 2.0 Theoretical Max
30
Kingston in Dazzle
2.7
SanDisk in Dazzle
2.2
USB 1.1 Max
2.3
Conclusion
Overall, the Frontier Labs NEX KUBE is a stylish, lightweight MP3 player.  It has fast USB 2.0 support (USB 1.1 is also supported).  I really like mine, even though I'd prefer a unit with an LCD front panel.
Pros:
Stylish silver case with dual blue LED indicators is quite distinctive
Controls are well laid out
Uses standard Compact Flash cards
Uses USB 2.0, with a standard connector
Inexpensive
Small and lightweight
Combination ear-buds / neck-strap (which are supposed to be less likely to tangle)
Cons:
No LCD display
No memory included (might be a plus, since this keeps the cost down, and some of you have spare CF cards laying around)
No AAA batteries were included
Forgets volume and base settings when the power is turned off