We finally got our hands on a retail Radeon x800 product. Read about what we thought of the VisionTek Xtasy RADEON X800 Pro.
Introduction
---
Let me step back a bit in time. Do you remember the days when the Rendition V1000 and the Voodoo1 came out? The excitement over the new possibilities? Then we got the Rendition V2200 and the Voodoo 2, and the speed was doubled, and everything looked so good. But what happened then? We got new generations of cards, but the speed increase never blew us away the same way as in the beginning. Why do I bring that up? Well, it is time to get excited again. With the X800 chipset, ATI has brought us a new generation of cards that truly blows away the previous generation in performance.
While we still are waiting for retail x800 XT cards (read our preview of the X800 XT for some performance figures), the first retail boards of its 'little brother,' the X800 Pro are turning up. Today, we are taking a look at the VisionTek Xtasy RADEON X800 Pro.
About VisionTek
---
Before we start reviewing the board, let us talk a bit about VisionTek. VisionTek has been around a long time. While they used to release NVIDIA-based boards, they now exclusively make ATI-based boards. We asked them to tell us a bit about themselves, and this is what we got:
VisionTek is a division of Hartford Computer Group, Inc., founded in 1978. The VisionTek and XTASY brands gained increasing popularity from the time of their launch in 2001. The award winning Xtasy brand of products is available at Circuit City, CompUSA, Fry's, Microcenter, and others. A Premium Retail Partner for ATI in North America, VisionTek is committed to bringing the most innovative and best performing products to PC enthusiasts.
Features and Specifications
---
As I said earlier the X800 Pro is the 'little brother' of the X800 XT. Instead of 16 pixel pipelines, it 'only' has 12. This still is 4 more than the Radeon 9800 XT, which has 8. Let's take a closer look at the differences and similarities between the chips:
Radeon 9800 XT

Radeon X800 Pro

Radeon X800 XT
Platinum Edition

Manufacturing:

0.15-micron

0.13-micron low-k

0.13-micron low-k

No. of transistors:

~115 mil.

~160 mil.

~160 mil.

VPU speed:

412 MHz

475 MHz

525 MHz

Pixel Pipelines / Pixel Fillrate:

8 / 3300 MP/s

12 / 5700 MP/s

16 / 8400 MP/s

TMU's / Texel Fillrate:

1 / 3300 MT/s

1 / 5700 MT/s

1 / 8400 MT/s

Memory speed:

730 MHz

900 MHz

1150 MHz

Memory / Bandwidth:

256-bit DDR1 / 23.4 GB/s

256-bit GDDR3 / 28,8 GB/s

256-bit GDDR3 / 36,8 GB/s

Pixel Shader:

2.0

2.0b

2.0b

Vertex Shader:

2.0

2.0

2.0

FSAA:

6x RGMS + Gammacorrect.

6x RGMS + Gammacorrect. + Temporal AA

6x RGMS + Gammacorrect. + Temporal AA

Anisotropic Filtering:

16x

16x

16x

Connections:

1x VGA, 1x DVI and 1x "S-Video" (HDTV)

1x VGA, 1x DVI and 1x "S-Video" (HDTV)

1x VGA, 1x DVI and 1x "S-Video" (HDTV)

Recommended PSU:

300w

300w

300w

Other:

1 slot

1 slot

1 slot
In an internal memo, NVIDIA called the X800 chips '9800 XT on steroids.' That comment is actually pretty close to the truth. In contrast to the new NVIDIA chipset, the X800 doesn't include that much innovation and new features. The main new features are Temporal AA and a new compression technique for normalmaps called 3dc. Both are described in more detail in our preview. Does the lack of new features like support of Pixel Shader 3.0 hurt the X800? I don't know. It really depends on how widely used PS3.0 will be in upcoming games as well as the benefit from using PS3.0 shaders compared to PS2.0 shaders. Usually it takes some time before the use of a newer Pixelshader version gets common in new games, but we've already heard about a patch for Far Cry as well as some upcoming games that will have some PS3.0 support. In the end though, I wouldn't turn these cards down for this reason.
Being a 9800 XT on steroids isn't bad at all. If there is something we never get enough of, it is pure pixel-pumping power. The X800 has 73% higher Pixel and Texel fillrate compared to the 9800 XT and 23% higher memory bandwidth.
Talking about power, the X800 actually draws less power than the Radeon 9800 XT. This together with being a single-slot solution makes it an ideal card for smaller systems, such as SFF systems.
Enough talk now about the X800 chip. Let us take a look at the card in our hands, the VisionTek Xtasy RADEON X800 Pro. The card is identical to the reference design. This means that it features the standard fan solution from ATI.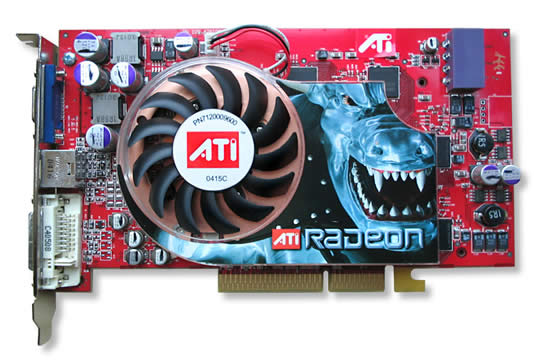 The memory chips do not have any heatsinks on them and are cooled by the air from the fan.
The card is of course a single-slot solution. Unfortunately we do not have a NVIDIA 6800 card yet to compare with, but here is a comparison between it and a NVIDIA FX5950U.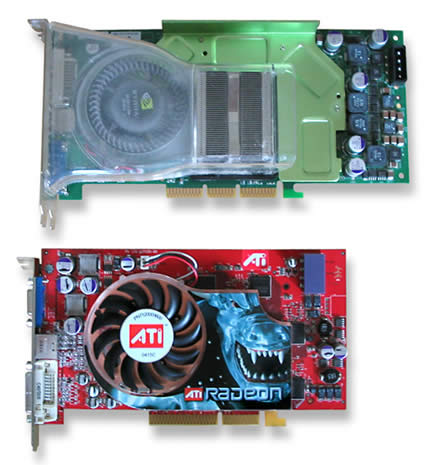 The X800 Pro is as short as a 9800 XT and much shorter than an NVIDIA 5950U.
The Bundle
---
The box actually is much cleaner than we are used to when it comes to boxes for video cards, especially from VisionTek. No Ruby in sight though.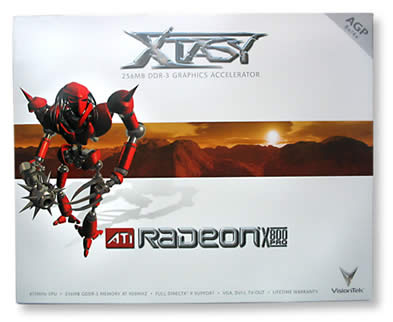 A clean, almost a bit boring box.

The bundle from VisionTek is a standard generic bundle with power cable splitter, video out cables, DVI adapter and driver CD. The CD that came with the board for testing is not the final CD that will ship from VisionTek and may include some more software than the standard ATI CD we got.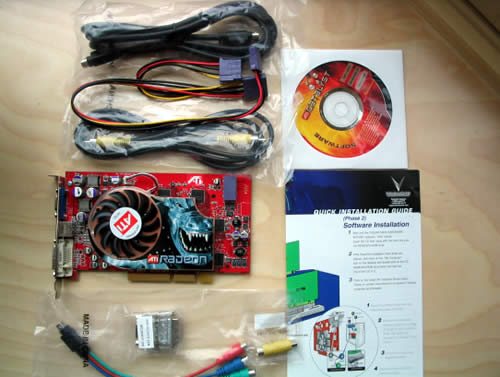 The bundle includes all you need. Note the excellent Quick Install Guide which
should help even newbies to install the card.

Benchmarks
---
All benchmarks were run on a computer with the following specifications:
Asus SK8N nForce3 150PRO
AMD Athlon 64 FX-51
2GB of Legacy ECC DDR 3200
2x WD 36GB 10,000 RPM Raptors RAID 0
2x Maxtor 200GB 7200RPM in RAID 1
Samsung SyncMaster 957MB 19" CRT
Antec True Power 550Watt
Windows XP PRO SP1
NVIDIA 5950U and VisionTek X800 Pro
Catalyst 4.5 and Forceware 61.11
Unfortunately, we still haven't been able to get our grubby little hands on a new NVIDIA 6800 card. Therefore, we are comparing the X800 Pro to NVIDIA's previous top-of-the-line product, the FX 5950U. Since 6800 cards have not arrived at stores yet, the comparison isn't pointless. It in fact is interesting to see what a 'mid-range' card like the X800 Pro can do against last generation's high-end product.
We also chose to test the games with 4x anti-aliasing (AA) and 8x anisotropic filtering (AF) in the cases where it was possible. The drivers were set to the highest quality setting, and each game was also set to the highest quality setting possible. We're talking about a $400 card, so we shouldn't have to settle for less.
X2 – The Threat Rolling Demo
Our first benchmark is the X2:The Threat Rolling demo which tests the card in a series of gaming situations. The game uses an engine based on DirextX 9 and has many visual effects like volumetric Nebulae, dynamic 3D shadows and Dynamic D3D bump mapping (info from NVIDIA). The score we are presenting is the average score reported at the end.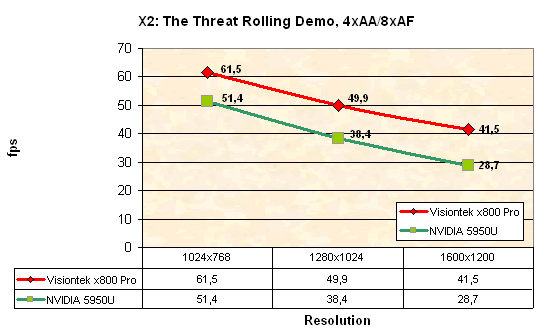 The X800 Pro scores between 20-45% higher, which of course is expected. The X800 Pro also handles higher resolutions with AA/AF better, 'only' dropping about 30% in performance after going from 1024×768 to 1600×1200 while the 5950U drops almost 45%. We'll soon see if this is specific for the game or a trend in all games.
Benchmarks – Continued
---
All benchmarks were run on a computer with the following specifications:
Asus SK8N nForce3 150PRO
AMD Athlon 64 FX-51
2GB of Legacy ECC DDR 3200
2x WD 36GB 10,000 RPM Raptors RAID 0
2x Maxtor 200GB 7200RPM in RAID 1
Samsung SyncMaster 957MB 19" CRT
Antec True Power 550Watt
Windows XP PRO SP1
NVIDIA 5950U and VisionTek X800 Pro
Catalyst 4.5 and Forceware 61.11
Far Cry
If there is one game today that demands the most of a video card, it must be Far Cry. Sporting absolutely gorgeous DirectX 9 graphics, it can drive even the mightiest card to its knees, something both Scott and I have noticed with his 5950U and my 9800XT.
We chose to use the PCGH_VGA Timedemo from 3dcenter for our benchmarks. In contrast to some other timedemos, this includes some people in it.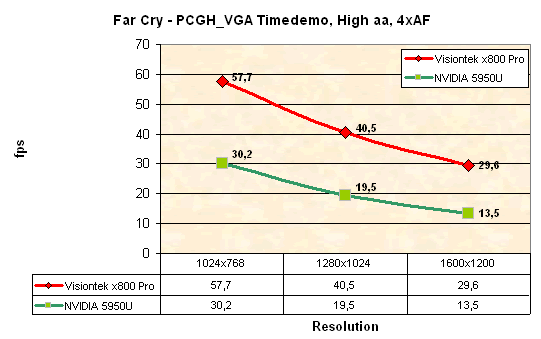 Holy c***! Impressive! The X800 scores between 90 and 120% higher better than the 5950U. Even though it doesn't fully reach playable fps at 1600×1200, it is not far off. What is more important than a simple timedemo is the fact that while the game stutters at the higher resolutions with the 5950U in normal gameplay and even turns into slideshows in some levels, it plays smooth with the X800 Pro. Remember that this is the 'little brother' and that the X800 XT is even faster.
AquaMark 3
AquaMark 3 is the only 'synthetic' benchmark that we include this time. It is a benchmark that uses DX7, DX8 and DX9 functionality and is built to represent the requirements of typical gaming applications in 2003 and 2004. It uses the Krass game engine that has been used in games like Aquanox 2 and Spellforce. To read more about the benchmark and what it supports please visit www.aquanox.de.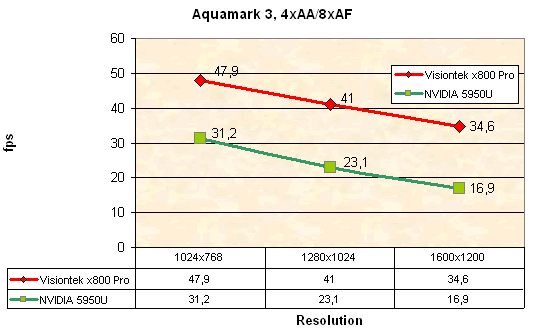 I know, I know… It is getting a bit boring. Once again, as expected, the X800 pro crushes the poor 5950U. 53% – 105% higher scores than the 5950U. Once again though, we see that at 1600×1200 with 4xAA/8xAF, even the X800 Pro is dangerously close to the 30 FPS mark (probably going under a few times in some of the sub-tests).

Benchmarks – Continued
---
All benchmarks were run on a computer with the following specifications:
Asus SK8N nForce3 150PRO
AMD Athlon 64 FX-51
2GB of Legacy ECC DDR 3200
2x WD 36GB 10,000 RPM Raptors RAID 0
2x Maxtor 200GB 7200RPM in RAID 1
Samsung SyncMaster 957MB 19" CRT
Antec True Power 550Watt
Windows XP PRO SP1
NVIDIA 5950U and VisionTek X800 Pro
Catalyst 4.5 and Forceware 61.11
UT2k4 Demo
I guess no review would be complete without a benchmark of this awesome game. For this review, we selected the Assault benchmark for UT2k4 Demo from 3dcenter.de. The timedemo is a MultiPlayer-Game with 16 Bots in Assault-Mode on the map AS-Convoy.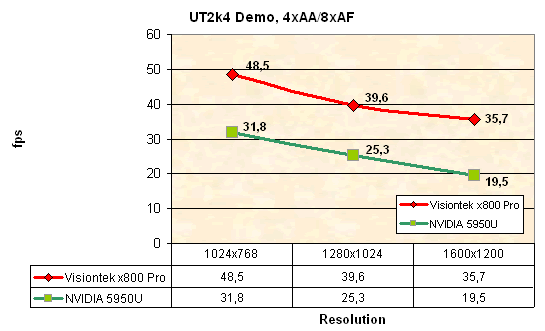 No big surprise here. About 55% better performance.
Benchmark Conclusion
---
The benchmarks did indeed produce the expected result although the margin varied between each game. I know some of you by now probably wonder what the point is to compare the X800 Pro to the 5950U since the performance difference is so huge anyway. Well, in addition to the fact that we don't have a 6800U, we also want to show you the performance increase that you will see this generation-leap. Even for someone having a top-of-the-line video card like the 5950U or the 9800 XT, the 'cheap' X800 Pro will provide an enormous performance boost.
Screenshots
---
It wouldn't be right to not show you any screenshots taken from the x800 Pro. Scott picked out 3 games that he has been playing and took some screenshots at at least 4x AA and 8x AF at 1280×960, 1280×1024 and 1600×1200. ATI's 'new' AA, Temporal AA, isn't turned on with these drivers, and you wouldn't be able to see how it works anyway in a screenshot, so the AA you see used here is the 'normal' AA from ATI. As expected, the image quality of the x800 Pro is top-notch. We do have a small complaint though – the AF still hasn't been improved from the R300.
As always, you can see a larger version of the screenshot by clicking on it.
Far Cry
A few images from our current favorite first-person shooter.
Panzers
The demo of this WWII RTS can be downloaded from Fileplanet and other download sites. It looks and plays great.
Unreal Tournament 2004
Overclocking
---
With no memory heatsinks and the stock ATI fan, you might think that the VisionTek Xtasy RADEON X800 Pro wouldn't be much of an overclocker. Nothing could be further from the truth though. Scott managed to get the card overclocked to 528 MHz (core) and 590/1180 MHz (memory), and it was stable. That's a cool 11% for the core and 31% for the memory. Since the memory bandwith 'only' increased by 23% between the 9800 XT and the X800 Pro, extra bandwidth is always appreciated.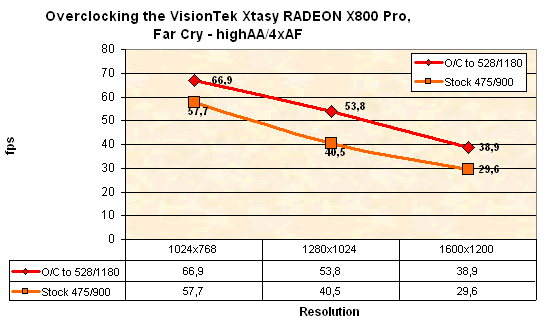 We see a performance increase between 16% (at 1024) and 30% (at 1280 and 1600), which is extremely impressive. If anything, this proves the point that many have made that the fact that the memory bandwidth 'only' increased by 23% from the 9800 XT while the fillrate was increased around 70%, which creates an inbalance in the chip. The memory becomes the bottleneck. Clock up the memory, and you'll reap the rewards.
Conclusion
---
The Radeon X800 Pro might not be the fastest new chip from ATI, but it still really impresses us.  It's just awesome to see how it beats one of the last generation's top cards. If an ATI-sceptic like Scott can love the card as much as he does, then it just must be right for everyone.
VisionTek's X800 Pro can't really be faulted. Since it uses the reference design, you can be sure that it works well. Sure, a novel fan design would have been nice, but considering the overclockability of the memory as it is, I'm not sure what benefits it would give. ATI's own fan design also is quiet, so why change something that works? If there is anything to complain about, it might be the bundle that is pretty generic.  VisionTek might add something in the retail bundle though, so keep an eye out here as we will update the review if they do. One extra nice thing worth mentioning is that VisionTek offers both toll free tech-support as well as a lifetime warranty on their cards.
Pros:
Performance
Price. $399 might sound like a lot, but this card really is worth every dollar.
Single slot – especially important for SFF-users
Very Overclockable
Toll free tech support and lifetime warranty
Con's
Software bundle – a bit lacking
No PS3.0 support
The VisionTek Xtasy RADEON X800 Pro gets a score of 9 out of 10 and a well-deserved Golden Bear Award!