64 bit has come into its own and the motherboards have begun to saturate the market. What does it take to stand out from the rest? Take a look at AOpen's AK89 Max and see if it has what it takes to jump ahead of the competition.
Introduction
---
Tis the season for the flowers to bloom, the birds to sing, and motherboards to be reviewed. Yes it may be springtime, but all I see in my garden is the new AOpen AK89 Max motherboard with the NVIDIA nForce 3 150 chipset. There are more and more options for every type of consumer looking to jump into the 64 bit market. As the popularity of the new processors from AMD continues to grow, I don't see any stoppage to this trend coming soon.
AOpen has been around the block a few times in its life. This is a company that has over 20 years of experience in the business so they definitely know what they are doing by now. This is my first experience using a product from AOpen so I am quite anxious to see what it can offer.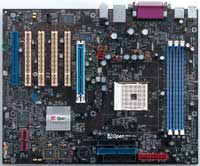 Specs
---
Let's take a look at some of the specifications for the board to start this review off. This table came straight from the folks over at AOpen .
Features & Layout
---
At first glance this board is showing some great potential. Loaded with features and a sweet black PCB that catches the eye immediately. Not flashy, but not bland by any means. It is interesting to me to see how aesthetics have become a very important part of every piece of hardware on a PC today. No matter how well it performs and how pricey it is, if someone likes the way it's going to look in their case they may be willing to go with that hardware before others in the same category. You thought interior design was a good career, you might want to look into PC design 😉
The AK89 Max also features several options that can make life a whole lot easier if you run into a bad situation.
DieHard BIOS : The DieHard BIOS gives you a little added protection in case of a supreme screw up from something like a virus or a failed BIOS update. It will be a gift from above when you need to use it.
WatchDog ABS : Ever get a little too crazy when you are overclocking your PC? The WatchDog system will save your tail when you jump a little too high and the system won't boot. This will restore your old configuration in the event your PC doesn't make it all the way through POST.
Overall layout of the board is very efficient and works well with the Antec P160 case that I currently have it in. The feature that first caught my attention was the horizontally mounted DIMM slots. This is the first board that I have come across that has the RAM sitting horizontally on the board as opposed to vertically along the right side. Is there anything specific that made AOpen choose this particular design? I'm guessing no, but as I continue to view the board the components layed out perfectly…..so far.
The processor sits almost dead center on the upper portion of the board. The 5 PCI and AGP slots of course stay true to their normal position, but actually sit lower than any other board that I have had in this case. Where the AGP slot would usually sit on the back of the case, this board is actually a spot lower. All the SATA and IDE connections are on the far right portion of the board. The four SATA connections are tucked nicely together on the lower right portion of the board just south of the passively cooled nForce chip.
One thing you have to take notice about is the proximity of some very large capacitors near the processor socket. Be very careful when working with the HSF around them because they are kind of flimsy and seem like they could easily break off if you bumped one just a little too hard.
One thing that continues to drive me nuts on motherboards is the placement of the audio hookups directly on the motherboard. These are the pins you would use to connect audio ports that you have on the front of your case for example. The P160 case has audio on the top of the case and the audio connections are on the far bottom left portion of the board. This is the furthest distance possible for the cables to reach. It took a little rearranging of the cables to reach, but I was able to connect them. I just wish they could be placed towards the FRONT of the case where the actual connections are being made. Picky I know, but it is just one of those little things that will bug the hell out of you eventually.
Installation
---
Installation overall was a breeze. The placement of the processor in the center of the board all by itself was actually a much nicer feature than I had guessed in the first place. This gave me plenty of room to work with the heatsink and mounting bracket for the 3200+. The memory sits above the processor like a bench waiting to be sat upon. Power and other I/O connections were a task a four year old could handle. I think the toughest part was pulling the motherboard tray out of the P160. 10-15 minutes later I was ready to setup this machine and get rolling.
My first task was to get the pesky SATA RAID configuration cooking again. This is one of the biggest pains I have run into as I look at different motherboards. Since SATA is not a standard by any means, if you have a different controller than what you were setup on previously, prepare to torch those drives and start from scratch. Once you set that thing up, make sure you have a great backup solution if you ever plan on switching motherboards. I prayed to the silicon heavens, but to no avail were my drives going to run without a format.
The Silicon Image Sil3114 SATA RAID configuration was very simple to use and in no time I was installing Windows XP on my Hitachi drives.
Testing
---
Test System:
AMD Athlon 64 3200+
Corsair 2 x 256MB PC3200 XMS memory
Leadtek GeForce FX5900 Ultra 256MB
Happauge WinTV PCI Tuner Card
2 x Hitachi 80GB SATA HDDs in RAID 0
Antec P160 Aluminum case w/ 430 TruePower PSU
Windows XP Professional
nForce Unified 3.13 Drivers
Detonator 56.72 drivers
The included WinBIOS application is a nice tool to tweak some of the settings in your BIOS right from your Windows desktop. It could come in handy if you need to check out some things on the Net before you make some changes.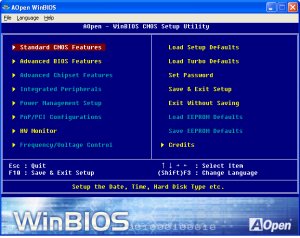 As I proceeded to use the AK89 Max I wanted to comment on the on-board features of the board. Every feature has performed flawlessly so far. The sound that comes with the board is quite good. I have been using it for everything from music, to gaming and have been pleasantly surprised with its performance. Crisp treble, nice deep bass, very little distortion or other anomalies also. If you are a nut for great sound and can't stand anything less, you might invest in a good soundcard. For the majority, this sound will please you for years to come. Gigabit ethernet hasn't given me any problems that I can tell. Speeds on my cable modem are as quick as ever. It may not be much to mention, but not mentioning it is the benefit.
For testing purposes I took the board for a spin using SiSoftware's Sandra benchmarking utility. After that I gave it the ol' Futuremark try with PCMark 04 and 3DMark 2003.
For comparison purposes I put the AK89 Max up against the Biostar K8NHA Pro that I recently reviewed. The Biostar system contained the same components as the AK89 Max and featured the nForce 3 150 chipset as well.
SiSoftware Sandra 04
CPU Arithmetic
Motherboard

Score

Dhrystone

AOpen AK89 Max
8491
Biostart K8NHA Pro
8346

Whetstone

AOpen AK89 Max
3158
Biostar K8NHA Pro
3155

iSSE2

AOpen AK89 Max
4061
Biostar K8NHA Pro
4090
Memory
Motherboard

Score

Integer

AOpen AK89 Max
3047
Biostar K8NHA Pro
3051

Float

AOpen AK89 Max
3048
Biostar K8NHA Pro
3058
PCMark 2004
Motherboard

Score

PC Marks

AOpen AK89 Max
3961
Biostar K8NHA Pro
3899

CPU

AOpen AK89 Max
3535
Biostar K8NHA Pro
3731

Memory

AOpen AK89 Max
3630
Biostar K8NHA Pro
3610
3DMark 2003
Motherboard

Score

1024×768 – 4xAA/8xAF

AOpen AK89 Max
4216
Biostar K8NHA Pro
3685
Performance from an overall standpoint is top-notch. My biggest pet-peeve when it comes to hardware is usually instability and other issues that cause undeniable frustration. No frustration here. I have yet to experience a single error since installation. Of course this is easily in part due to the fresh install of XP, but then again that is the perfect testbed for evaluating hardware.
Overclocking
---
I took the A64 up a notch to see how this board does with a little extra kick. I was pleasantly surprised with a 221 Mhz Bus speed for around 2.2 Ghz. It did get a little warm at times, but I never had any issues, even with [email protected] running on my PC for three days straight. It wasn't 100% stable, but it was a rare occasion for me to have any issues. This board is OC friendly for the most part. 1 Mhz increments are a nice addition to see. The voltages are not as flexible as I would like to have seen though. DDR voltage spikes at 2.8 with the CPU voltage only giving you another .05 volts to work with on the upper end of things at 1.55V from a stock setting of 1.5V. AGP can be adjusted up to 1.6V. I don't do much in the way of overclocking with my A64 right now, but for those interested in really pounding out everything you can, these are considerable numbers.
Conclusion
---
My garden is now picked, and there is plenty to eat at the review table tonight. Overall I have enjoyed this board from start to finish. Several strong points include the overall stability of the board, excellent onboard sound, and a powerful little suite of apps and tools to tweak everything from your FSB to your fan speed.
While I like the overall layout of the board, there has got to be someone out there that can give me a more accessible audio hookup on the board. You have to put everything somewhere, and sometimes it is hard to find a spot. All I'm asking is find a spot a little closer to the front of the case to make my life easier.
Increased ranges in voltage settings on the board would also be a nice addition. As different memory and other add-ons start moving outside of the familiar thresholds, a greater range of settings may be needed.
This board is also a fairly cheap board to purchase. I found it for $123.00 over at Newegg.com. If you are looking to save some cash, this is a good bet for you.
Pros:
Sweet black PCB
Excellent onboard sound
Stable as a rock
4 SATA RAID ports
Cons:
Audio hookup for front ports too far away
Voltages not as flexible as could be
I will definitely be using the AOpen AK89 Max for my primary board for the time being. It eases me knowing I have a rock-solid performer in my case that hasn't given me an ounce of grief (so far). I definitely recommend the AOpen AK89 Max motherboard with a 9.0 out of 10 and the Bjorn3D Seal of Approval.