NVIDIA drops the hammer with a new set of GPUs that aim to retake the throne. This is a brief highlights article with card pics, key features and screenshots.
Introduction
---
If you visit sites like Bjorn3D.com in your daily quest for technological enlightenment, then you have probably been anticipating the launch of new graphics cards from ATI and NVIDIA for at least a couple weeks now. Well, your wait is finally over, since today is the day that NVIDIA announced its newest graphics cards, which have been named GeForce 6800 and GeForce 6800 Ultra (or GeForce 6 Series if you want to lump them together).

With this launch comes more than just more power and a new name. There is of course a new half-naked female mascot in the form of a mermaid named Nalu (Dawn and Dusk have apparently retired). New tech demos, more pipes, more power connectors, no more 'FX', twice the power of a 5950… oh, and some other stuff. I admit it; I'm shamelessly baiting you to keep reading or at least keep looking (pics will do a lot of talking in this article). Half of you probably just want to know what Nalu looks like, so here you go (straight from NVIDIA's PowerPoint presentation).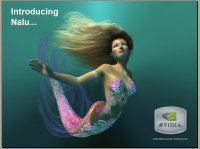 Just so you understand and aren't disappointed, this is a quick 'highlight' article. I'm just going to show you some pics of the card, some screenshots and other interesting stuff. Hey, I've only had the press docs for about thirty minutes, and I don't have much time. Look for a more technical overview soon and retail board reviews as soon as we can get our paws on them.
GeForce 6800 Looks
---
Let's just start off easy with shots of the 6800 Ultra, the new flagship video card from NVIDIA. You will no doubt notice some interesting changes on this new card.
Here's what you should have noticed: Two DVI connectors, two power supply connectors and the single-slot bracket. The first (two DVI connectors) is good news for sure. LCDs are making big waves, and the best LCD image is provided via DVI. The second (two PSU connectors) is the bad news. Apparently, the 6800 Ultra is a power-hungry beast. The promised performance will most likely make it worth it though. And finally, the 6800 and 6800 Ultra appear to be single-slot solutions. Therefore, that first PCI slot is not sacrificed (at least not by the reference design; it's logical to expect some retail boards to have bigger cooling solutions), but as always, I'd still recommend leaving it vacant to increase airflow around the graphics card.
Edit: Well, I was wrong. The pics fooled me I guess. After looking at this page of 's coverage, I realized that at least the Ultra is not a single-slot card. It indeed does take up two slots due to the large heatsink/fan unit. Sorry for the confusion.
A Little More About the Power Connectors:
"The GeForce 6800 Ultra requires a stable, 12-volt power source for best performance, reliability, and enjoyment. Many PC power supplies dedicate most of their 12-volt power to the power rail that goes to the CPU, rather than the peripheral connectors. Many power supplies also do not provide ample overload protection to protect system components such as motherboards and graphics cards.
For GeForce 6800-based graphics cards, NVIDIA recommends a power supply with a rating of 480W or higher.
GeForce 6800 Ultra boards will have two standard disk drive power plugs on the back end of the card. You must attach two independent (not shared or split with a y-cable) hard disk drive power dongles from the system's power supply to these plugs." (Source: NVIDIA's NV40 Reviewer's Guide)
After reading that, all I can say is 'wow'… Many people don't even have 400W PSUs yet, let alone 480W, so this will be an even more expensive upgrade. Add another $70+ to your video card upgrade plan I guess for a good quality PSU. Also, plan on hearing a statement like that about 1,000 times over the next several months as reviews come out. 😉
GeForce 6800 Key Features
---
Here are some of the key features that make GeForce 6800 GPUs so special, according to NVIDIA.
Biggest performance leap in company history
Only Shader Model 3.0 GPU
"Prosumer" video capabilities and quality

On-Chip Video Processor
Fully Programmable Video Processor
First Ever On-Chip GPU Video Encoder
Full Hi-Def Decoder

16-bit Floating Point Texture Processing
World famous compatibility, reliability and stability
How about a very quick comparison between the GeForce 6800 Ultra and the GeForce 6800, the two products officially launched today.
GeForce 6800 Ultra
GeForce 6800
A 512MB DDR3 version is even planned for this summer!
For a little more technical info, check out NVIDIA's Product Overview PDF.
GeForce 6800 Screenshots
---
Here's a section I know many of you are really interested in. So, once again, I'm just going to keep it simple and show you a bunch of screenshots that were provided by NVIDIA to showcase the 6800. There are some impressive looking shots here.
Tech Demo Screenshots
Game Screenshots
Battlefield: Vietnam
Far Cry
Lord of the Rings, The Battle for Middle-earth
Painkiller
Splinter Cell: Pandora Tomorrow
Final Thoughts
---
Well, to put it bluntly, I'm damn excited to get my hands on a card that can hit almost 15,000 in 3DMark03! I can't wait to get a 6800 or 6800 Ultra in my Athlon 64 rig.
The GeForce 6 Series will be available in both AGP 8X and PCI Express x16 flavors. Things will definitely be getting really exciting over the next couple months in the world of graphics cards.