DFI has made quite a name for itself with the LANPARTY series of motherboards. The Pro875B is DFI's Canterwood offering in this big bundle, top performance line. With its orange and yellow UV-reactive slots and connectors and great features, it's not only a great looking but also a great performing P4 solution.
Introduction
---
DFI surprised us all last year with the introduction and undeniable success of its LANPARTY motherboard line. In a few short months, DFI went from a relatively unknown company to a household name. If you build it for enthusiasts, enthusiasts will come. And that's what DFI bet on, as well as the growing popularity of UV sensitive products. So far, the bet has paid off. More geeks than ever are checking for what DFI has cooking.
The LANPARTY line is not just about cool UV looks though; it's about top performance and great features as well. The nForce2 and original Pro875 proved to be excellent performers and picked up quite a few awards.

In this review, I'll take a look at the LANPARTY Pro875B, an Intel 875P chipset-based mainboard and the first major revision to the Pro875.
Features, Specs and Package Contents
---
Features at a Glance
ATA 100/66; ATA 133/100/66; 2 SATA
SATA RAID 0/1; IDE RAID 0/1/0+1/RAID 1.5
8 USB 2.0/1.1 Ports (4 Rear + 4 Additional)
Intel 82547EI GbE CSA LAN
6ch Audio + S/PDIF
CMOS Reloaded
DFI LANPARTY features

UV Sensitive
Round Cable
FrontX Device
PC Transpo
Genie BIOS
BIOS Live Update
EZ-On / EZ-Touch
To read about these features, please visit this page. These features are pretty cool, so I recommend you check that link out if you are considering an LP board for your next purchase.
Specifications
CPU

Intel® Pentium® 4 Processor with Hyper-Threading Technology
    – 800MHz/533MHz system data bus
Intel® Pentium® 4 Northwood processor
    – 533MHz/400MHz system data bus
Intel® Celeron® Northwood processor
    – 400MHz system data bus

CPU Socket

Socket 478

Chipset

Intel® 875P chipset
    – Intel® 82875P Memory Controller Hub (MCH)
    – Intel® 82801ER I/O Controller Hub (ICH5R)

System Memory

Supports dual channel (128-bit wide) memory interface
    – Each channel supports 2 DIMM sockets
Supports up to 4GB system memory
Supports Dynamic mode to optimize system performance
Synchronous operation with processor system bus
    – PC2100/PC2700/PC3200 (DDR266/DDR333/DDR400) with 800MHz FSB CPU (supports PAT mode). DDR333 will run at 320MHz memory frequency when used with 800MHz FSB CPU.
    – PC2100/PC2700 (DDR266/DDR333) with 533MHz FSB CPU
    – PC2100 (DDR266) with 400MHz FSB CPU
Supports ECC/non-ECC DIMMs
Supports unbuffered DIMMs

BIOS

Award BIOS, Windows® 98SE/2000/ME/XP Plug and Play compatible
Genie BIOS provides:
    – CPU/DRAM overclocking in 1MHz stepping
    – AGP/PCI/SATA overclocking
    – CPU/DIMM/AGP overvoltage
4Mbit flash memory
CMOS Reloaded

Power Management

Supports ACPI STR (Suspend to RAM) function
Wake-On-Events include:
    – Wake-On-Keyboard/Mouse
    – Wake-On-USB Keyboard
    – Wake-On-Ring (external modem)
    – Wake-On-LAN
    – RTC timer to power-on the system
AC power failure recovery

Hardware Monitor

Monitors CPU/system temperature and overheat alarm
Monitors CPU/1.5V/5VSB/VBAT/3.3V/5V/±12V voltages and failure alarm
Monitors CPU/chip/second fan speed and failure alarm
Automatic chip/second fans on/off control
Read back capability that displays temperature, voltage and fan speed
CPU Fan Protection function monitors the CPU fan during system boot-up
CPU Temperature Protection function monitors CPU temperature during system boot-up

Audio

20-bit stereo full-duplex codec with independent variable sampling rate
High quality differential CD input
True stereo line level outputs
S/PDIF-in/out interface
6-channel audio output

LAN

Uses 82547EI Gigabit LAN CSA interface
Full duplex support at both 10, 100 and 1000 Mbps

ATA RAID

Uses HighPoint 372N RAID controller
RAID 0, 1, 0+1 and 1.5

PCI IDE

Supports ATA/33, ATA/66 and ATA/100 hard drives
PIO Mode 4 Enhanced IDE (data transfer rate up to 14MB/sec.)

ICH5R SATA IDE with RAID

Supports two SATA (Serial ATA) interfaces which are compliant with SATA 1.0 specification (1.5Gbps interface)
Supports RAID 0 and RAID 1

AGP

Supports 1.5V AGP 8x (2.13GB/sec.) and AGP 4x (1066MB/sec.) for 3D graphics applications (AGP 2x and 3.3V AGP card are not supported)
Supports AGP 3.0 and AGP 2.0 spec.

Rear Panel I/O Ports

4 USB 2.0/1.1 ports
1 RJ45 LAN port
1 DB-9 serial port
1 DB-25 parallel port
1 mini-DIN-6 PS/2 mouse port
1 mini-DIN-6 PS/2 keyboard port
2 RCA jacks for S/PDIF-in and S/PDIF-out
2 audio jacks for center/bass and rear out
3 audio jacks: line-out, line-in and mic-in

I/O Connectors

2 connectors for 4 additional external USB 2.0/1.1 ports
1 front audio connector for external line-out and mic-in jacks
1 connector for an external game/MIDI port
2 internal audio connectors (CD-in and AUX-in)
1 S/PDIF-in/out connector for optical cable connection
1 connector for IrDA interface
2 RAID IDE connectors
2 Serial ATA connectors
2 IDE connectors
1 floppy connector
2 ATX power supply connectors
1 Wake-On-LAN connector
4 fan connectors for CPU fan, chassis fan, second fan and chip fan
1 diagnostic LED connector for external 4 diagnostic LEDs display
EZ touch switches (power switch and reset switch)

Expansion Slots

1 AGP slot
5 PCI slots

Compatibility

PCI 2.2 and AC '97 compliant
Intel AGP version 3.0

PCB

4 layers, ATX form factor
30.5cm (12.05″) x 24.4cm (9.6″)
Package Contents
There's just something fun about the LANPARTY packages. Maybe it's because there's so much in the big, colorful box, or maybe it's because they are made for people who want to have fun. One thing is for sure; it's cool to get such a substantial package for your money. Here's what DFI includes with the LP Pro875B.
LANPARTY PRO875B system board
LANPARTY PRO875B user's manual
LANPARTY Features user's manual
Two IDE round cables (UV reactive, matching board connectors)
One floppy round cable (UV reactive, matching board connectors)
Two serial ATA data cables
One serial ATA power cable
One card-edge bracket mounted with a game/MIDI port
PC Transpo kit
FrontX device equipped with:

Two USB 2.0/1.1 ports
One line-out jack
One mic-in jack
Four diagnostic LEDs

I/O shield
Thermal paste
LANPARTY sticker
LANPARTY case badge
One pack of jumper caps (five 2.54mm jumper caps)
"HighPoint 372 N RAID Drivers" diskette
"Intel ICH5R RAID Driver" diskette
"Mainboard Utility" CD
"WinDVD/WinRIP Utility" CD
As you can see, you get a very nice bundle with the LP series. The only thing that has changed in the bundle since the original LP boards were released is that now the FrontX device includes a four diagnostic LED unit. It still is one of the best bundles around. The PC Transpo carrying harness fits in with the LAN party theme perfectly, and the FrontX front bay device is very practical and provides easy access to frequently used ports.

Board Layout
---
DFI did a good job on the layout of the LP Pro875B. While installing components, I ran into no issues or annoyances. One issue that some people might have though is the location of the CD-in and AUX-in connectors. They are very close to the PCI slots and could be bothersome to deal with if a user has many expansion cards and chooses to use these connectors. I don't see it being an issue for most users though, since you don't even need to plug in a CD-ROM's audio cable these days. Click the thumbnail below to see a close-up of the board.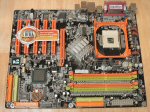 As mentioned in the feature list, LP boards feature onboard reset and power switches, called EZ-On / EZ-Touch. You can see these two switches in the bottom right-hand corner of the image below. The floppy and PATA RAID connections are located in this area of the board, along with two SATA connections, the CMOS battery and Intel's ICH5R southbridge chip.
Moving directly to the right of this corner of the board, we find the four DIMM slots, power connections and IDE1 and IDE2 connections. Two of the Pro875B's 3-pin fan headers are also located in this area, although you can only see one in the pic. I'm happy to report that because of the AGP slot and DIMM locations, RAM can be uninstalled and installed without removing the video card first (at least with the 9800 XT I was using).
Like many boards available today, the LP Pro875B features five PCI slots and an AGP slot. The Pro875B's are of course UV-reactive orange to match the rest of the UV-reactive theme of the board. In this pic, you can see the CD-in and AUX-in jacks that I referred to earlier. Adjacent to them is the game port header, to which you can connect the included game port bracket. Along the right edge of this image, you can see another 3-pin fan header.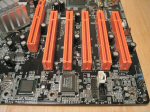 The last corner of the board reveals the CPU socket and northbridge heatsink. The heatsink is very close to both the AGP slot and one corner of the CPU cooler retaining bracket. I doubt this will cause a problem for many users, but it's worth noting nonetheless.
The final area of the Pro875B that I'd like to point out is the rear panel I/O ports. In addition to the four USB ports and single RJ45 LAN port, the board features one serial port, a parallel port, keyboard and mouse PS/2 ports, and seven audio jacks (two RCA jacks for S/PDIF-in and S/PDIF-out, two audio jacks for center/bass and rear out and three jacks for line-out, line-in and mic-in.

Installation
---
During software and hardware installation, I ran into no problems with the LP Pro875B. The Quick Installation Guide should be helpful to newbies jumping into their first or second install. It will also function as a good reference for all users to quickly find where things are laid out on the board. I used it several times while installing components.
After getting all the hardware installed into my Kingwin KT-424-S-WM aluminum case, I of course moved on to the operating system and driver installation. I encountered no issues while installing the Intel LAN and chipset drivers, C-Media audio drivers and various included utilities. I used WinFlash to update the BIOS to the version dated 11/21/03.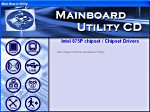 Admittedly, what I was most excited about when setting up this system was seeing it under UV light, which is why I installed it in the Kingwin KT-424-S-WM, a great-looking windowed case. I installed two 12″ UV cold cathode tubes and stared at the pretty lights. 😉 No one should be without some UV fun! The orange looks awesome (it doesn't hurt that it happens to be my favorite color).
BIOS
---
Here are some of the key tweaking options you have in the BIOS and their ranges. Most of these settings are found in the Genie BIOS screen.
Memory Frequency: Auto, DDR400, DDR333, DDR266
CPU Clock: 200 – 400MHz (1 MHz increments)
AGP/PCI/SATA Clock: 66/33/100, 73/37/100, 80/40/100MHz
CPU Voltage: 1.975V Max
DIMM Voltage: 2.6 – 2.9V (.1V increments)
AGP Voltage: 1.8V Max
A very noteworthy BIOS feature offered on DFI's LANPARTY and INFINITY series boards is CMOS Reloaded. In a nutshell, CMOS Reloaded allows the user to save BIOS configurations, name those configurations and easily reload them. With the latest BIOS versions, the LP Pro875B offers the ability to save four configurations. While some users may not find much utility in such a feature, many tweakers might enjoy the benefits of CMOS Reloaded. For instance, you can create a 'Gaming OC' (or whatever you want to call it) configuration that sets your system at its max overclock to get the most frames per second while fragging. Then, you could also set up a 'Default – No OC' configuration that sets everything to default settings to put less stress on your system. Switching between these two settings would be considerably easier and take much less time than manually changing each BIOS option each time.

Performance / Benchmarks / Overclocking
---
For this review, I took a quick look at the performance of the LP Pro875B using some standard benchmarking tools, including Futuremark PCMark2002, SiSoftware Sandra 2003, Futuremark 3DMark2001SE and Quake 3 Arena (Q3Bench). I compared the Pro875B to DFI's Infinity 865PE with PAT enabled. PAT, in case you forgot or aren't aware, is Intel's Performance Accelaration Technology and was intended by Intel to be a feature only on Canterwood (or 875) motherboards. Most companies figured out a way to allow users to enable PAT on their Springdale (or 865) boards though. Therefore, a Springdale board with PAT enabled will perform on par with a Canterwood board. So, in all these benchmarks, both boards have PAT and HT (Hyper-Threading) enabled.
Additionally, to simplify things, I just included the overclocking results in the tables below. The max stable overclock I achieved was 250 MHz (or 1GHz) frontside bus (FSB). This was with a FSB:DRAM clock ration of 1:1, so while the FSB was at 250MHz, the DDR was clocked to 500MHz. That puts the 2.4GHz 'C' processor at 3.0GHz. As you can see below, this overclock results in a nice performance boost (as much as 25% in some cases, which is what we would expect since it's a 25% overclock).
I didn't have much luck getting over 250MHz regardless of what I changed and tweaked. I'm not sure if it was the board or processor holding me back, but I'm pretty sure it was one or the other. I'm leaning towards the processor since I've heard many cases where the Pro875B gets to 275MHz. It's one of the few boards that can hit this extreme overclock. I did get the system to boot at 260MHz (1:1), but it wasn't stable for very long. Here are the specs of the test system.
Test System:
Processor: Intel Pentium 4 2.4GHz "C" 800MHz FSB (provided by EnvisionCS.net)
Hard Drive: Maxtor 80GB DiamondMax Plus9 Ultra w/ 8MB Buffer
Optical Drive: Plextor PlexWriter 12/10/32A
NVIDIA Drivers: Detonator 52.16
DirectX Version: 9.0b
PCMark2002
CPU

Motherboard

Result

Infinity 865PE @ 200 FSB w/ PAT
5912
LP Pro875B @ 200 FSB
5949
LP Pro875B @ 250 FSB
7447

Memory

Infinity 865PE @ 200 FSB w/ PAT
9050
LP Pro875B @ 200 FSB
9054
LP Pro875B @ 250 FSB
10336

HDD

Infinity 865PE @ 200 FSB w/ PAT
1120
LP Pro875B @ 200 FSB
1171
LP Pro875B @ 250 FSB
1242
Sandra 2003 – Memory Bandwidth
Integer

Motherboard

Result (MB/s)

Infinity 865PE @ 200 FSB w/ PAT
4702
LP Pro875B @ 200 FSB
4706
LP Pro875B @ 250 FSB
5539

Float

Infinity 865PE @ 200 FSB w/ PAT
4700
LP Pro875B @ 200 FSB
4702
LP Pro875B @ 250 FSB
5537
Sandra 2003 – CPU Arithmetic
Dhrystone ALU

Motherboard

Result

Infinity 865PE @ 200 FSB w/ PAT
7398
LP Pro875B @ 200 FSB
7408
LP Pro875B @ 250 FSB
9335

Whetstone FPU

Infinity 865PE @ 200 FSB w/ PAT
2070
LP Pro875B @ 200 FSB
2076
LP Pro875B @ 250 FSB
2595

iSSE2

Infinity 865PE @ 200 FSB w/ PAT
4538
LP Pro875B @ 200 FSB
4543
LP Pro875B @ 250 FSB
5458
Sandra 2003 – CPU Multi-Media
Integer iSSE2

Motherboard

Result

Infinity 865PE @ 200 FSB w/ PAT
11082
LP Pro875B @ 200 FSB
11079
LP Pro875B @ 250 FSB
13879

Float iSSE2

Infinity 865PE @ 200 FSB w/ PAT
17550
LP Pro875B @ 200 FSB
17503
LP Pro875B @ 250 FSB
21780
Sandra 2003 – File System
Motherboard

Drive Index

Infinity 865PE @ 200 FSB w/ PAT
29914
LP Pro875B @ 200 FSB
29187
At the default speeds of 200MHz FSB and 2.4GHz, the Pro875B and Infinity 865PE perform almost identically in the system benchmarks. This is completely attributable to the PAT function being enabled on the 865PE. Without it, the Pro875B would mop the floor with the Infinity board. The Pro875B put up some very respectable numbers in these tests.
As expected, the Pro875B performs considerably better when overclocked to 250MHz FSB (3.0GHz processor). The system ran stable and performed quite well at this speed.
3DMark2001SE (Build 330)
1024×768 – NoAA / NoAF

Motherboard

3DMarks

Infinity 865PE @ 200 FSB w/ PAT
16290
LP Pro875B @ 200 FSB
16296
LP Pro875B @ 250 FSB
19064

1280×1024 – NoAA / NoAF

Infinity 865PE @ 200 FSB w/ PAT
14699
LP Pro875B @ 200 FSB
14707
LP Pro875B @ 250 FSB
16569
Quake 3 Arena – Four Demo
1024×768 – NoAA / NoAF

Motherboard

FPS

Infinity 865PE @ 200 FSB w/ PAT
249.3
LP Pro875B @ 200 FSB
248.9
LP Pro875B @ 250 FSB
310.7

1280×1024 – NoAA / NoAF

Infinity 865PE @ 200 FSB w/ PAT
241.9
LP Pro875B @ 200 FSB
242.1
LP Pro875B @ 250 FSB
288.7
It's the same story with the gaming benchmarks. The Pro875B performs virtually the same as the 865PE but shows a nice boost when overclocked. Once again, it was as stable at 250MHz FSB as it was at the default 200MHz. So, there's no reason not to overclock the Pro875B to get those extra frames.
Conclusion
---
As with all of DFI's LANPARTY packages, the LP Pro875B offers a lot in every department — features, performance and bundle. Overall, it's been a very positive experience working with the Pro875B. This board includes many unique features, such as the onboard power and reset switches, CMOS Reloaded, gigabit LAN, 5.1 audio, PATA and SATA RAID and of course the UV-reactive sockets and slots. As if the features weren't already enough, DFI throws in a LAN party-oriented bundle (to really drive the theme home). This bundle includes a PC transporting harness (PC Transpo), UV-reactive round cables, FrontX and other goodies. It's one of the best feature sets and bundles around.
DFI wouldn't want to leave you hanging with a system that just looks good on paper and under UV light though. You get great performance to boot. I found the Pro875B to be a very easy overclocker, at least up to 250MHz frontside bus (FSB). Either the board or CPU was keeping me from getting higher, and I'm not sure which. Keep in mind though that the Pro875B is one of the few Intel boards that is reported to hit 275+MHz FSB. If you aren't into overclocking, this board will easily make you happy with its top-notch performance.
For less than $180 according to PriceGrabber ($175 at Newegg), you can get ahold of this luxury home for a P4 processor. That might seem high, but it really isn't once you consider the features, bundle, performance and fact that it's one of the best P4 boards and packages you can get. I recommend it without hesitation to newbies and enthusiasts alike.
Pros:
Practical and excellent bundle
Great features
Good looks (UV-reactive orange and yellow on black!)
Good performance and solid overclocking
CMOS Reloaded
Logical layout
Cons:
No UV cold cathodes included (I had to think of something) 😉
Final Score: 9 out of 10 and the Bjorn3D Seal of Approval!