Take those old and dusty VHS tapes and convert them to digital video or even DVD with ADS Tech's DVD Xpress. It makes video capturing a snap.

Introduction
---
See all those VHS tapes piling up and gathering dust in your entertainment center? You know that you could get those all on to DVD, right? And you also know that it doesn't take a professional video editor and tons of cash to do as well. No? Well if you are one of the many saving those VHS tapes labeled "Christmas 1985" or "Ryan's 1st Grade Program," ADS Tech has just the tool for you to convert that old film to digital video and then to DVD if you wish. The DVD Xpress is here for those looking to "modernize" their home movie collection.
The DVD Xpress is a MPEG encoder that utilizes USB 2.0, but it is also backwards compatible with USB 1.1. Choosing from either Composite or S-Video takes all the confusion out of what video cord goes where, and audio is delivered to the right and left RCA inputs. A single USB port on the back of the Xpress connects the unit to a PC. A standard power pack is included to power the device.
Features and Specs
---
Features:
USB 2.0 connection to the PC, backward compatible to USB 1.1
Capture audio and video via the USB port with "Audio-Lock" technology for perfect lip synch
Use temporal and spatial video pre-processing filters to help reduce noise on old VHS tapes or TV signals.
Supports MPEG 1 Layer 2 compressed and LPCM Audio
Capture from any analog video source in MPEG-1 or MPEG-2 video formats including VCD, SVCD and DVD formats via RCA (Composite) or S-VHS video inputs.
Capture DVD (MPEG-2) at video bit rates from 1 MB/sec. up to 15 MB/sec. (up to 4 MB/sec. for USB 1.1 connections)
Capture using Constant or Variable bit rates and other custom settings
Features a 9 bit video digitizer with 2x oversampling and 4 line comb filter
Brightness, Contrast, Chroma, Saturation and Hue controls
Use Video Studio 7 SE DVD to capture and then burn to disk in quick, simple steps
Specs:
| | | | |
| --- | --- | --- | --- |
| Video Format: | Resolution NTSC: | Resolution PAL: | Video Bit Rate: |
| VCD | 352×240 | 352×288 | 1.15MB/sec |
| SVCD | 480×480 | 480×576 | 2.4Mb/sec |
| DVD | 720×480 | 720×576 | 2-15MB/sec |
Real-time encoding of analog video to the following formats:

Full D1 MPEG 2 broadcast resolution (720 x 480 NTSC / 720 x 576 PAL)
½ D1 MPEG2 (352 x 480 NTSC / 352 x 576 PAL)
VCD MPEG 1 (352 x 240 NTSC / 352 x 288 PAL)

Frame Rates: 29,97 NTSC and 25 fps PAL
Connection to USB 2.0 or USB 1.1 port on desktop or notebook
Output:

CD-RW as VCD or as DVD on CD (includes DVD run time player)
Just pop the CD in and it opens in DVD player software
DVD-R/RW or DVD+R/RW (we believe –R disks provide greatest compatibility with home DVD players)
Save as streaming video and publish to the web

Includes:

Instant DVD Xpress Device
Audio/Video and USB cables
CD Containing:

Capture Wizard 3.0 – quick and easy-to-use capture and playback software
Video Studio 7 SE – robust, full featured video capture and editing software
User Manual

Inputs/Outputs:

Rear: RCA (Composite) video in, S-Video in, 3.5 mm stereo audio in
USB connector: USB 1.1 or USB 2.0
Power connector: 5VDC 2.4 mA

Installation
---
Installation is a breeze if you follow ADS's simple instructions. After making a few connections and installing the included drivers and a few software pieces, namely CapWiz and Ulead VideoStudio 7 SE, I was all set to begin capturing, editing, and encoding my video. Also included on the software CD are PhotoShow Trial, DirectX 9.0 and Windows Media Encoder 9.

Capturing
---
Once all of the connections are made from the video source to the computer through the DVD Xpress, starting CapWiz begins the very easy process of getting the video from the original source to PC.
Following the steps in CapWiz is a walk in the park. First you are prompted to give your location so that the video is captured in the correct format, i.e. PAL, NTSC, or SECAM.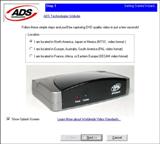 After making this choice, you must select either Composite or S-Video inputs. Next is the movie name and saving location for the movie file. Choosing MPEG-1 or MPEG-2 will determine either VCD or DVD playback, respectively. This screen will also show an estimated amount of used disk space, an actual amount of free space and the time available for recording. These figures are further determined by the quality of each video format.
The final screen in the setup is a brief instruction set explaining how to use the actual CapWiz software.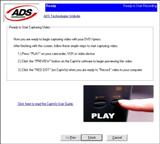 After clicking Finish, the true beauty that is CapWiz is revealed. This software is really quite easy to use to preview, record, and adjust video. After playing around with this software for just a few minutes, I felt like I was already a professional at it. That's how easy this software makes the process of capturing video.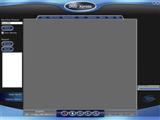 The following screen captures show some of the various adjustments that are available in CapWiz. These simple and easy to use screens can help out with that horrible lighting that was originally recorded years ago on that aging VHS tape.
After capturing the video, feel free to view the clips with either CapWiz or any other current media player.

VideoStudio 7 SE
---
If you are satisfied with just getting the video to your PC, then you can stop with CapWiz. But if you would like to have a little more artistic influence on your home videos, VideoStudio 7 SE from Ulead can help you out.
VideoStudio 7 also has the ability to capture video from the DVD Xpress unit, as well as other video sources, such as the Firewire port on your digital camcorder. There are a few screens that allow the user to add effects, overlays, titles and audio to your clips. Once you have your videos all lined up and ready for production, VideoStudio 7 SE can even help you encode and burn them to DVD.
VideoStudio 7 is not the king of the castle when it comes to video editing, so serious video editing enthusiasts may want to take a look at some of the offerings from Ulead, such as MediaStudio Pro.

Testing
---
After capturing video in multiple formats and qualities, I was only able to tell a difference between the high-quality MPEG-2 and lower-quality MPEG-2 files. After changing the quality to about 8MB/sec I was able to appreciate the true quality of the actual video that I was trying to capture. If storage space is an issue, using a smaller mb/sec ratio such as 2.5MB/sec can help out tremendously, and will only degrade video quality slightly more than a medium ratio of say 4-6MB/sec.

Conclusion
---
If you are looking for a solution to get all those nasty VHS tapes out from under the spare bed or inside the entertainment center, be sure to give the ADS Tech DVD Xpress a look. With its easy to use hardware and software, this unit can turn that nightmare of tapes into a fantasy of DVDs. You don't have to be a video editing junkie to spice up your home movies and memories. Believe me, if I can take some old video of me and make it entertaining, just think what you could do.
Pros:
Easy to use
Great for beginners
Great software package
Can help with VHS tape clutter
Cons:
Some tinkering is needed to get the best quality video
Serious video editors may want to look elsewhere
The DVD Xpress from ADS Tech does exactly what it is supposed to do and more. For that reason, I give it a 9 out of 10 and the Bjorn3D Seal of Approval.