If you are in the neighborhood for a new case and want something that has quite a few features but don't want to spend a fortune, SilverStone has something just up your alley. Check out this reivew of the Temjin SST-TJ01 Case!
Introduction
---
Cases these days range from your plain-Jane beige enclosures to flashing and glowing aluminum monstrosities. Silverstone has taken into consideration the opinions of a wide range of customers and has created the SST-TJ01, hailing from their Temjin series. A nice blend of quality components, spotless paint and an aluminum front make the SST-TJ01 a great case for someone wanting that 21st century look without spending much more than they would for any other case.

Features and Specs
---
Features:
High quality steel case with silver or black aluminum front
Optional windowed side-panel
2 front USB 2.0 ports
1 front IEEE 1394 Firewire port
Front mounted headphone and microphone jacks
2 60mm front intake fans
80mm rear exhaust fan
Specs:
| | |
| --- | --- |
| Material: | Aluminum Front Panel,0.6mm SECC Body |
| Colors: | Black/Silver |
| Dimension: | 193mm(W) x430mm(H) x483mm(D) |
| Drive Bays: | 6 x 5.25″, 2 x 3.5″/ 4 x 3.5″ |
| Expansion Slots: | 7 |
| Front Panel Features: | USB2.0 port x 2 , IEEE 1394 Firewire x 1 , Earphone jack x 1 , MICx1 |
| PowerSupply: | Optional Standard PS2 Power Supply |
| Case Fans: | Front: 2x60mm Rear: 1x80mm |
| Main Board Types: | Micro ATX, ATX |
| Window: | Optional side clear acrylic |
| Weight: | 7.3kg |
Exterior
The first thing that grabbed my attention about this case was the awesome paint job Silverstone adorned the steel with. I almost wanted to wash and wax the case when I noticed some fingerprints on it. Nowadays, you can find a case in just about any color, but you will be hard pressed to find one with this high quality of a paint job. The SST-TJ01 is available with a black body and either a black and blue front or silver and black front. The case I received was adorned with the black front that has a cool blue aluminum strip that adds a nice touch to the front. The door includes a small, and might I add "underpowered", magnet to hold it against the front frame. Another feature of the exterior is the addition of a window on the side of the case. I was not expecting a window on this case, as there is no window shown or listed on Silverstone's website, but it was a nice surprise.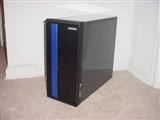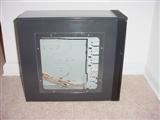 Front Peripheral Ports
It's always nice to see case designers paying attention to the needs of their customers. Silverstone does an excellent job of this by including two USB 2.0 ports on the side of the front bezel, as well as an IEEE1394 Firewire port and headphone and microphone jacks. The ports are located on the right side of the bezel, which may cause some issues with those of you who place their cases to their right, but this placement was perfect for me, as my desk has a shelf to the left that put the ports right next to me.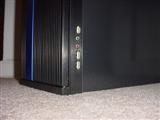 Front Door
Behind the aluminum door rests room for up to six exposed 5.25" drives and two 3.5" exposed drives. The nicely polished power and reset buttons also hide behind the door, along with the power and hard drive activity bright blue LEDs. These LEDs are a nice way to separate the SST-TJ01 from the rest of the "crowd" sporting the traditional red and green LEDs. There is also a very sharp looking fan grill below the two 3.5" drives that serves as a front intake for the two 60mm cooling fans hiding behind it. Exhaust flow is encouraged by a rear mounted 80mm fan.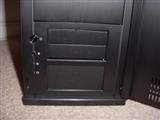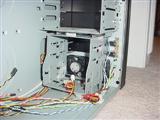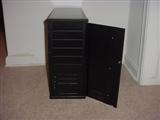 Access
The case is opened a little differently than most modern cases in that the top is first removed and then the sides slide up and off. The top is secured by a single thumb screw in the rear for easy access. This design worked great for getting into the case to install all the components and may cause would-be thieves to think again before trying to figure out how the case is disassembled.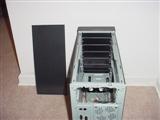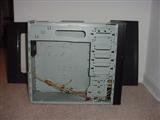 Installation
---
Test System:
Abit KR7A-133R
Athlon 2000+
768MB DDR 2100
48xCD-ROM
80GB IBM Deskstar
120GB Maxtor 8MB Cache
BFG Tech GeForce FX 5950 Ultra
Windows XP SP1
Extras
Silverstone includes a map-style instruction sheet showing their recommended process of installing PC components, along with a nicely equipped bag of various screws, motherboard stand-offs and washers.
Motherboard
Motherboard installation was a breeze using the included stand-offs. I was able to get the board in and secured without the slightest bump or scrape from the surrounding case. One interesting thing to note is how the rear expansion cards are secured to the case. Instead of the normal "internal" mounting of the screws, the SST-TJ01 incorporates an external design, which was a nice feature, in that it keeps you safe from gouging your motherboard if you were to slip with your screwdriver. The power supply mounts just above the motherboard, leaving just enough room for my Volcano 9 to breathe.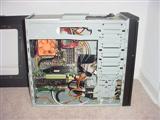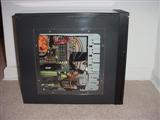 5.25″ Drives
As with most all cases, I was able to remove the optical drive cover painlessly and install a CD-ROM with no hitches. The case uses the traditional mounting system of using screws to hold the drives in. It would have been nice to see the screwless method in this case, but that feature can help add to the cost of the case.
Hard Drive Cage
I did encounter some problems with the removable hard drive cage. Once I had the drives installed in the cage, it was time to put the cage back into the case. The cage slides in and sort of "clicks" into place; that is of course after all the cussing and manipulating to get the cage to fit correctly. I am betting that when the hard drives are secured to the cage, they distort the shape of the cage slightly, causing it to not line up perfectly. Another drawback of the cage is that the two 3.5" drive covers are attached to it and can be difficult to line up with the front holes for them. Aside from the small holdup I experienced with the hard drive cage, installation was a breeze.
Testing
---
With everything installed in the case, it was time to do some testing, so the first thing I did was put it in my Antec case carrier and hauled it around the house. Right away I became aware that the door magnet is way too weak for this case. As soon as I picked the case up, the door swung open and almost hit my desk. Other than the door flying open, the SST-TJ01 felt nice and solid. I would not be afraid to put this case in my car and drive to my local LAN party. The case was a little lighter than I had expected and much lighter than my normal case, which is all steel and of a thicker gauge.
Now that my "mini Ironman competition" was over, it was time to fire everything up and take this black beauty for a spin. The polished buttons had a firm feeling to them, lending to the overall sturdy feel of the SST-TJ01. I never realized how nice blue power and hard drive LED's looked up front. I was really impressed with the look. I noticed right away that this case was slightly quieter than my normal case, and you can attribute this to the two small 60mm fans up front and single 80mm in the back.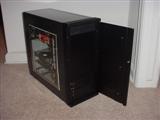 After letting the computer sit at idle for 30 minutes, it was time to take its temperature. Using Hardware Doctor, I was very surprised to see that the idle temperatures in this case were higher than my load temperatures in my old case. I went from being used to 26C at idle to 35C idle. Load temperatures were up from 30C to 40C. I was expecting to have a slightly increased case temperature due to the smaller intake fans, but was almost shocked by these high temperatures. This case could definitely benefit from a larger intake fan and possibly a side intake fan to help cool the CPU. Better front and rear fan ventilation would help this case out as well. The current configuration is just too restrictive for effective air flow.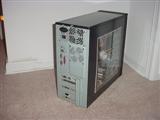 The front-mounted peripheral ports worked as expected, which is very nice considering I do a lot of video encoding with my home videos and television shows. I also love that I can now plug in my head phones without having to reach around my case to switch out my speaker and headphone plugs.
Conclusion
---
If you are in the market for a new case and want something that offers the look and some of the features of high-end cases, feel free to do some more research on the SST-TJ01. Although it lacks some of the features of more expensive cases, it is a great case with many features not available in many of the mid-range cases.
For a list of retailers that sell SilverStone cases, you can check out SilverStone's this page on SilverStone's web site.
Pros and Cons
Pros:
Looks great
Many high-end features
Plenty of expansion room
Sturdy case
Cons:
Weak magnet on door
High case temps
No PSU included
With only a lack of a few nice features and the need for better cooling holding it back, I give the SilverStone SST-TJ01 an 8 out of 10.