The Eumax 4-in-1 128MB MP3 Player is a great, no frills, USB flash disk / MP3 player. It's small, lightweight, and sounds very good. It's ideal for those of you that need a flash disk to transfer files between computers and would like integrated MP3 player functionality too.
Introduction
---
The Eumax 4-in-1 128MB MP3 Player is a great, no frills, USB flash disk / MP3 player. It's small, lightweight, and sounds very good. It's ideal for those of you that need a flash disk to transfer files between computers and are looking for a combo device with inexpensive MP3 player functionality too.
This device has everything you really need, and omits less important features like displaying song titles. Sure song titles are nice to have, but it's a trade off. This unit is lightweight, inexpensive, and at least it actually has a display, unlike cheaper players. This player is easy to use and overall (in spite of a few flaws), I like it a lot.
Let's take a look at what you get in the package: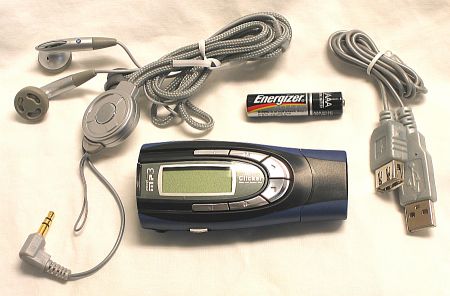 There's a player, a combined lanyard (neck strap) / ear bud cable set, a name-brand AAA battery, a USB extension cable…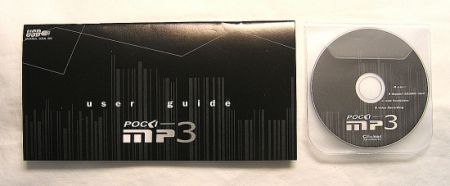 …and a fairly cryptic manual (with enough info to get you started) and a mini (3 inch) CD with drivers & an MP3 Manager program.
Features
---
The Eumax 4-in-1 128MB MP3 Player has a fairly extensive set of features:
USB removable pocket-drive
MP3 Player with backlit LED screen
128MB internal memory with SD / MMC Card slot for external expansion memory
High quality MP3 player which supports compression rates from 32Kbps to 320Kbps.
Voice Recording
5 Equalization modes: Normal, Classic, Rock, Jazz, and Pop.
It can play continuously 6 hours for just one AAA (UM-4) battery.
USB host interface: USB 1.1 standard high speed files transfer, Upload 950 Kbps, Download 520 Kbps.
Dimensions: 9 x3.8 x2.3 cm, Weight: 38 g (w/o battery)
Click HERE for the full specs.
The LCD is easy to read in bright sunlight, as well as dim lighting, thanks to the backlit display. It would have been nice if there was a backlight "on" button, since the backlight automatically turns off 1.5 seconds after the last button was pressed. That's not a lot of time to read the display. I would settle for a longer backlight time, but that's not an option either. It's not a big deal though; the player is still usable (albeit a little awkward) in dark surroundings. A bigger issue is the lack of song titles and other info, but that too is something I can live with since track numbers and song lengths are displayed.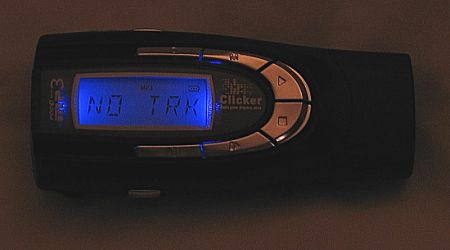 The backlight is provided by 2 reasonably bright blue LEDs.
The Eumax 4-in-1 comes with comfortable ear buds integrated into the neck strap. That's a superior design, when compared to separate strap and earphone cables (which are easily tangled). Even so, I had to untangle the cords more that once. One nice feature of the lanyard is that it includes a quick-release mechanism, so that you can plug the player into a USB port without removing the strap or earpieces. There was an annoyance too: The ear buds tended to fall out of my ears whenever I moved my head quickly. I generally prefer ear buds, but something about this design just didn't fit my ears very well. (It's entirely possible that others won't run into this particular issue.)
The music playback quality is quite good, especially when playing high quality MP3 files with minimal compression. This MP3 player sounds practically identical to WinAmp running on my computer (at least as far as my untrained ears are concerned). I like the Rock equalization setting best, since it really emphasizes the lower frequencies.
The blue rubberized case is easy to hold; it's unlikely that you'd accidentally drop the player. It's attractive too, in my opinion. Also, the tight-fitting battery door stays closed and the USB cover stays on. This device includes 128 MB of flash RAM, which is a very useful size for carrying lots of files around. (I've definitely outgrown my old 16 MB Flash Drive!) I shouldn't have a problem with outgrowing this device anytime soon, since that memory is expandable. That's very reassuring. Unfortunately, the exposed SD / MMC slot has no cover and faces upwards, which may lead to problems. My recommendation is to install an external memory card to fill the hole, or just cover the empty slot with a piece of black electrical tape, as described later in this review.
Software Installation
---
The manual recommends installing the drivers FIRST, before plugging the unit into a USB port on your computer. That's what I did — everything worked flawlessly. The software is easy to use. There's a window that lists music files on your computer and another one that displays the playlist on the MP3 player. Select the files and click the upload or download button to transfer MP3 files between the two.
One thing to note is the arrow up and down push buttons, which allow you to rearrange the order in which the songs play. Not every MP3 player allows the playlist order to be specified, especially the cheaper units. It's very nice to have full control over the MP3 playing order. Other functions in the software let you do things like delete files, convert Voice Recorder files into .WAV files, etc. Overall, the MP3 Manager is a pretty decent application.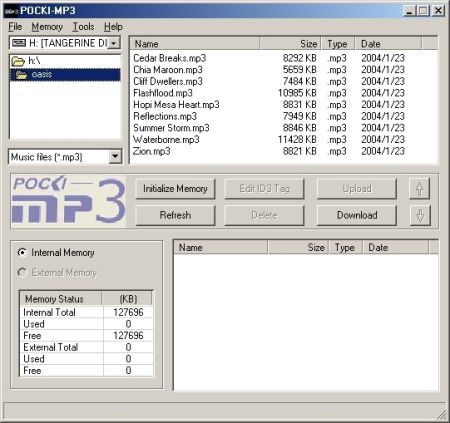 However, you don't always need to use the MP3 Manager. Sometimes you just need to transfer a few files to the flash disk. In that case all you need to do is crank up Windows Explorer. The Eumax appears as 2 (removable ) drives: One drive is the internal memory and the second is the external card slot. Drag-n-drop your files to the flash disk, just like you would copy files to a standard hard drive. You can even drag-n-drop MP3 files to the player, but you will need to use the MP3 Manager to arrange the playlist ordering.
Testing
---
The Eumax 4-in-1 128MB MP3 Player just plugs into a USB port; the data transfer speeds should be similar on any current system, but for the sake of completeness, here are my system specifications:
System Configuration
Windows ME
AMD Athlon 2500+ @ 2.090 GHz (overclocked)
NVIDIA Detonators version 53.04, the latest publicly available for Windows ME
Corsair 512 MB 3200 CAS2 DDR
Maxtor DiamondMax 80GB 7200rpm (L01P080) hard drive
KDS Xflat 19″ monitor
MS Natural Keyboard
An optical mouse (the MS IntelliMouse Explorer — the silver one with a red light in back).
One of the main reasons I chose to review this particular MP3 player was for its logical front panel layout. It's easy to use this device even when you are not looking at it. Your fingers can follow the grove around the edge of the LCD display and "home in" on the button you need. The volume controls are on the side. When wearing the unit with the neck strap, the volume up button is the one at the top of the unit and the volume down button is directly below.
The button layout makes a lot of sense, which means less fumbling with the controls. That's good, because this unit has a few flaws, the most annoying of which is that the device forgets its settings when you turn it off. That means you will probably be adjusting the settings every time you turn the device on. I wish that it used a few bytes of its flash RAM to store the volume setting, Equalizer setting, currently playing track, etc.

Here's a diagram from the manual that shows the LCD and control layout.

And here's a close up of the actual unit.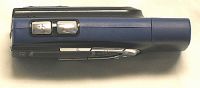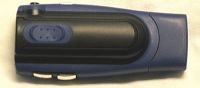 Click on thumbnails for a larger image.
The volume controls are on the side. When the unit is hanging from the neck strap, the volume up button is the upper button and volume down is the lower button. There's a Lock button on the other side. Be prepared to use it, since the other buttons will often get pressed during normal activities. The battery cover on the back is sturdy; it stays closed during normal use, but easily opens when the battery needs changing.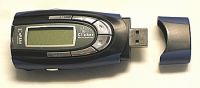 The USB cover slides off, so that the unit can be plugged into your computer; the cover fits snuggly and will not fall off during normal use. A USB extension cable (provided) can be used if your computer does not have easy-access USB ports in the front. This device is only "USB Host interface 1.1" certified, so the file transfer speed is slower than some of the newer USB 2.0 flash disk models, but it still only takes a few minutes (at most) to fill it with a couple of hours of high quality music. Also keep in mind that the USB spec is backwards compatible, so this unit works fine in a USB 2.0 port; it just runs a little slower than a true USB 2.0 device.
According to the specifications, this unit should be able to receive files at 520 Kbps (520 x 1024 x bits per second). That's just the raw transfer rate over a USB 1.1 connection. I assume there is some overhead in the USB protocol and additional non-data bits are transferred. When I measured the actual MP3 download speed for a dozen different sized files, I got an average speed of 4867.83 KB / sec, as in BYTES per second. Unfortunately, that does not include the time to actually flash the RAM, which typically takes 2-10 additional seconds (depending on file size).
The device I reviewed came with 128 MB of Flash RAM, about enough for 2 CD's worth of high-quality MP3 files. If you are willing to use a higher compression rate, you can cram even more music on it. Or, if you want more music without compromising quality, you can utilize the SC / MMC slot to expand the unit's memory. The maximum memory card size accepted is 512 MB, for a total (internal + external) of 640 MB RAM. Eumax recommends using Panasonic brand SD cards, by the way.
With this player, you can download an entire CD's worth of music in just a minute or two (less if your files are highly compressed.) When I copied an entire CD's worth of music (59.1 MB) to the player using Windows Explorer, it required 1 minute 19 seconds to transfer the files. It's even faster to upload files: It only took 1 minute 3 seconds to copy it back to my hard drive's temp directory. During normal use, I just deleted the songs on the player whenever I got tired of listening to them and downloaded more music whenever I wanted. The whole process is much quicker than burning a CD, so I never felt like I was having to "wait" for the files to transfer.
The AAA battery is only required when playing music; the USB flash disk can be used without a battery. That's a nice touch, since removing the battery reduces the weight of the unit quite a bit. The battery seems to last a little over 6 hours. It's hard to measure battery life precisely, since I found that the player would turn accidentally turn itself on whenever the front buttons were bumped. (This happened often, but since the device also has an auto-off feature, it did not seem to make a large difference in the battery life).
I should mention that during the "no battery" testing, the unit errored out once while downloading data to device. I disconnected and then reconnected the player to fix the problem. Luckily no data was lost, and the issue has not reoccurred. Another odd thing that I noticed is that when the unit is plugged into a USB port, it stops playing music. It's not a big deal, but it surprised me.
The SD / MMC memory card slot faces upwards and has no cover. I'm worried about liquids and/or crud getting inside; luckily this issue is easily fixed with a small piece of black electrical tape for an almost invisible fix, as you can see in the photos below: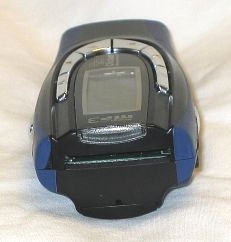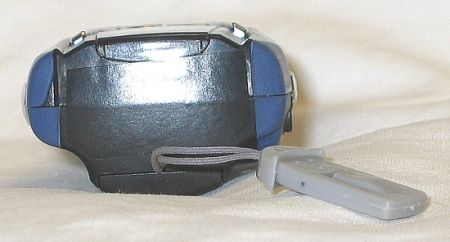 Note the small cosmetic defect in the reviewed unit: There's a 3×5 mm gap in blue rubber skin (to the left of the card slot).
The Eumax's voice recorder can be best described as "adequate." While the recording was intelligible, the quality was not very good. The main problem was a soft, high-pitched squeal in the background, which was slightly annoying. The second problem is that the feature is a little confusing to use, and the manual is not very clear on the subject.
Here's how it works: Press the button with a square on it (the Stop button) to turn the unit on (if it's not already on). Press M to enter "MP3 Delete" mode, press it again to enter "DVR" (digital voice recorder) mode, press it a third time to enter "DVR Recording" mode, and then press the Play button. Press Stop to quit recording. Once in DVR mode, play, stop, skip forward, and back all refer only to .VOC (recorder) files. To go back to MP3 mode, keep press the M button twice more, until "MP3" appears on the status display. Basically, you can use the voice recorder in a pinch, to record items for a grocery list or something, but keep the manual handy the first few times you use DVR, Delete, or any other of the advanced features.
The unit is sturdy and durable. It survived my "unintentional abrasion test". I lost control of my bicycle
(a Jamis Citizen)
while riding on the
Silver Comet Rail Trail
and scraped the front of the player on the asphalt (along with my face and much of my body). Aside from the cosmetic damage visible above, the unit was unharmed and continues to work fine.
Conclusion
---
I really like the Eumax 4-in-1 MP3 Player and would have given it a higher score except for two annyoing issues: The ear buds occasionally fell out and the settings are lost when the power is turned off. The most important features are the Flash Disk and the MP3 Player, both of which are easy to use and work well. Although this unit has a few minor problems, in my opinion, those faults are outweighed by all the good attributes of this device. To help you decide if the Eumax 4-in-1 MP3 Player suits you, I've compiled a list of both the good and bad issues:
Pros:
Sound quality is very good, especially with the "Rock" equalizer setting
Controls are logically laid out and can be accessed without looking at unit
Clear, sharp LCD display with dual blue LEDs to provide backlighting
Compact, lightweight
Comfortable ear buds, wiring is integrated into lanyard (neck strap)
Expandable memory via SD/MMC slot, up to a total up 640 MB
6-hour battery life using only a single AAA cell
Battery is not required for transferring files when plugged into USB port
Adjustable lanyard, with quick release mechanism
Inexpensive, ioCombo.com has it on sale for $99.95 (as of Feb. 10, 2004)
Cons:
Ear buds fall out during vigorous exercise
No song names, just track number and position / duration
Forgets all settings (volume, equalizer mode, repeat mode, etc.) when powered off
Manual is a bit cryptic
Card slot is open to the elements
The unit reviewed was kindly provided by ioCombo.com