NTI's Backup Now 3 Deluxe Suite contains everything you need for backing up all that precious data and can even image your drives.
Introduction
---
There are several things that have made backups more important.
1) Harddrives are getting bigger, and we store more and more on them. Losing a harddrive means losing a lot more data than before.
2) Email is the way to communicate today. Losing all your old emails can be a disaster.
3) We can buy more and more software online. I have over 60 pieces of software that I have bought over the Internet in one of my folders. Losing all of them would be a disaster.
We can of course just copy the data we want backed up to another harddrive or a DVD/CD but even more convenient is to use a specific backup program for it. NTI has just that, and today I am taking a look at the NTI Backup Now 3 Deluxe Suite. Not only does it feature full backup capabilities to CD, DVD and networked harddrives, but it also has the ability to create images of your drives.
The Package
---
It is nice to see that not every company chooses to supply the manual in PDF format. In the large box, you not only get the CD with NTI Backup Now 3, but you also get a nice solid, thick manual. Not only do you get the manual, but it also is a good manual that goes through the program as well as discusses different ways to backup and what to think of when creating a backup strategy. I really suggest to anyone getting this program to read through the manual before deciding on how to set up your backup.
On the CD, you also find a trial version of NTI CD&DVD Maker 6.5, a program we soon will have a review of here.
Backup
---
The program supports several ways to make a backup:
– Complete (always includes all files in the backup)
– Incremental backup (only include files modified or added since last backup)
– Differential backup (only includes files changed or added since the last full backup).
The incremental backup takes up less space but takes a longer time to restore. A differential backup takes up more space but takes less time to restore from.
Creating a backup job is easy and is done through 3 steps.
As I said in the beginning, the program supports backup to the following devices:
– Local harddrive
– Network harddrive
– CD-burner
– DVD-burner.
As expected, the program also supports disc-spanning. One funny (but in my humble opinion quite useless feature for us normal users) is the multiple-burner support. If you have two or more CD-burners or DVD-burners attached, you can put empty media in all, and the program spans over all the discs in all burners.
Scheduling is also supported, and you can run one or more backup jobs once, daily, weekly or monthly.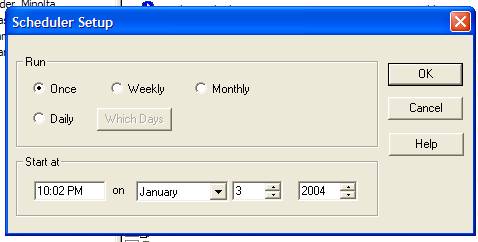 You can schedule the backup jobs.
Last but not least, you can of course restore both the full backup or just specific files. One 'funny' feature is that not only can you restore files from backup jobs that you have saved. Any job you once run also puts all the files into a catalog which can be viewed through "My Catalog." Restoring from "My Catalog" allows you to combine a lot of backup jobs and see all the files that were backed up in those jobs in an Explorer-view.
Testing
To test the program, I chose to backup some of my important files, including all that software I have bought online. I both made a backup to a DVD as well as a networked drive.
One thing the backup to the DVD showed me is that the program has a little problem of estimating the size of the backup file. While it told me the resulting file would be about 4.4 GB and thus fit on one DVD, it in reality spanned to two DVDs.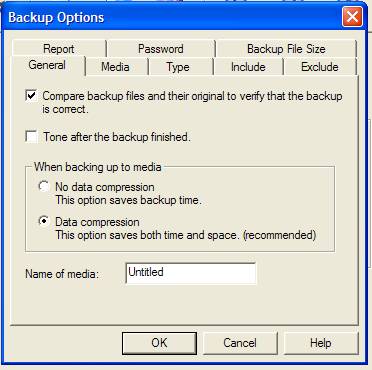 There are a lot of options you can set, including excluding files and setting passwords for your backup files.
The next issue I encountered was that after I had done the full backup on a DVD, I wanted to create a new job and try the same backup on a networked drive. First of all, I couldn't find any way to select a drive on the network. It turns out I needed to map the drive on my machine to access it. After I did that, I tried to make a backup, but nothing was getting backed up. After some investigation, it turns out that all the files that have been backed up end up in "My Catalog." Since the program didn't see any files getting changed or added (I used the incremental setting), it didn't backup anything.
After these small issues, the program has worked great. I now have it set up to do an Incremental backup of all my bought programs once a month and an incremental backup of my Outlook PST file once a week. I of course have also restored files, and it has worked great.
You can both compare the files in a backup to the files on your drive as well as restore all files or just a few.
Drive Backup / Image
---
Supplied in the Deluxe Suite is also DriveBackup 3, which lets you make an image of any drive. You can make a bootable image of your system drive that can be used as an emergency CD/DVD. You can also create a couple of bootable CD/DVDs for each of your configurations, and then use it to deploy to a bunch of computers.
Testing
Unfortunately, I have some problems with my floppy drive that prevent me from using it. Since the program needs a bootable floppy when creating a bootable CD/DVD, I couldn't test that feature. Creating an image of another drive worked great though, and I had no problems restoring from it. The program though has some problems estimating the time it takes to complete. Somehow it thought it would take 30 minutes to image a 47 GB drive. It kept counting down towards 0, but when it came to 0, seconds it wised up and said it would take 15 hours to complete.
Conclusion
---
I really like this program. It has a good and clean interface and works just as intended. The fact that I am using it myself is the best rating I can give it. The program costs $69, but if you don't want the DriveImage part, you can get the Backup Now 3 program for just $29.99. Either way, I think it is a fair price for a great program.
Pros:
+ Clean interface
+ Can backup to both local drives and networked drives
+ Can create a bootable CD/DVD from your system drive
Cons:
– Might be a bit slow when compressing large amounts of files or a complete drive