Not surprisingly, Leadtek releases another high-end card with a big cooling solution. While the WinFast A380 Ultra TDH MyVIVO may be big in size, it's not big on noise, which is a nice plus. Additionally, it includes a pretty good bundle and offers excellent performance, not to mention the added VIVO functionality. Read the review to find out how it compares to a 9800 XT.
Introduction
---
When a new line of NVIDIA video cards is released, one of the most exciting and fun things for me is to watch for all the new custom cooling solutions that follow the release of the new cards. We can always count on board partners, like MSI, Leadtek and BFG, to add some spice to the reference design. Usually this spice is added by way of changing the PCB (printed circuit board) color and completely changing out the cooler. Some of you couldn't care less about the looks of the card, but for me (and many others out there I presume), it's usually a disappointment to open a box and find just the plain old reference design inside.
Leadtek is one of the companies that has come up with many interesting cooling designs, and that trend continues with their latest cards. The focus of this review is the WinFast A380 Ultra TDH MyVIVO, which is a GeForce FX 5950 Ultra. As more and more 5950s hit the store shelves, I'm sure we'll see plenty of interesting departures from the NVIDIA reference design, but I'm not sure how many will look as good as Leadtek's WinFast A380. There is something refreshingly simple yet appealing about it. Click the image below to get a closer look.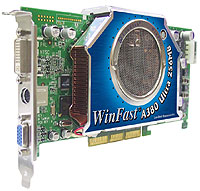 Looks are a matter of taste of course, so you may think I'm crazy for calling this a good looking card. To each his own, right? One thing that isn't just opinion-based though is performance, so let's dive into this offering from Leadtek and see how it performs compared to VisionTek's Radeon 9800 XT.
Features, Specs and Package Contents
---
Features:
GeForce FX 5950 Ultra GPU
256-bit Advanced Memory Interface
256MB DDR
NVIDIA CineFX 2.0 Engine
High-Precision Graphics
Full nView Multi-Display Technology
DirectX 9 Support
VIVO Features:


PIP(picture in picture):
One for live and the other for captured program. And master video can be alternative. The slave video can be displayed with any size and anywhere

De-interlace:
Make the best quality for fast-motion video. No noise and flicker on the edge of motion objects

DirectBurn:
Easy to make your own high quality DVD directly:
Exclusive DirectBurn function, record your favorite TV shows to disk or turn your PC into a Digital Video Recorder for burning home videos directly onto DVD! You don't need to save the captured video on your hardware disk, then burn your video files to your DVD. It not only save your time but also save your hard disk space.

Capture format profile:

Support friendly setting for MPEG1/MPEG2/VCD/DVD video format
Supports MPEG1/MPEG2/MPEG4 video codec and MPEG3 audio codec configuration to get the smaller file size for capturing. MPEG4 codec can be download at www.microsoft.com
Supports de-interlaced function to get high quality of motion video
Bridging video to PC from VCR, camcorder, LD/VCD/DVD player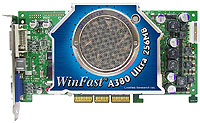 Specifications:
NVIDIA GeForce FX 5950 Ultra GPU
CineFX II Engine
Intellisample Technology HCT
High-Precision Graphics
nView Multi-display Technology
Digital Vibrance Control (DVC)
Unified Driver Architecture (UDA)
AGP 8X
0.13 Micron Process Technology
400MHz RAMDACs
3.8 Billion texels/sec fill rate
Graphics Core:
256-bit
Engine clock
475 MHz
Memory Interface:
256-bit
Memory Bandwidth:
30.4GB/sec
Fill Rate:
3.8 billion texels/sec.
Vertices/sec.
356 million
Memory Data Rate:
950MHz
Pixels per Clock (peak):
8
Textures per Pixel:
16(Maximum in a single rendering pass with 8 textures applied per clock.)
RAMDACs
400MHz
Architected for Cg
Microsoft® DirectX®9.0 Optimizations and Support
New 64-phase Video Scaler
OpenGL®1.5 Optimizations and Support
Video Mixing Renderer (VMR)
High-performance, high-precision 3D rendering engine
On-board DVI support up to 1600×1200 resolution
On-board TV-out support up to 1024×768 resolution
Integrated Full Hardware MPEG-2 Decoder
Vivid NTSC/PAL TV-out support with flicker filter
Package Contents:
WinFast A380 Ultra TDH MyVIVO graphics card
General guide
Quick installation guide
AV cable x 1
S-video cable x 1
9 pin mini-din cable
Driver & Utilities CD-ROM
DVI to VGA converter x 1
Software Bundle:


Ulead Video studio SE DVD
Ulead Cool3D SE
WinFast PVR
WinFast DVD
WinFox II Software Utility

Leadtek's unique WinFox Utility is specially designed for users to tune/monitor the hardware condition of their system. Some of the functions include: Speed Runner for overclocking the graphics core/memory speed. Information (PCI-Watch) for system information report. And many other useful functions, etc.

Cult 3D
Coloreal Embedded
Coloreal Visual
Coloreal Bright
Game: Gun Metal (Full)
Game: Big Mutha Truckers (Full)
| | |
| --- | --- |
| WinFast A380 Ultra Box | Back of the Box |
| | | |
| --- | --- | --- |
| Lots of Cables | Here's How to Hook Up That VIVO Cable With HDTV Support | Pretty Good Software Bundle |
You can see that Leadtek has departed from their typically boring boxes and have taken the route many other companies seem to be taking lately — that is the route of featuring mystical or mythological figures and creatures all over packages. This box features some type of wizard king or wicked priest of some type. 😉 Well, whatever that guy is, he and the rest of the design make for the best looking Leadtek package I've ever seen. Either Leadtek's marketing team loosened up a bit and decided to have more fun, or they got replaced by a more fun bunch of people! Either way, I like what they're doing to create more appealing packages.
Leadtek has packed a handful of nice treats inside this finely designed box. One of those treats is the VIVO cable with HDTV support. You may have noticed the cable that looks like an octopus in the pics above…if not, it's the one with a green, red, orange, white and two black connectors (yeah, yeah I know an octopus has eight tentacles, but you know what I'm saying). This is the cable that will let you hook this card up to your home entertainment system. The connections include video in, component out and video out.
In addition to the nice bunch of cables, the bundle includes quite a selection of good software, including two full version games. The usual DVD software is included, along with Ulead Video Studio SE, Ulead Cool3D SE, WinFast PVR and several utilities. The two full version games are Gun Metal and Big Mutha Truckers. Gun Metal is a port from the Xbox, and I find it to be enjoyable even though it can be hard to control with a mouse and keyboard at times. Big Mutha Truckers is one I haven't tried yet because it doesn't really appeal to me. I wish Leadtek would replace it with something more popular.

The Card and Installation
---
Leadtek has created many unique video card cooling solutions over the last couple years, and they usually include big slabs of metal for the high-end cards. The Ti4600 featured a big heatsink that wrapped around both sides of the card and had a "twin turbo" fan design. The 5900s were basically completely boxed in with metal and featured the new TwinTurbo-II cooling system. These cards are all quite heavy. I'd be surprised if buyers of these cards weren't shocked by the card's weight when they opened the box.
With the WinFast A380, some things have changed and some have not. It's still quite heavy and still has a lot of metal on it, but it only features one larger fan instead of two. Overall, I think it's an improvement over the past designs. Here's what Leadtek wants you to know about the new "Air Surround Fan."
High Performance Air Surround Fan
Air surround: Technique that leads the air flow to every side of the board. That makes the Fan more efficient.
Filter on Fan: Design can provide better protection on Fansink and reduce dust. Also extend its life-span.
Ultra Silent: Design with lower than 28dB. Say goodbye to annoying noise.
| | |
| --- | --- |
| WinFast A380 Ultra Posing for a Picture | Here It Is Again |
| | | |
| --- | --- | --- |
| Closer Look at the HSF Unit | Check the Copper Fins | The Card's Connections |
| | | |
| --- | --- | --- |
| Another Angle to Look at the Card | The 'Top' Features the Leadtek Logo | The Power Connector |
The only thing that doesn't appeal to me about this card is the green PCB. The cooling unit is what saves this card from being just another boring slab of green PCB, and it actually looks pretty good with the green. The combination of blue, silver and copper is definitely a good one and makes for an attractive design overall. I mentioned that the metal wraps around all the way to the back. This is of course to keep the chips back there cool. The back side also features some interesting clips that I've never seen before. These clips are part of the retaining mechanism to hold the metal securely to the card.
Installation
I had no problems at all with installation of the WinFast A380 Ultra. It fit fine into my Athlon64 test system and Lian Li PC60 case. The weight may concern you at first, but as long as you install the card carefully and correctly in your system, you shouldn't have any problems. One thing to note is that the cooler will make using the first PCI slot impossible. I never have considered this a real problem though since in my opinion you should leave the first PCI slot empty to give your hot video card clearance for cooling.
Driver installation also proved to be trouble free. After popping in the 5950, I installed the 52.16 nVIDIA ForceWare drivers.
After the card and its drivers were installed, I decided to put my ear as close to the card as possible to check for noise. Obviously this isn't much of a test, but I was pleasantly surprised by how quiet the card seems. My case fans pretty much drowned out any noise the card was making. Kudos to Leadtek for keeping the noise down.

Performance / Benchmarking
---
Most of you probably know by now that the 5950 Ultra is just a 5900 Ultra with higher clock speeds. The 5900 Ultra's core and memory speeds are 450MHz and 850MHz, respectively, while the 5950 Ultra is clocked at 475MHz and 950MHz. Logically, we can expect the 5950 Ultra to outperform the 5900 Ultra by at least a small margin.
I will not be comparing the WinFast A380 Ultra to a 5900 Ultra in this review. Instead, I will compare it to its competitor, the Radeon 9800 XT, specifically the VisionTek Xtasy 9800 XT 256MB card. For testing, I used the following benchmarks and games: Futuremark's 3DMark2001 SE – Build 330, 3DMark2003 – Build 330, AquaMark3, Codecreatures Benchmark Pro, Unreal Tournament 2003, Gun Metal Benchmark 2, X2: The Threat rolling demo, and Papyrus' NASCAR 2003. In all tests, performance is set to "Quality" to create the best image quality. When possible to set anti-aliasing and anisotropic filtering in the benchmark, the drivers were set to "Application Preference." Otherwise, the levels were changed manually. Before getting to the scores, let's take a look at my test system and settings.
Test System:
| | |
| --- | --- |
| Motherboard: | MSI K8T Neo-FIS2R (review) |
| CPU: | AMD Athlon 64 3200+ |
| Memory: | 2 x 256MB XMS3500 Corsair DDR |
| OS: | Windows XP SP1 with all updates installed |
| DirectX Version: | 9b |
| Memory Timings: | 2-2-2-5 |
| Videocard 1: | Leadtek WinFast A380 GFFX 5950 Ultra with ForceWare 52.16 |
| Videocard 2: | VisionTek Xtasy 9800 XT 256MB with Catalyst 3.9 |
I'm going to start the benchmark section out like I usually do — with Futuremark's 3DMark2001SE. I used build 330 of the benchmark. I was looking forward to seeing if one of these cards would hit 20,000. Let's take a look at the results.
3DMark01SE (Build 330)
1024×768 – NoAA/NoAF

Video Card

3DMarks

Leadtek 5950 Ultra
19134
VisionTek 9800 XT
20717

1280×1024 – 4xAA/8xAF

Leadtek 5950 Ultra
10363
VisionTek 9800 XT
10230

1600×1200 – 4xAA/8xAF

Leadtek 5950 Ultra
7963
VisionTek 9800 XT
7738
Thanks in part to the powerful Athlon64 test system, the 9800 XT does in fact surpass the 20k mark! The Leadtek 5950 is close but has some ground to make up. That's the story with the default settings at 1024×768 at least. Cranking the anti-aliasing (AA) and anisotropic filtering (AF) levels up resulted in a different situation though. The 5950 takes the lead at both 1280×1024 and 1600×1200. The performance difference at 1280 isn't really worth bragging about, but the margin at 1600 is nothing to ignore.
3DMark2003 (Build 330)
The constant controversy surrounding this benchmark doesn't prevent it from being a useful tool. Although the validity of synthetic benchmarks seems to continually be in question for various reasons, I don't think they've completely lost their appeal. Many readers find it easy to go and download a free benchmark, install it, run it and then compare their results to their friends' results. A lot of games just aren't that easy to benchmark, so it's a matter of convenience. With that said, let's take a look at the results.
1024×768 – NoAA/NoAF

Video Card

3DMarks

Leadtek 5950 Ultra
6283
VisionTek 9800 XT
6509

1600×1200 – 4xAA/8xAF

Leadtek 5950 Ultra
1653
VisionTek 9800 XT
1789
The Leadtek 5950 just can't quite keep up with the 9800 XT in 3DMark2003. The 5950 puts up some good scores though.
AquaMark3
AquaMark3 is a good looking benchmark based on the same engine used in AquaNox 2. I ran the default benchmark and then a custom benchmark at 1280×1024 with 4xAA / 8xAF.
1024×768 – Defaults – NoAA/4xAF

Video Card

Result

Leadtek 5950 Ultra
5932
VisionTek 9800 XT
6235
1280×1024 – 4xAA/8xAF

Video Card

FPS

Leadtek 5950 Ultra
23.74
VisionTek 9800 XT
29.88
Once again, the 9800 XT wins over the Leadtek 5950 Ultra by a good margin.
Unreal Tournament 2003 – Inferno
For the UT2K3 tests, I used the benchmarking utility from benscustomcases.com. Within the utility, I used the HardOCP standard benchmarks at high quality. I recorded the average FPS for Inferno and Antalus.
1024×768 – NoAA/NoAF

Video Card

FPS (avg)

Leadtek 5950 Ultra
193.01
VisionTek 9800 XT
176.24

1280×960 – 4xAA/8xAF

Leadtek 5950 Ultra
64.21
VisionTek 9800 XT
79.96

1600×1200 – 4xAA/8xAF

Leadtek 5950 Ultra
45.72
VisionTek 9800 XT
56.43
The Leadtek 5950 starts out strong and way ahead of the 9800 XT at 1024×768 NoAA / NoAF. It falls behind though once AA and AF are increased to 4x and 8x, respectively.
Unreal Tournament 2003 – Antalus
1024×768 – NoAA/NoAF

Video Card

FPS (avg)

Leadtek 5950 Ultra
225.81
VisionTek 9800 XT
218.14

1280×960 – 4xAA/8xAF

Leadtek 5950 Ultra
87.53
VisionTek 9800 XT
85.21

1600×1200 – 4xAA/8xAF

Leadtek 5950 Ultra
61.04
VisionTek 9800 XT
58.67
While the VisionTek 9800 XT dominated the Inferno map, it does not put up a repeat performance on the Antalus map. The Leadtek 5950 once again beats the 9800 XT decisively at 1024×768 NoAA / NoAF, and it also beats the XT at the other two settings but not by as much as the XT beat the 5950 on the Inferno map. What does this tell us? Basically, each card performs best on different maps. Both perform quite well though and will allow you to crank up the quality settings and resolution.
Gun Metal Benchmark 2 – Benchmark 1
Gun Metal was originally an Xbox game, but it has been ported as a DirectX 9 game to the PC. The Gun Metal Benchmark 2 allows you to choose between two different benchmarks, creatively named Benchmark 1 and Benchmark 2. I set AA to 4x within the benchmark's options and left AF to "Application Preference" in each card's respective control panel. I ran Benchmark 1, and you can see the results below.
1024×768 – 4xAA

Video Card

FPS (avg)

Leadtek 5950 Ultra
30.45
VisionTek 9800 XT
28.42

1280×1024 – 4xAA

Leadtek 5950 Ultra
24.48
VisionTek 9800 XT
22.32

1600×1200 – 4xAA

Leadtek 5950 Ultra
19.63
VisionTek 9800 XT
17.84
It is typical for nVIDIA cards to beat ATI cards in this benchmark. Some would guess this is due to the fact that the game was originally developed for the Xbox, which happens use an nVIDIA graphics solution. That's a reasonable assumption. Regardless, the Leadtek 5950 wins this one at all settings without question.
X2: The Threat – Rolling Demo
X2: The Threat is another DirectX 9 game, but it is much newer than Gun Metal. It was actually just recently released. The non-playable, rolling demo shows you what the game will look like as it runs through many different types of in-game scenes. Rather than show the results of each scene, I have included the overall average FPS. This demo allows you to toggle bumpmaps, shadows and AA. I left bumpmaps and shadows on for all benchmarks but changed AA as indicated in the chart.
1024×768 – NoAA/NoAF

Video Card

FPS (avg)

Leadtek 5950 Ultra
73.43
VisionTek 9800 XT
66.25

1280×1024 – AA on / 8xAF

Leadtek 5950 Ultra
47.03
VisionTek 9800 XT
42.48

1600×1200 – AA on / 8xAF

Leadtek 5950 Ultra
37.40
VisionTek 9800 XT
32.86
Just like in Gun Metal, the Leadtek 5950 dominates this benchmark at each setting.
Papyrus Nascar 2003 Demo
Nascar 2003 from Papyrus can really test your system, which is why we started using it as a benchmark. In order to record FPS, we use Fraps 2.0. The demo race takes place on the Talladega track, and I recorded performance for two minutes. All quality settings were set to maximum. Here are the results.
1024×768 – NoAA/NoAF

Video Card

FPS (avg)

Leadtek 5950 Ultra
61.85
VisionTek 9800 XT
60.82

1280×1024 – 4xAA/8xAF

Leadtek 5950 Ultra
33.82
VisionTek 9800 XT
42.82

1600×1200 – 4xAA/8xAF

Leadtek 5950 Ultra
21.50
VisionTek 9800 XT
28.57
At first, it looks like it's going to be close between the two cards, but then the 9800 XT pulls out in front by a considerable margin at both 1280 4xAA / 8xAF and 1600 4xAA / 8xAF.

Conclusion
---
Performance
Leadtek's WinFast A380 Ultra TDH MyVIVO put in a good performance overall in the benchmarks I did. It basically traded victories back and forth with the VisionTek 9800 XT, which is not very surprising. Afterall, these are the top two video card chips on the planet (at least on the store shelves).
A different set of benchmarks could show a different result though, and that's important to keep in mind. It is clear that the 5950 Ultra cannot outperform the 9800 XT in every situation and vice versa. Then if we throw in the fact that nVIDIA has improved image quality (or reduced IQ issues) with the latest drivers, it makes the purchasing decision even harder for the consumer wanting the best card available.
If you do decide to go the 5950 route, I can confidently recommend the WinFast A380 Ultra based on performance alone, especially considering it's one of the cheapest 5950's available (at least according to my search at Newegg).
Performance for the MyVIVO line isn't just about gaming though. I briefly tested the video-in and video-out capabilities and had no problems with them. This would be a good card in a powerful home theater PC even without the unique features Leadtek brings to the table, such as DirectBurn.
Overclocking
I spent some time overclocking the Leadtek 5950, and I was able to achieve an overclock of 550MHz core and 1000MHz memory, which is about the same that Scott got with the reference 5950. The boost in performance is minimal though, so I will probably just leave it at default. Your mileage may vary of course.
Feaures & Bundle
The WinFast A380 Ultra is not only worth considering because of its performance and price but also because of its great features and decent bundle. The VIVO features are a nice extra that add value to the package. I'm happy to see that Leadtek includes a VIVO cable with HDTV support. I'm also quite pleased with the cooler design that Leadtek implemented on the A380 Ultra. It is heavy, but it gets the job done well and quietly.
The software bundle is a typical Leadtek bundle — some good VIVO-related software and a couple games. I like that Leadtek includes enough software to really jump in and show off what your new card can do. While I would like to see a better game replace Big Mutha Truckers, I am happy with the inclusion of Gun Metal. Both games can be fun though, depending on your tastes of course, so I recommend giving them both a try. They should look pretty at least!
Pros:
Nice and quiet cooling solution
Good performance
Great features, especially VIVO
Decent bundle
Good price compared to competing products ($415)
Cons:
Bundle could include better, newer games
Quite heavy
To sum it up, I would recommend the Leadtek WinFast A380 Ultra TDH MyVIVO video card to people seeking a high end yet well-rounded card because of the combination of its top of the line performance, decent bundle and great features. All these aspects add up to a good value for a high end card. Spending over $400 for any piece of hardware might be crazy though, so think about it really hard before you do. You could get a 5900 Ultra for $100 less and overclock it perhaps if pure performance is what you're seeking. Or maybe find a good deal on a 9800 Pro. If bang for the buck is your thing, then stick with 5700 Ultras and 9600 Pros and XTs.