The nForce 2 chipset lives on as Albatron shows off its latest and greatest the KX18D Pro II. With the nForce 2 Ultra 400 chipset on board and performance worth every penny, this is a board worth taking a look at.
Introduction
---
As the latest and greatest in Athlon 64 processors and chipsets come out, the nForce 2 chipset still holds its own as king of the castle. These boards continue to provide top notch performance for a relatively low amount of money. It's still the best bang for the buck on the market. You can get this board and a 2500+ Athlon XP for under $200. That's a small amount of money for a board and processor package that you can be happy with for quite a while. So, it's obvious the chipset is not dead, and the Albatron KX18D Pro II is alive and packing a lot of performance into a low priced, high featured board. Let's take a look at the Albatron KX18D Pro II, featuring the nForce 2 Ultra 400 chipset.
Specs and Features
---
Features
AMD Athlon / Athlon XP / Athlon XP Barton/ Duron Processor
Socket 462 with FSB 200/266/333/400+(by overclocking)MHz
3 DDR400/DDR333/266/200 Memory Sockets
AGP 8X , 6 channel AC 97 Audio
2 ATA133 Channels, up to 4 ATA 133 IDE Devices
nForce2 MCP-T 10/100 Ethernet LAN
2 Serial ATA150 Channels, Serial ATA RAID 0,1 (Software)
2 IEEE1394a Ports
6 USB 2.0/1.1 Ports (4 ports by optional cable)
BIOS Mirror
Voice Genie
Chipset with Hyper-Transport Technology
Bundle SPDIF Card ( optional )
Processor
AMD Athlon/ Athlon XP/ Athlon XP Barton/ Duron Processor
FSB
200/266/333/400+(by overclocking)MHz
Chipset
North Bridge: NVIDIA nForce2 SPP (Ultra 400)
South Bridge: NVIDIA nForce2 MCP-T
LAN Chip : LAN PHY ICS1893AF
IEEE1394 Chip : TI IEEE1394A TSB41AB2PAP PAP-64
Audio Codec: Realtek ALC650
Serial ATA Chip :Silicon Image Sil3112A
I / O Chip : Winbond W83627HF
Memory
3 x DDR Sockets:
DDR400/DDR333/266/DDR200 NON-ECC DDR SDRAM up to 3GB ( Single Channel) , up to 2GB ( Dual Channel )
Yup, we have the ever popular dual-channel DDR slots on the Albatron KX18D Pro II. The popularity and power of dual-channel RAM has really caught on with RAM manufacturers offering what seems like more 2 DIMM memory kits than single DIMMs anymore.
Expansion Slots
1 x AGP 3.0 8X/4X slot (1.5V & 0.8 V Only)
6 x PCI slots (PCI 2.2 compliant) 6 PCI slots, wow that's a bunch. I can't imagine even having 6 PCI peripherals on my PC at this time. I have 1 right now with my TV tuner card. Other than that, the slots are empty with their case slots being taken up by additional ports and other add-ons not using the PCI interface. If you need that many PCI slots, this is the board for you, but I think the majority will agree with me that 6 is about 2-3 too many at this point.

IDE Connectors
2 ATA133 channels, up to 4 ATA 133 IDE Devices
Onboard I/O Connectors
1 x Floppy Connector
2 x USB 2.0/1.1 header (4 ports USB cable optional)
2 x IEEE1394 header (2 ports IEEE1394 cable optional)
1 x CD_IN header
1 x COM Port header
1 x S/PDIF in/out header (S/PDIF in/out cable optional)
1 x CPU fan header with fan rotation detection function
1 x System fan headers with fan rotation detection function
1 x 10 pin system panel header (Intel spec)
1 x 3 pin Power LED header
1 x 4 pin Speaker header
1 x Front audio header (Intel spec)
1 x Case Open detection header
1 x Wake on LAN
That is quite the number of onboard I/O connections. Not all will be used of course, but it is nice to see what is available. One thing that is noticeable is the lack of fan connectors on the board. There is the basic CPU fan, the auxilliary taken up by the north bridge fan, and then there is one more on the bottom right portion of the board. This may be enough for most people so I won't make a big deal of it. I just wish there were a couple placed more towards the center of the board for the possible side panel fan or rear fan that can utilize it. I'm picky, what can I say.
I/O via Back Panel
PS/2 keyboard/mouse, 2 x USB(2.0/1.1), RJ45 ,1 x Com(serial), 1 x Parallel, 1x Game/Line-in/Line-out/MIC
Power
20-pin ATX power connector
BIOS Feature
4 Mb Flash EEPROM
Award BIOS with ACPI, DMI2.0, PnP, WfM2.0, Green Suspend to RAM (S3), Suspend to Disk (S4) Wake on keyboard / Mouse, Wake on LAN/RTC Timer
Hardware Monitoring
2 FAN sensors, CPU/System voltages and temperature monitoring
Special Feature
Zero Jumper Design
BIOS Mirror Protect BIOS by creating an original mirror image of itself
Voice Genie Voice Troubleshooting system ( four-Language )
Adjustable CPU and AGP frequency by 1 MHz increment, Adjustable Vcore, VAGP, VMemory for overclocking.
Special design for CPU Over Temperature Protection.( OTP )
The BIOS mirror protection is a very nice add-on to this board. I'm always a little iffy when updating a BIOS, crossing my fingers that the installation doesn't kill the whole thing. With the mirror option saving a copy of the BIOS itself, these worries are no more. The Voice Genie is also a nice addition to the Albatron board. A pleasant voice telling you that your computer is dead and you have lost all your information helps ease the pain 😉
Certifications
Form Factor
Bundle Contents
---
The contents of the package are pretty standard when it comes to motherboards. Along with the board came several IDE ribbon cables, a floppy cable, and a nice molex to SATA power adapter for your power supply. I love when companies throw in useful little add-ons like these into a board package. What confuses me is why there is only one. One of the main features of this board is the SATA RAID that is on-board. If someone wants to take full advantage of this, but is unfortunate enough to only have a power supply with standard molex connections, they will be one connector short. I may be jumping to conclusions, but an extra one thrown in would be a little padding for my power issues.
The board also included additional PCI slot covers (brackets) with both 4 USB connections and 2 IEEE1394 Firewire connections. I always enjoy some additional hookups for a motherboard. In certain cases, I can have 4-6 USB peripherals hooked up to my PC at one time. Whether it is a compact flash card reader, my mouse, a game controller, a webcam, etc….multiple USB ports are a must-have with more and more hardware using the USB interface. There is also a nice SPDIF I/O add-on for the audiophiles out there.
Hrmmmmm??? No I/O shield included? Shocking to say the least, but there wasn't an I/O shield to be found on this puppy. I don't know about you, but I think that it's the least a company can do to help a consumer out. I'm not sure if companies just think that it is something that can be "skipped over", but I expect to be able to have a decent I/O shield on the motherboard. Give me some rinky-dink one if you have to, but to leave one out all together seems very odd to me.
The board also comes with a nice little instruction sheet with the layout of the board and detailed pictures of installation. Manuals for the board, the built in Silicon SATA RAID controller, and an installation CD including the drivers and PC-Cillin are also included in the bundle.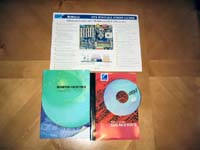 Board Layout
---
The layout of the board is clean and easy to work with. Let's take a look at some pictures and map out the board and all of its features. Sometimes it's the layout of the board that can make you or break you. I've seen many occurrences of hardware not fitting on a new board because of issues with the layout.
Of course the first thing that might catch your eye is the blue PCB the board is made of. It's a great color, especially if you have a window on your case. I know some may not care what the board looks like, but this one looks like a million bucks. Yes, you may wonder why PCs of late have become a fashion show of sorts, but why ask why. I love it when a company thinks as far as aesthetic appearance along with performance. Would you buy a car that ran great, but looked like a piece of junk? Never, so why not extend that thought all the way down to motherboards.
As you can see from the following picture, the North Bridge is cooled by a small heatsink and fan. This fan takes up the only other fan connector on the board other than the CPU fan. Not the best thing in the world if you have several other fans with a 3 pin board connection on them. The capacitors on the top right portion of the picture are also precariously tall and close to the CPU socket. If you have a larger HSF on your CPU, some problems may be had with runnning close to these capacitors.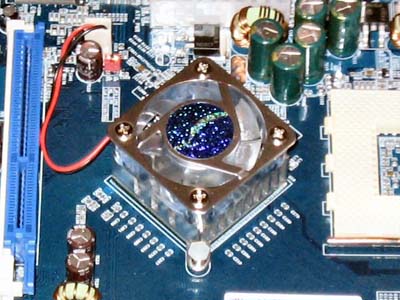 The DIMM slots are nicely color coded for dual-channel support. The green and purple colors may not be the most complementary of shades, but they show you what you need to know, and that's the important part. The IDE connections are also nicely colored to show which is the primary and which is the secondary. The red is the primary IDE with white being the secondary. The floppy connection is nestled alongside, sporting a black shade for the fall season. Sounds like a fashion show at this point doesn't it. 😉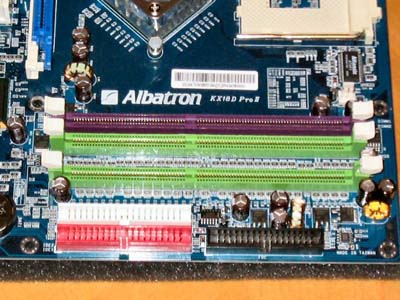 There are those six PCI slots I talked about earlier in the specifications. Too many….some may say so. I think that six may be a little on the overkill side, but to each his own. The AGP is color coded blue and sports a locking mechanism to keep that video card from going anywhere once it's installed.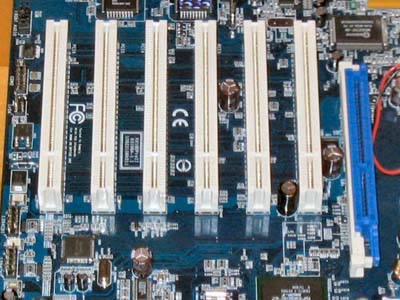 A closer look at the I/Os for this board shows the LAN, PS/2 ports, 2 USB 2.0 ports, serial, audio, printer, and game controller port as well. I would show you the I/O shield, but it's still non-existent.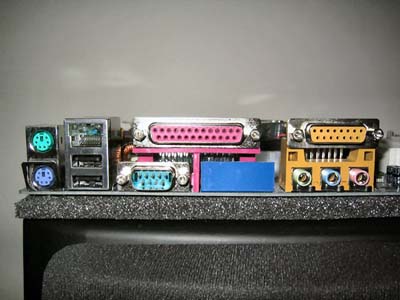 Here we get to take a closer look at the nForce2 chip. Sporting the Ultra 400 chipset, this board has the latest and greatest in nForce technology. Here is also a look at the Silicon SATA RAID controller chip. Every time I see one of these, I am more and more tempted to splurge and get two SATA drives to enjoy what this thing has to offer.
Installation
---
Installation was not a difficult task with this board. I was fortunate enough to have an I/O shield from the case I used that worked for this board. I didn't want to have a big open hole in the back of the case, so my problems were solved in that department. After a couple of screws were set, the board was physically in the case.
I pulled out the IDE cables and hooked everything up to the board. I was going to perform a clean install on a new drive prior to testing out the board, but unfortunately didn't get the drive in on time. So with my fingers crossed, I plugged in my existing drives and cranked it up.
Performance
---
Test System:
AMD Athlon XP 2500+ @ stock speed 1.87Ghz
2 x 256MB Corsair XMS PC3200 DIMMs @ 5-3-3-2
Seagate Barracuda IV 40GB 7200RPM
TDK VeloCD 24x10x40 CD-RW
Catalyst 3.9 Drivers
nForce 3.13 Drivers
Before even booting into Windows, I wanted to take a look at the BIOS and its features. When it comes down to it, this is a pretty basic Phoenix Award BIOS, but it does do some great things when you start to tweak some settings.
There are preset settings that can be chosen in the BIOS, including: Optimal, Aggressive, Turbo, and Expert. All of these different settings can be applied in the Advanced Chipset features screen of the Award BIOS.
You can adjust the FSB and other settings with an Expert's touch with this board as is common nowadays. 1MHz increments on FSB reaching up to 255MHz, voltage adjustments all the way to 2.0V, and memory timings for even the fastest memory are optional. What I would like to see on this BIOS is all the adjustments available on one screen to ease with overclocking and tweaking. I know, picky picky picky, but I want to see these settings cater to the enthusiast right off the bat.
For testing purposes, I put the Albatron KX18D Pro II up against the Asus A7N8X Deluxe. The test system specs were the exact same for both boards. The Asus board features the nForce2 standard chipset. The Asus has always been a high performer so I'm ready to see what the improved Ultra 400 chipset can do to spice things up a bit.
SiSoftware Sandra 2004 (version 2004.10.9.89)
CPU Arithmetic
Motherboard

Result

Dhrystone ALU (MIPS)

Albatron KX18D Pro II
6936
Asus A7N8X Deluxe
6978

Whetstone FPU (MFLOPS)

Albatron KX18D Pro II
2866
Asus A7N8X Deluxe
2886
Pretty much the same scores on the CPU test. The Asus came out with numbers a little larger than the Albatron, but differences were extremely minimal.
Memory Bandwidth
Motherboard

Result

Integer Buffered (MB/s)

Albatron KX18D Pro II
2507
Asus A7N8X Deluxe
2378

Float Buffered (MB/s)

Albatron KX18D Pro II
2355
Asus A7N8X Deluxe
2231
Here we see the Albatron take a noticeable lead. The Albatron is starting to flex its muscle a little more.
File System
Motherboard

Result

KB/s

Albatron KX18D Pro II
26513
Asus A7N8X Deluxe
25681
Once again the Albatron is pulling ahead of the Asus board in the File System benchmark. The Asus is not far behind in any of the tests though. Relatively speaking, the two boards are almost on par with each other. The Albatron with the Ultra 400 chipset steps up to the plate and delivers the increased performance between the two.
PCMark2002
Motherboard

Result

CPU

Albatron KX18D Pro II
5647
Asus A7N8X Deluxe
5645

Memory

Albatron KX18D Pro II
5546
Asus A7N8X Deluxe
5368
As can be seen, the Albatron pretty much stays a little ahead on all of PCMark2002. The memory score is once again the deciding factor between the two boards. The Ultra 400 Albatron takes the win.
PCMark2004
Motherboard

Result

PCMarks

Albatron KX18D Pro II
3212
Asus A7N8X Deluxe
3330

CPU

Albatron KX18D Pro II
3013
Asus A7N8X Deluxe
3096

Memory

Albatron KX18D Pro II
2288
Asus A7N8X Deluxe
2203
This is the newest offering from Futuremark so I wanted to put it in here. The numbers may not be familiar to some of you, but they are definitely worth testing and noting. Once again we see the Albatron board edging out the Asus in PCMark2004 also. If you get a chance, bench your system with PCMark2004 and let us know what you think in our forums.
3DMark2001 (Build 330)
Motherboard

3DMarks

1024×768 – 4xAA/4xAF

Albatron KX18D Pro II
11669
Asus A7N8X Deluxe
11230
Here we can see the Albatron mobo once again beating out its older cousin. Although the difference is small, the clear winner is the Albatron.
3DMark2003 (Build 340)
Motherboard

Result

1024×768 – 4xAA/4xAF

Albatron KX18D Pro II
2985
Asus A7N8X Deluxe
2828

CPU Score – 4xAA/4xAF

Albatron KX18D Pro II
520
Asus A7N8X Deluxe
520
Relatively small difference in 3DMark2003. Even if it is a small difference, any difference in 3DMark2003 is worth noting.
Overclocking
---
I love seeing what I can do with a little patience and a whole lotta luck when overclocking a processor. I always want to see what kind of power I can push out of a board or processor.
With the Albatron, I was hoping for the best. I have read several other reviews that had some amazing numbers coming from this board. Unfortunately, I was not that lucky. Well, those words may be a little strong.
I was looking for a FSB in the 210+ range with an 11.0 multiplier. Not happening on this occasion. No combination of voltages and speeds and so forth would let me get the FSB up on this board. Even cranking the multiplier down to 10.5 did not yield too many positive results.
I was able to run the 2500+ up to 2.3Ghz with no problem at all though. An 11.5 multiplier with a 200MHz FSB did yield some good results. A little uppage of about .05 on the CPU voltage, and she was running smoothly.
I wanted more of course, so I went for the 200MHz FSB with a 12.0 multiplier, a setting I have commonly used on the Asus A7N8X Deluxe. It ran for a while, but the first run of SiSoftware's Sandra tests, and it was restart city for the PC. I was never able to get to 2.4GHz and remain stable to run tests.
I was a little dissappointed at my lack of luck on overclocking this board. Don't get me wrong, 2.3GHz is no slack when overclocking. That's a good 500MHz we are tacking onto this processor. Of course, you can't blame all this on the board. There are way too many factors involved with adding speed to the the processor. What I am doing is comparing it still to the Asus A78NX I have had awesome success with. Overall, the board did a pretty good job with giving me a good overclock with the 2500+.
Final Thoughts
---
Overall, I am liking this board a lot. There are not many bad things you can say about any of the boards featuring the beloved nForce2 chipset. This is no exception to the norm. The Albatron KX18D Pro II is a top performer through and through. The layout is simple and clean. It is also feature-loaded with just about everything you can think of needing in a motherboard. SATA, RAID capabilities, on-board sound and NIC, and dual-channel DDR. It's a stacked board with plenty of goodness to offer.
I didn't have as much success as I was hoping with the overclocking of the board, but I have a stable 2.3GHz right now without a hitch. I can't ever complain too much about an almost 500Mhz jump in performance. The six PCI slots, may be overdoing it, but once again I say to each his own. I have a feeling boards will continue to get smaller and smaller as unnecessary ports and slots are removed and everything is compacted together. The BIOS, while still easy to use, was not catered as well to the enthusiast as it could be. I would love to see my memory, CPU, and voltage properties on one screen ready for me to tweak like a mad scientist. It may be something many don't find a big deal, but something I would like to see done very soon.
Pros:
Great looks
Low price
Good overclocker
Feature rich
Reliable performance from nForce2 chipset
Cons:
BIOS needs updating for overclocking ease
Six PCI slots a little much
This is definitely a great performing board with a great price. I found this board for $98 at Newegg.com. I would recommend the Albatron KX18D Pro II to just about anyone around. You get the performance, the features, and the reliability at a great price. If you are looking for a great combination of chipset and processor performance, take a look at the Albatron KX18D Pro II. You will not be disappointed. I award the Albatron KX18D Pro II the Bjorn3D Seal of Approval.