Bjorn3d finally dives into the world of Intel with its first Pentium 4 motherboard review, and it just happens to be a board that has proven to be one of the best available today — the MSI 865PE Neo2-FIS2R. With a lot of great and innovative features, the board doesn't disappoint.
Introduction
---
You've seen plenty of AMD-based motherboard reviews here at Bjorn3d, and almost all of those were nForce boards. Well, the time has finally come for us to break into Intel-based motherboard reviews. What better place to start than with one of the best performing Springdale boards available currently?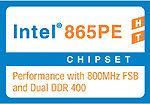 Thanks to MSI, we have the 865PE Neo2-FIS2R board up for review today. Not only does it sport some of the best features available for an Intel board, such as Hyper-Threading, Serial ATA (four ports!), Gigabit LAN and dual-channel DDR, but it also sports some innovative, MSI-exclusive features like CoreCell and Dynamic Overclocking Technology. It looks great on paper, but you have to check out the rest of this review to see how it really performs.

Features and Specifications
---
Features at a Glance
Intel Hyper-Threading Technology
Dual-Channel DDR400/333/266 Memory Bus (6.4GB/S Memory Bandwidth)
800/533/400MHz FSB, 8X AGP, USB 2.0
Intel 82562EZ (CSA Interface Gigabit LAN)
Serial ATA RAID (0 or 1) and (0+1)
MSI CoreCell chip, Live Update, Fuzzy Logic4, PC Alert, i-Speeder
Specifications
MSI Part No. MS-6728-030

CPU
* Supports Socket 478 for Intel® Pentium 4 (Northwood) processor
* Supports up 3.2 GHz/ FSB 800 or higher speed
* Supports FSB 400/533/800MHz

Chipset
* Intel® Springdale 865PE Chipset
– Supports FSB *400 (Northwood only)/533/800 MHz
– Support Single or Dual channel DDR 400/333/266 non-ECC memory up to 4GB
– Support AGP 8x or 4x at 0.8V (AGP 3.0) or 4x at 1.5V
(not support 3.3V)
* Intel® ICH5R Chipset
– Integrated Hi-Speed USB 2.0 controller, 480Mb/sec, 8 ports
– 2 Serial ATA/ 150 ports
– 2 channel Ultra ATA 100 bus Master IDE controller
– PCI Master v 2.3, I/O APIC
– Supports both ACPI and legacy APM power management – Serial ATA/150 RAID 0

FSB
* Support 400* (Northwood only)/533/800MHz Intel NetBurst micro-architecture bus.

Main Memory
* Supports 4 unbuffered DIMM of 2.5 Volt DDR SDRAM
* Supports up to 4GB memory size with non-ECC
* Supports Single or Dual Channel DDR 400*/333/266 MHz and up (*In order to use DDR 400, FSB 800 CPU is required)

SLOTS
* One AGP slot supports 8x/4x at 0.8V (AGP 3.0) or 4x at 1.5V (3.3v is not supported)
* Five PCI 2.2 32-bit Master PCI Bus slots. (support 3.3v / 5v PCI bus interface)

BIOS
* The mainboard BIOS provides "Plug & Play" BIOS which detects the peripheral devices and expansion cards of the board automatically.
* The mainboard provides a Desktop Management Interface (DMI) function which records your mainboard specifications.

On-Board IDE
* Dual Ultra DMA 66/ 100 IDE controllers integrated in ICH5R
– Supports PIO, Bus Master operation modes
– Can connect up to 4 Ultra ATA drives
* Serial ATA/ 150 controller integrated in ICH5R
– Up to 150MB/s transfer speed
– Can connect up to 2 Serial ATA drives
– Supports Serial ATA Raid 0

Serial ATA Interface
* Promise 20378 controllers 2 Serial ATA ports in 150 MB/s operation mode and 1 ultra DMA port
* Support Ultra ATA, Serial ATA, Raid 0 or 1, Serial ATA Raid 0 or 1, Ultra/ Serial ATA Raid 0+1
* Connect up to 2 Serial ATA devices and 2 Ultra ATA 133 devices

Audio
* 6 Channels software audio codec C-Media 9739A
– Compliance with AC97 v2.2 Spec
– Meet PC2001 audio performance requirement
– Support SPDIF out via S-Bracket only

LAN
* Intel® 82562EZ (CSA interface)
– Integrated Fast Ethernet MAC and PHY in one chip
– Supports 10Mb/s, 100Mb/s and 1000Mb/s
– Compliance with PCI 2.2
– Supports ACPI Power Management

On-Board Peripherals
– 1 floppy port supports 2 FDDs with 360K, 720K, 1.2M, 1.44M and 2.88Mbytes
– 1 serial port COM A
– 1 parallel port supports SPP/EPP/ECP mode
– 8 USB 2.0 ports (Rear x 6 / **Front x 2) (**Front USB ports are supported by pin-out)
– 1 Line-In/Line-Out/Mic-In port
– 2 PS/2 connectors
– 1 LAN RJ45 connector
– 3 IEEE1394 port controlled by VIA VT6306, with up to 400Mbps transfer rate.

Dimensions
30.5 cm(L) x 24.4 cm(W) ATX Form Factor

Mounting
9 mounting holes
Package Contents
Quick User's Guide
SATA RAID / SATA Guide
Driver CD and Diskettes
Super Pack

Photoshop Album SE
WinDVD 4
WinRip 2
VirtualDrive 7 (Professional Version)
RestoreIT! 3 (Professional Version)
Media Ring

FDD and Round Cable
4 SATA Cables and Power Cables
IEEE 1394 Cable/Bracket
D-Bracket 2 (USB and Diagnostics)
S-Bracket (Audio)
I/O Shield
MSI P4 Mainboard Case Badge
| | | | |
| --- | --- | --- | --- |
| That Handle Is a Nice Touch | MSI Makes a Lot of Nice Packages | Open Up the Flap To Check Out the Features | Box Full of Good Stuff |
| | | |
| --- | --- | --- |
| Look At All Those Goodies | The Three Included Brackets | Mobo Under Wraps |
Overall, this package is a really nice deal. I was surprised to see four SATA cables (orange ones too!) and the necessary power cables. I don't understand though why only one round IDE cable is included and why the floppy cable isn't round. It would definitely add more to an already good package if MSI would have gone the distance on the round cables. To me, including only one is kind of a tease. You're going to want the other cables to be red and round if you decide to use the included one, which means you'll have to go spend the money.
You can see from the pictures that this package includes not one, not two, but three different brackets! That's a lot of brackets taking up your available PCI slots. Some of you that have a couple of extra PCI cards such as a TV tuner card or sound card may find this as adding a couple of unwanted guests to an already crowded party. I don't see it as a big deal though as I try to minimize the number of cards installed in my system. A video card is probably all many of you would add to this board anyway. I'll discuss the IEEE1394, D-Bracket 2 and S-Bracket a little more on the next page. The I/O shield is just one of the boring, flimsy jobs, but the included manuals are decently written and contain useful information. Finally, MSI throws in some nice software just for good measure and to add value to the package.

Closer Look at Features
---
Some of the features are quite obvious as to what they offer the user, but others aren't so evident, like a D-Bracket 2 or an S-Bracket. Therefore, I'm going to quickly cover some of the more interesting technology and features included with this 865PE Neo2-FIS2R board. Most of this info comes straight off MSI's web site.
D-Bracket 2.0
MSI exclusive D-LED (Diagnostic LEDs), understand your system!
2 extra USB 2.0 connection (USB 2.0 chipset support is required)
S-Bracket
2 SPDIF jacks for digital audio transmission and 2 analog line-out connectors for additional 4-channel audio output
Offers 2 types of SPDIF connectors; Optical fiber and Coaxial
Less Noise
Longer Duration
More Power-Saving
Higher Performance
Live Update 2
The ultimate combo of MSI exclusive Live BIOS, Live Driver, Live VGA BIOS, Live VGA Driver, Live Utility and the brand new Live Monitor.
Online update BIOS/Driver/Utility.
Live Monitor auto-detects and suggests the latest BIOS/Driver/Utilities information.
D.O.T. (Dynamic Overclocking Technology
Designed to detect the load balance of CPU while running programs, and to adjust the best CPU frequency automatically
Will speed up CPU automatically when system is under heavier loads, such as video processing or 3D games, but will slow back down when under light load or inactivity
6 options available in BIOS (as level goes up, so does the percent of overclocking):

1. Disabled: disable Dynamic Overclocking.
2. Private: 1st level of overclocking.
3. Sergeant: 2nd level of overclocking.
4. Captain: 3rd level of overclocking, also the default value of "Load High Performance Defaults".
5. Colonel: 4th level of overclocking.
6. General: 5th level of overclocking.
MAT (Memory Acceleration Technology)
This is MSI's way of enabling Intel's PAT (Performance Acceleration Technology) function that is only really supposed to be on Canterwood (875) boards and not on Springdales (865).
"In addition to DOT(Dynamic OverClocking Technology), there is another excellent feature in upgrading system performance —- MAT, Memory Acceleration Technology. MAT is MSI™'s exclusive technology, specializing in optimizing the data transfer rate among CPU, north bridge chip and memory, and also in procuring better memory performance and bandwidth up to 10%.
As we knew, the north bridge chip plays a vital role in the interaction between CPU and memory. If we can try to facilitate the communicating process between CPU and north bridge chip under the principle of maintaining data integrity, then we can save some time, making the system process faster. Similarily, we can also try to shorten the interval of each data processing cycle, optimizing memory. That's how the concept of MAT coming from."
The MAT feature is enabled in the BIOS by changing "Performance Mode" to Turbo or Ultra-Turbo.
Board Layout and Installation
---
I always try to cover at least a little critique on a motherboard's layout in reviews. Of course, you all want to know how the board performs, but it's important to point out the little hassles or positive surprises on a mainboard, so that you keep them in mind when making a purchasing decision.
This is the first Intel motherboard that I've installed for years. The last was a famous overclocker — the Abit BX-6. I had a Celeron 366MHz (I think) overclocked to 550MHz for a couple years with that bad boy (still works I think, but it's been sitting in an open box for months now, just collecting dust and waiting for a new home). Anyway, before touching this board, it had been a long time since I had my hands on some Intel silicon. I didn't expect to run across any issues though just because I'm used to AMD systems, and I was looking forward to seeing just how the Intel system would compare to the AMD systems I'm accustomed to.
Overall, installing the board and the necessary components was a breeze. Installing the processor (2.4C with retail HSF) was a welcome change from the usual pain in the rear AMD heatsinks… no screwdriver, no straining. I was surprised by just how easy it was.
| | | | |
| --- | --- | --- | --- |
| The 865PE Neo2-FIS2R | A Good Look at the CPU Socket, the NB HSF and Some Slots | A Close Up of that Great Looking NB HSF | Dual-Channel DDR Action — Green Slots = Channel A and Purple Slots = Channel B |
I can honestly say that there wasn't much that I didn't like about the layout of this board. My initial criticism was of the placement of the onboard CD-in connection for connecting a CD-ROM/DVD drive. It is below the PCI slots, which means that if you choose to connect the audio cable and have multiple PCI cards installed, you might have a hassle on your hands. After thinking about it more though, I think it's a very minor gripe. With that silly annoyance out of the way, I really can't think of much else I had a problem with.


I/O Connections
The board is nicely color-coded, so that finding the right slots and connections will be very easy, speeding up the setup process. None of the capacitors are really large as is the case on some boards. Plus, the case LED and power connection headers are even color-coded to make your life a little easier.
| | |
| --- | --- |
| In This Corner… DIMMs, IDE / Floppy, and Main Power | In This Corner… 4 SATA, SB, Fan Header, IEEE1394 and CoreCell |
| In This Corner… CPU Socket, NB and Caps | In This Corner… AGP, PCI, CD-in and Half a USB 2.0 Connection (Yellow) |
One final thing I want to mention about the board is that the fan on the northbridge actually has several different colored LEDs in it that light on and off in some type of pattern while the system is on. It looks pretty cool through a case window, but it might get on your nerves if you can see into your case window as you are trying to game or get work done. Personally, I think it's cool, and I doubt it would bother many people. But… I just wanted to warn you about it.
In addition to the motherboard being a trouble-free installation, I had no issues with driver or software installation. I installed Windows XP Pro SP1 and necessary patches. Then I installed the Intel INF update, Intel Gigabit Ethernet drivers and the C-Media audio drivers, and they also were not problematic. Additionally, I installed MSI's Core Center overclocking and system status utility.

System Peformance
---
To test the system performance of this Neo2 mainboard, I used SiSoftware's Sandra 2003 and Futuremark's PCMark2002. I currently do not have any other Intel boards for comparison unfortunately. We will have others soon though. In all benchmarks, HyperThreading was enabled.
The main comparison that I'm going to show you though is between two different performance settings established in the BIOS. Recall from the previous page that this board supports PAT (called MAT by MSI) by turning the Performance setting in the BIOS to Turbo or Ultra-Turbo. The other two options, Slow and Fast, do not enable MAT.
In the tables below, you will see "Performance Setting" as the first column's title. This is how I'm distinguishing between the two main BIOS settings I tested. "Fast" means that I set Performance to Fast and therefore PAT is disabled. On the other hand, the Turbo row shows performance when PAT is enabled.
Test System:
Case: Kingwin KT-424 Aluminum Case
Motherboard: MSI 865PE NEO2-FIS2R
Processor: Intel Pentium 4 2.4GHz "C" 800MHz FSB (provided by EnvisionCS.net)
Memory: Corsair TWINX1024-4000 (2x512MB 500MHz DDR)
Hard Drive: Maxtor 80GB DiamondMax Plus9 Ultra w/ 8MB Buffer
Optical Drive: Plextor PlexWriter 12/10/32A
Video Card: Leadtek GeForce4 Ti4600
Power Supply: Kingwin KWI-450WABK 450W
NVIDIA Drivers: Detonator 45.23
DirectX Version: 9.0b
SiSoftware's Sandra 2003
Memory
Int Buffered

 Performance Setting

 Score

 
Fast
4476
Turbo
4740

Float Buffered

Fast
4486
Turbo
4698
CPU Arithmetic
Dhrystone

 Performance Setting

 Score

 
Fast
7509
Turbo
7563

Whetstone

Fast
4475
Turbo
4695
File System
 Performance Setting

 Score

 
Fast
30599
Turbo
31032
FutureMark's PCMark2002
CPU

 Perf Setting

 Score

 
Fast
6047
Turbo
6012

Memory

Fast
8678
Turbo
9007

HDD

Fast
1205
Turbo
1190
As you can see in the results, switching from Fast to Turbo in the Performance setting can gain you a slight increase in performance. Overall, the results looked really good.
Game Performance
---
I tested the 865PE Neo2-FIS2R's gaming performance using Quake 3 Arena's Four demo in Q3Bench and Futuremark's 3DMark2001SE. When running these tests, anisotropic filtering and anti-aliasing was disabled, and performance was set to Quality.
I used the same two main performance settings mentioned above during the game testing, but I also enabled Dynamic Overclocking (set at the Captain level) when Performance was set to Turbo.
3DMark 2001SE (Build 330)
1024×768 – NoAA / NoAF

 Performance Setting

 3DMarks

 
Fast
12924
Turbo + DOT @ Captain
13264

1280×1024 – NoAA / NoAF

Fast
10408
Turbo + DOT @ Captain
10546
Quake 3 Arena (Four Demo)
1024×768 – NoAA / NoAF

 Performance Setting

 FPS

 
Fast
247.7
Turbo + DOT @ Captain
254.3

1280×1024 – NoAA / NoAF

Fast
206.5
Turbo + DOT @ Captain
209.3
Once again, the increase in performance settings in addition to Dynamic Overclocking this time resulted in high scores. The boost in performance is not jaw-dropping, but it's nice and very easy to get. Keep in mind that you might have to tweak your RAM timings or other settings to make Turbo and Ultra-Turbo stable.
For more game performance numbers with this motherboard, check out my VisionTek Xtasy 9800 Pro review.

Conclusion
---
My experience with the MSI 865PE Neo2-FIS2R has been a very positive one. As I mentioned before, this is the first Intel-based motherboard that I've used for years. This board proved to be a nice welcome back to the world of Intel. MSI is known for making good quality products, and this was no exception.
While the onboard audio didn't really wow me, it was more than adequate for average users. Hardcore enthusiasts might want something more from their audio though. I had no problems with the onboard Gigabit LAN. Working in the BIOS screens was pretty simple and easy to understand. I think the Dynamic Overclocking Technology is very interesting, and it will probably prove to be a safe way to overclock for those uncomfortable with manually tweaking. But we all know that hardcore users will never let overclocking be automated. Where's the fun in that? Another good thing about this motherboard is that fact that the DDR frequency can be set independently from the FSB. That just gives you more options to tweak the board to its optimal performance level.
All of the features and goodies packed in the box definitely add value to the package. The manual is decent, but it doesn't really explain how to enable MAT or discuss what D.O.T. is or what its different levels are. I find these exclusions to be quite strange. How would a newbie to computers even have a clue about these features or what they are for without researching MSI's web site?
Pros:
SuperPack software and good utilities included
Diagnostic LEDs on D-Bracket 2
SATA RAID and 4 SATA ports
Excellent performance and great features
Great range of tweaking options for overclockers (especially voltage options)
Stable and nice layout
Attractive red PCB and NB fan LEDs
Cons:
AGP/PCI bus isn't locked at 66/33, which can hinder overclocking efforts (newer BIOS eliminates this problem)
D.O.T. was enabled by default — users should be required to enable it or at least made aware in the manual that it's enabled
Only one three-pin fan connector
Final Score
---
Performance

8.5

The 865PE Neo2-FIS2R is a great performer. I had no stability issues and have been very happy with the board over the past month.
Features

9

6-channel audio, great looking NB heatsink and LED fan, DOT, MAT, four SATA connections, SATA RAID, Gigabit LAN, CoreCell, LiveUpdate, and much more make this a very feature-packed board.
Bundle

8.5

Along with the great features, MSI packs in an above average bundle. Four SATA cables and corresponding power cables, S-Bracket, D-Bracket 2, IEEE1394 bracket,
Installation

9

I had no problems with hardware or driver installation. Besides a very minor gripe or two, the board's layout works very well. The color-coding is also quite helpful.
Price / Value

9

At around $155 according to Pricegrabber, the 865PE Neo2-FIS2R is a good deal and worthy of your Benjamins. Now consider that several different reports have shown it as one of the top (if not THE top) performing 865 or 875 boards available, and then it's an even better deal.
Final Score: 9
Great features, good bundle and excellent performance. This board offers a lot for every type of user. MSI delivers another solid product that should make many buyers happy.
With dual-channel DDR, MAT, D.O.T., SATA RAID, CoreCell and much, much more, this definitely has what it takes to be one of the best Intel solutions available today. The 865PE Neo2-FIS2R from MSI really delivers and easily earns a 9 out of 10 and the Bjorn3d Seal of Approval.