Four fans (including a quad-LED fan), great looking aluminum casing, plenty of power connectors and a three speed thermal control switch help make Kingwin's Divine Power Series of power supplies a great choice for feeding your power hungry PC. Check out this review of the 450W black aluminum KWI-450WABK PSU from Kingwin to see if it really is "divine."
Introduction
---
We all know from countless power supply (PSU) review introductions that the PSU is one of the most important yet most overlooked components of a stable, happy computer. We also know that two of the most recommended brands are Enermax and Antec, but they are definitely not the only good brands around. As more and more power is needed by modern, top-end PCs, we are seeing many newcomers to the enthusiast power supply market. Many different companies now offer 450W and greater PSUs for the power-hungriest of PCs and consumers.
By now, you've probably heard of Kingwin, either because of their stylish aluminum cases (like the KT-424-W-WM I recently reviewed) or because of one of their other many different products. Maybe you've heard of or seen the really cool looking aluminum PSUs with four fans, such as the 450W KWI-450WABK that I am reviewing today.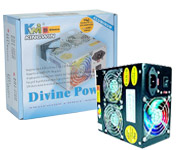 The KWI-450WABK is one of Kingwin's Divine Power Series power supplies. The Divine Power PSUs are currently available in black and silver aluminum and 450W. I'll be taking a look at the black one (the "BK" in the KWI-450WABK part name). Let's dig in and see just how "divine" this power is!
Features and Specifications
---
Features:
Black aluminum ATX 450 watts Divine Power Series.
Supports Intel ATX 12V ver.1.1 & 2.03 standard.
Compliant with AMD K7(Athlon).
4 high quality bearing fans, suitable for "ALWAYS ON" application.
Fast cooling, low noise & ripple.
3 speed thermal fan control switch (T-turbo, A-auto, and L-low).
Fan grill & gold plated connectors, preventing rust & bad connection.
I/O short circuit & overload protection design.
1 quad-LED color fan (blue, red, orange, and green).
At first I was quite surprised how light the unit is, but then I remembered that it is aluminum, which of course really helps it remain light. A general rule about PSUs is that higher quality ones are typically heavier, but the KWI-450WABK is breaking that rule a little bit I think. The lightweight aluminum casing should help you keep that light aluminum case just the way you like it — light!
Specifications:
Width: 150mm(5.9″).
Length: 144mm(5.6″).
Height: 86mm(3.25″).
Tech Chart:


Closer Look at the PSU
---
I really like a lot of what the KWI-450WABK has to offer. For instance, the black aluminum casing will look great in any case with a window. Additionally, the main power cable is nicely wrapped for tidiness and better looks. Then of course, there is the number of fans on this puppy — four! Obviously, Kingwin wanted to keep the unit cool and also help your system out a little in the cooling area too. I think the two smaller fans on the bottom look really cool too. Don't forget that the back fan also has four LEDs. I've never understood why companies make the back fan an LED fan since that really doesn't provide any useful or visible light usually. If you see the back of the case or the lights are out, then it does look cool at least. Another great feature of this unit is the 3-speed thermal fan control switch, which includes settings for turbo, auto, and low. For the highest cooling, you choose "turbo" and for the quietest PC, you choose "low." But, if you're lazy and don't want to worry or think about it (like me), you put it on "auto."
As I already mentioned, the KWI-450WABK is surprisingly lighter than other PSUs I've used. I wonder how much of the weight is from all the stickers on the unit though! If you're a sticker collector, this is the PSU for you! 😉
| | | |
| --- | --- | --- |
| Kingwin Divine Power Supply | It Stands! | It Sits…Good Boy! |
| | | |
| --- | --- | --- |
| For Fun, Find All Seven Stickers! | Two Bottom Fans | Label on Side of the Unit |
Here is a list of all the connectors provided in the KWI-450WABK:
ATX Motherboard Power Connector
6-pin Auxiliary Power Connector (P4)
4-pin +12V Power Connector (P4)
10 4-pin Peripheral (molex) Connectors
2 4-pin Floppy Disk Connectors
Because the unit is relatively light and has plenty of connectors, installing the KWI-450WABK was quite easy. I installed it in the Kingwin KT-424-W-WM aluminum case, along with the hardware listed below.
| | |
| --- | --- |
| Back of the PSU, To the Right of the Main Power Switch is the 3-Speed Fan Control Switch | Quad-LED Fan Lit Up |

Testing the PSU
---
In order to test that the voltage rails were delivering within spec (+/-5%), I grabbed a multi-meter and started measuring. Here are my results.
Rail
Reading
+3.3
3.33 V
+5.00
5.06 V
+12.00
12.25 V
Those readings are right around what we'd expect to get. In addition to the multi-meter testing, I watched MSI's Core Center readings to see how much the voltages (including the Vcore) were fluctuating. I didn't notice any fluctuation beyond +/-5%, so all is good with this Kingwin power supply in the clean power category I think.
As for the noise of this unit, I'd have to say it produces an acceptable level of noise. It's claim of "low noise" is accurate in my opinion. I had the 3-speed fan control level switched to "A" (for Auto) the entire time, and I haven't really noticed its noise over any other fans in my system. The great thing is that you can always quickly change it to "L" (for Low) if you want an even quieter PC, or if you want better cooling, just switch it to "T" (for Turbo).
Conclusion
---
Now that I have more experience with Kingwin products, I can safely say that the Kingwin brand is now on my list of recommended cases and PSUs. One of the best things about this PSU is the aluminum casing, which probably makes it a good half pound (or more) lighter than competing units. That might not sound like much, but if you are building a LAN party rig, shaving off every little pound can help make lugging that rig around that much easier. In addition to being light, aluminum also looks great. I have no doubt that both the black and silver versions of this PSU would look great in a windowed case. Although the abundance of stickers might turn some away, they are on the bottom so shouldn't be too noticeable.
The KWI-450WABK also has plenty of connectors for installing all your fans and drives. The 3-speed fan control and rear quad-LED fan are really nice touches that add to the appeal of this power supply. More importantly, the unit performed as expected and required of a higher end PSU. I really like the four fan design as well and have been very happy overall with the PSU over the last several weeks.
Pros:
Great looking, shiny black aluminum
Lightweight
Four fans with Smart Fan technology
Quad-LED fan in back
Pretty quiet at Low and Auto
Plenty of connectors
3 speed thermal fan control switch
Gold plated connectors
Cons:
Lots of stickers all over it (remember, that's good though if you collect stickers 😉 )
No RPM monitor
Performance

9

The KWI-450WABK performed as expected, and it's pretty quiet.
Features

9

The aluminum chassis, four fans (one of which is a quad-LED fan) and 3-speed fan control are all great features. Because of its aluminum construction, it's also relatively light for a quality PSU.
Price / Value

9

Newegg.com has this PSU for $80 USD, and Googlegear.com is selling it for $86 USD shipped free. Both of these are pretty good prices for a great PSU. The price is around the same you'd pay for similar units from Antec and Enermax. The features, quality and looks make it worth the price.
Final Score: 9
Kingwin's KWI-450WABK performs great, looks really nice and has excellent features. Therefore, I'm awarding it a 9 and the Bjorn3d Seal of Approval.

A big thanks to Kingwin for providing this product for review!