Quiet and attractive, the 660AMG from Antec delivers in more ways than one. Need a good looking case that comes with a TruePower PSU to boot, check out this review and see if you'll want to be next in line for one.
Introduction
---
Whether you are looking for practicality, affordability, functionality, or any other word that ends in "ly" you are not going to have trouble finding a large variety of choices when it comes to PC cases. There are thousands of choices out there from the sensible to the outlandish. Well right now we are going to take a look at Antec's Plus660AMG mid tower case. Although this is the baby brother of the Performance Plus AMG series of Antec's cases, this good looking case doesn't have to work too hard to be seen over its bigger siblings.
Features
---
I always get a little excited to see a new piece of hardware I get to put through the wringer and this was no exception to the rule. I will get down to the nitty gritty of what I think of the case in a bit, but lets check out the specs of this case coming straight from Antec's website to open up. Feel free to do a little side by side comparison while you're at it by taking a look at Shane's review of the PlusView1000AMG from the same family of cases.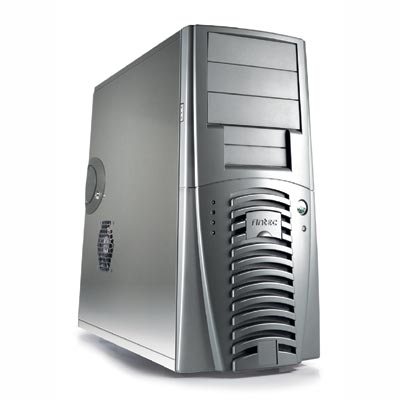 Performance Plus SpecSheet

Model

PLUS660AMG

Case Type

Mini Tower

Case Dimensions

17.25″ (H) x 8.1″ (W) x 18.6″ (D) 440 x 206 x 472 mm

Drive Bays
– Front Accessible
– Internal

8
3 x 5.25″, 2 x 3.5″
3 x 3.5″

Expansion Slots

7

Cooling System
– Rear
– Front

– Side Panel

UP to 4 x 80mm fans
– 1 rear (Standard)
– 2 front (Optional)

– 1 (Optional) PLUS660

Power Supply

330W
TruePower
ATX12V (P4 compliant)
True330

Material

1.0mm SECC

Net Weight
Gross Weight

25 lbs.
28.5 lbs.

Motherboards

Fits standard ATX / Pentium 4 Up to 12″ (W) x 9.6″ (L) 305 (W) x 300 (L) mm

Special Features

2 Front USB port, 1 Front IEEE 1394 (Firewire) port

Swing-out side panel with handle
Washable air filter

Quick-release drive bays with release lever

Snap-in fan mounts

Large front panel vent

Package Includes

1 Tower Case

1 330 Watt ATX True Power (True330) – installed

1 Power cord

1 case fan for PLUS660

1 set of screws and motherboard standoffs

1 complete set of drive rails ( 6 rails )

1 Installation manual
The AMG part of the 660AMG comes from the Antec Metallic Gray color the cases come in. This is definitely a good looking color on a PC case. It gives the case a great gun-metal and titanium kind of look to it.
Along with the color comes some great features like the 330W TruePower PSU included with the case. A great addition to any case, the TruePower line of PSUs deliver with quiet, consistent, and reliable power. I did wonder if Antec should have placed a little more juice in the case. With the power demands of some components raising the bar once again, a 400W would come in quite handy when your FX5900 shows up and recommends at least a 350W PSU.
The front USB and firewire ports are hidden under a nice hinged door that is simple to pop open and close with a flip of the finger. I myself would be lost without front peripheral ports on my PC. The days of digging under your desk and reaching around your PC to plug your gamepad or flash memory card reader in are definitely a thing of the past in my book.
Cooling in the case comes in the form of two included fans and two optional positions for additional fans. All the fans are 80mm and are placed throughout the case. Two fans in the front, with one of them attached to the hard drive cage, a fan on the side panel, and a fan in the rear of the case keep a steady breeze flowing over those parts most affected by the heat. A washable air filter is also included in the front of the case to keep those nasty dust bunnies from giving your canned-air a workout.
The actual construction of the case is very strong and sturdy. The bad thing is that this case hasn't been drinking its Slim Fast lately. This is definitely not a lightweight case. The weight is definitely one of the biggest cons of this case. But along with the weight, you are getting a case that won't dent easily and will hold up to just about anything you might throw at it, literally! The side panel is easy to open with its swinging action. It also sports a nice lock on the handle to keep out any would be thieves wanting to swipe your hardware. Just keep an eye on your key, or you will have to find another way to upgrade! Antec also provides you with a great package of screws to tie up all your PC parts in the case. There's a nice little Antec badge in there for decoration also.

Hardware Installation
---
System Hardware:
AMD Athlon XP 2500+
Asus A7N8X Deluxe Motherboard
Western Digital 80GB HDD 8MB Buffer, Seagate Barracuda IV 40GB
2x256MB Corsair XMS PC3200 DDR RAM
24/12/40 TDK VeloCD CDRW
I noticed right at the start that there is not a whole lot of extra room to work with in this case. The motherboard itself is a tight squeeze to drop into place. A removable motherboard tray would have been a great option to have on a case of this size. It would have eased installation and added a little bit of a safety net when installing additional components by taking the motherboard out of the case more easily. I witnessed this fact personally when I tried to take the PSU out of the case. Not gonna happen without removing the motherboard. It's not the most time consuming task in the world to unscrew the mobo and take it out, but there are ways of making it much more simple.
One of my initial worries was how close the Aerocool heatsink and fan (Check out Bjorn3D for a review on this HSF coming soon!) was going to be to the power supply. Well I was right about my worries. As you can see in the pictures, the PSU and HSF are best friends and spend a lot of very close time together. I don't see any problems occuring at this point, but they are very close together and it is worth consideration.
The install of the hard drives is pretty smooth all the way around. The nice removable HDD cage makes it easy to pop the drives in and out of the case with relative ease. Now all I need is a very short IDE cable to plug into those drives. The IDE ports on my motherboard are basically within an inch of the hard drives. The more industrious part of me plans on shortening those cables up soon to take away a lot of the clutter and slack they leave inside the case. Of course I could just buy a couple of SATA drives and all those ugly cable problems would be eliminated immediately. 🙂
The floppy drive is of course a breeze. The removable 3.5″ tray is a nice little add-on to the case. It makes a simple task that much more simple to perform. The TDK CD-RW is also quick and easy to install with the included drive rails. Screw them onto the drive and click it into place. I love to have this feature on a case to eliminate the headaches of having to unscrew a bunch of stuff on both sides of the case just to get a drive loose.
There you have it. My PC was up and running again within an hour. It's looking good so far and the fun has yet to begin. Lets take this baby for a test drive and see how it performs in the real world both in looks and performance.
Test Drive
---
Well my way of testdriving this case was to take it with me to a LAN party I had with a bunch of guys from work and school. I didn't have any trouble getting this case upstairs and out the door into the backseat of my compact car. The weight factor once again reared its ugly head while moving it around. It could use a diet, but is nothing that I couldn't handle and didn't cause any "incidents", it is just a little inconvenient.
Initial comments from friends included "Sweet case!", "I love the color!", and "Ooooooooohhhhhhh!". I would say it was a resounding approval from all in attendance. The case performed flawlessly and I didn't have any heat related issues the whole evening. Temps in the case stayed relatively cool and I never worried about checking it again the whole night. CPU temps stayed under 50C and motherboard temperatures stayed between 20-25C. It was a great time and the case stepped up to the plate and hit a homerun. I would definitely call this case a "LAN Ready" type of case.

Conclusion
---
The Antec Performance Plus 600AMG is a great case and has proven itself to me. If you want a case that provides both look and function, this could definitely be for you. The case is one that won't break your pocketbook either. I found the Antec 660AMG at Newegg.com for $95.00. This is a pretty good price considering what you get with this case. With a heavy market of cases that are filled with lights, windows, and other modded delights, this case brings a breath of fresh air to those looking for a clean and classy case that does what its meant to do and does it with a style of its own.
Pros:
Good looking
Easy installation
Very quiet
Good temperatures inside case
Included PSU is top notch
Cons:
Heavy
Not much room inside
No removable motherboard tray
Final Score
---
Performance

9

Low temps, extremely quiet when running, an awesome PSU, and awe-inspiring looks make this case a top performer in my books.
Features

8

The 660AMG comes with a great PSU, front inputs for both USB and Firewire, plenty of cooling fan options, and some sweet removable drive bays. The no frills attitude of the case may be a turn-off to some, but also adds to the simple elegance that it holds. Unfortunately the case could definitely shed a few pounds off of its thick and heavy panels, and the PSU could use a few more watts to give more of a cushion to those putting the latest hardware in their machines.
Quality

9

This case is thick, and it's undeniably strong. It can definitely hold its own to whatever beating you may give it. Along with that extra durability comes the extra weight though. The included PSU is great, and the case has an overall "well-built" feel about it.
Price

8

For around $95.00 some may look elsewhere for a lower-priced and possibly lower-quality case to save a few bucks. When push comes to shove, the $95.00 spent on this case is well worth the money. You get a good deal with all that is included with the Antec 660AMG.
Final Score: 8.5
With its great looks, great performance, and awesomely quiet operation I can't help but love this case. Yes it's a little on the chunky side, but is easily ignored and doesn't cause too much hassle as long as you don't move it around too much. The benefits by far outweighed (not in the literal sense) the small amount of problems with the 660AMG. I give the Antec Performance Plus 660AMG an 8.5 out of 10 and the Bjorn3D Seal of Approval.