Looking for a soundcard that produces good sound without all the bells and whistles that you don't want to pay for? Check out the Gamesurround Muse Lt from Hercules, a simple card that will make your ears and your wallet happy.
Introduction
---
When it comes to sound options for your PC, there is a plethora to choose from. Do you want performance in games, music composition, editing, or recording? Will you be connecting MIDI equipment or other accessories to your PC? It's a growing market that many of today's audiophiles have moved into with the onset of digital audio taking over the industry. With that said, lets take a look at the Hercules Muse Lt soundcard and give it, and my ears, a workout.
The Muse LT is definitely an entry-level sound card offering for those looking for something simple, hassle free, and easy to install. There aren't many bells and whistles on this card for the more advanced sound gurus to play with, but this may also be one of the greater features Hercules offers in a very straight forward piece of equipment.
Features
---
Let's start off with what this card has to offer.
Support for Microsoft® DirectSoundTM 3D
CRL3D-based 3D positional Audio
EAXTM1.0, EAXTM2.0, A3DTM1.0
Microsoft® Direct SoundTM & DirectMusicTM
Dolby SurroundTM
Inputs: Mic-In, stereo Line-In, game port/MIDI MPU-401TM
2 stereo outputs for connecting 4 speakers
Internal CD audio connector
Windows 98SE, 2000, ME, and XP compliant drivers
Hercules MediaStation II software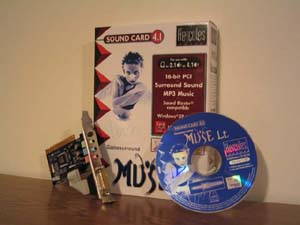 This is a very small card in a very small box. Not much to look at, but well-made and packaged. The Muse Lt has your standard mic in, line in, front and rear speaker out, and a game port connection. It also has internal CD audio and auxilliary connections directly on the board.
Instructions included in the box are a big fold-out with directions in six different languages. For those who are needing to use the instructions during installation, I recommend a pair of scissors to crop out your desired language of choice. The entire manual unfolded is somewhat large but easily navigated. The illustrations and step-by-step instructions are easy to view and follow along.
The software included in the package is Hercules' own MediaStation II multimedia package. This software alone is worth the price of the card itself. It is a great application that allows the playing of many formats of sound, video, and viewing of pictures. It also has the ability to record audio from a variety of sources with the click of a button. The software is very versatile and a great addition to any user's hard drive. I will talk more about this later on.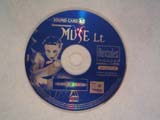 One thing I have noticed is that this card is so scarce that Mulder and Scully would have trouble finding it. It is very hard to locate in stores right now in North America. I have been able to locate it on Outpost.com and a direct link from the Hercules site. I have seen one auction from the United Kingdom on Ebay while reviewing the card that lists it for approximately $1.58. Not bad, but it's not good that the card is hard to find at the same time.
Installation
---
I haven't had a problem installing a PCI or AGP card in my PC for a long time. This card does not break my streak of good luck. It fits very nicely in the case under my video card with its very small size. Windows XP makes a wave of its magic wand and presto the card is ready to roll. I love the true benefits of Plug & Play!
Installing the MediaStation II software is also a breeze. It's a very small program in size for the amount that it can do and installs very quickly. After a quick reboot, we are up and running with the wonderful sound of XP chimes…Ding da ding ding ding da ding! Ahhhh the sweet sounds of successful installation.
Testing
---
Test System
AMD Athlon XP 2500+ cooled with the Corsair Hydrocool 200
Asus A7N8X Deluxe Motherboard
Western Digital 80GB HDD 8MB Buffer
2x256MB Corsair XMS PC3200 DDR RAM
24/12/40 TDK VeloCD CDRW
To test the card I believe I need to put it through the paces of an average users sound needs. I figure using the included MediaStation II software, Winamp, Windows Media 9, and Zoom Player to conduct a few tests with the Muse LT will give an overall idea of how well this card can perform. I realize that this is a purely subjective test. I wasn't blessed with ears that can hear the finest of highs, the deepest of bass, and all the tones in between. I am putting my best foot forward to tell you how well I think this card sounds compared to my on-board sound off the Asus motherboard and my Creative Labs Soundblaster Audigy 1. Tests I am performing are done on both a Klipsch Pro Media 2.1 system and the Plantronics Audio 60 Headset. I unfortunately do not have a 4.1 setup to test out the performance in this category.
Music:
MP3s and WAV files are crisp, strong, and sound great on the Klipsch 2.1 setup. I can't tell much difference between the Muse LT and my usual Sound Blaster Audigy 1 card. The card performs quite well with all different genres of music. The same goes with the music heard through the Plantronics headset. The bass is strong, highs are undistorted and clear, and vocal tracks are flawless. There were some instances however when a strange and very subtle popping can be heard when listening to music files on both Winamp and the MediaStation II software. It is very infrequent, but definitely there with the Muse LT and not with the on-board sound on the A7N8X or the Audigy 1 card. The sound can usually be heard on the Klipsch speaker setup when other programs are taking up resources while opening, running a process, or saving. It is more noticeable while wearing the Plantronics headset. Once again, it is very infrequent, but still worth noting.
Games:
The card performs surprisingly well while playing games. The positional audio is very good with the Klipsch 2.1 speakers. Games such as Soldier of Fortune II and Unreal Tournament 2003 are great to listen to on this card. The bullets and missles flying by are some great effects, but it did not stand up to the Audigy or the on-board sound. The sound from the Muse Lt lacked clarity in some of the more action packed parts of the games. Explosions and gunfire show some distortion and positional sound seems to almost "cut out" at times. Some of the 3D effects also seem to blend together and aren't as distinct as the on-board and Audigy, but it still performs much better than I had expected from a budget card.
One of the great features of the Muse LT while gaming is the excellent microphone sound quality when chatting with other game players online. Mic levels on the Muse are very responsive and clean. There is very little static on the Muse and any distortion is easily fixed with the mixer or boost option from the desktop.
Movies:
The sound on this card when watching video is yet again very good. I was quite impressed with the quality of sound that it puts out. There are times when watching several movie trailers and a Divx movie on Media Player 9 and Zoom Player that the sound becomes a little garbled during action scenes with explosions and gunshots that I did not notice with either the on-board or Audigy 1 card. All in all though, the Muse LT is a great performer in this category.
MediaStation II software:
This is a great little application for your PC. I can throw everything at it from pictures, to movies, to recording audio. The MediaStation II just throws it right back to me smooth and problem free. The menu is very easy to use. Everything that you want to see or hear can be placed into the main playlist to be queued up for your enjoyment. There is even a slideshow option for pictures that you can set time frames for a slide show presentation. The software definitely adds to the Muse LT in more ways than one. Including this application in the package is a great move by Hercules to satisfy the need of a customer to receive a program they can test their new hardware on. I really enjoy this program and plan on continuing to use it regularly.
C-Media mixer:
Along with the installation of the Muse Lt is a sound mixer application by C-Media. This mixer is a great add-on and allows the control of volume, setup, and configuration options. A cool feature of this mixer is the included effects that can be chosen to put a spin on your audio output.
Conclusion
---
The Hercules Gamesurround Muse Lt is a great card for someone that doesn't already have a sound solution for their new or existing PC. If you don't need the advanced performance of a high end card, or you just simply don't want to spend the extra money for the upper echelon of cards, this is the solution for you. The flaws I see in the card are fairly minor and would not be of worry for most that are looking to only use the card for everyday PC use. If you want to hear the best sound you can lay your ears on, you may want to steer clear of the Muse Lt and head upwards in the price chain. With the card being difficult to find except for a few online stores, your options for comparing prices are slim to none. The average cost of the Muse is going to be around $25. This price is very close to its older brothers the Gamesurround Muse 5.1 DVD and the Fortissimo III 7.1. I would suggest checking out Chad's review of these two cards before making that final purchase.
Final Score
---
Performance

6.5

The card performs as well or better than any other budget sound card that I have ever heard. Unfortunately the Muse LT does not stand up to its more powerful competitors, such as the Audigy, but that can be somewhat expected from a budget card like the Muse LT.
Features

7

It is a very basic card with very basic features. The one great feature of this card is the MediaStation II software that is included. It helps create a more appealing and worthwhile package with the Muse Lt.
Quality

8

The card has performed very well since I installed it. I haven't had any problems so far with hardware or software issues. The Muse also comes with a standard 3 year warranty.
Price

6.5

I had a lot of trouble finding this card in any stores. When I was able to locate it, it was still around $25, only $10 cheaper than the GameSurround Muse 5.1 DVD and $25 cheaper than the Fortissimo III 7.1 card. With such a small price difference, the urge to go for more performance may beat out the Muse Lt in the end.
Final Score: 7
In the long run, this is a good card for the average Joe looking for some sound in his home or office PC. If you already have a good on-board sound solution on your motherboard, I would say you are better off sticking with it. The overall performance may not be up to par with the high-end cards, but for around $25 the performance/value ratio is great. With a few minor flaws here and there, but an all around good showing, I give the Hercules Gamesurround Muse Lt a 7 out of 10.