While a flashlight might not be the first thing that springs to mind when someone mentions LEDs, it just might be something you should consider for dropping in your PC repair or LAN party tool kit!
Introduction
---
Normally when we talk about LED's in relation to the PC we're talking about permanent internal lighting kits. In this case though, we're taking a look at an LED used to temporarily illuminate the interior of a case or anything else for that matter. This LED is a flashlight!
What the heck does a flashlight have to do with a PC you ask? Well, over the years I've found a flashlight to be invaluable during a PC build or repair, particularly when connecting cables and adjusting jumpers inside a dark case. Doing last minute or emergency tweaks at LAN parties can make a flashlight even more critical as the lighting at these events is often dim to downright dark.
I used to use a Mini MagLite for this work and, while that worked okay, I recently stumbled onto something that might be even better, the Infinity Ultra LED flashlight from CMG Equipment.
An LED flashlight gives you a couple of advantages over a regular light and can be especially beneficial for a light that is going to be dropped into a tool kit and only used infrequently. Lets take a look at the Infinity Ultra and its features, and then we'll delve a little further into those advantages.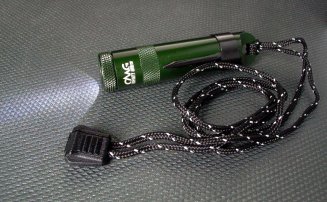 Specifications & Features
---
Specifications:
Length: 3.215"
Weight: 1.04 oz.
Anodized Aircraft Aluminum construction
Powered by 1 AA battery
Waterproof to 10 feet

Features:
Peak Brightness: 25+ hours
Useable Light: 100+ hours
Bulb Life: 100,000 hours
Brightness: 30 feet

The CMG Infinity Ultra is machined out of aluminum and built very solidly. It seems to be a bit thicker walled than the MiniMag and MiniMag Solitaire that I used for comparison purposes. It is turned on and off via turning the knurled dial on the LED end of the light. I would normally call this the lens assembly but in the case of the Infinity, it really is just a knurled dial as the light doesn't use a reflector array or separate lens. The LED bulb apparently precludes the need for these features.

On the opposite side of the light is a lanyard hole, while the sides are checkered for a positive grasping surface.

The provided pocket clip snaps securely into place whereas the lanyard simply threads through the aforementioned hole in the light's end.

Size-wise the Infinity Ultra is a good deal smaller than a 2 AA MiniMag and about the same length as a single AAA MiniMag Solitaire although it is thicker to accommodate the Infinity's single AA battery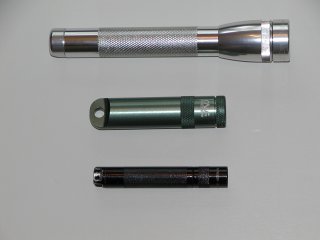 Package Contents: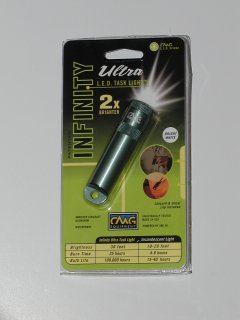 Infinity Ultra LED Light
Clip
Lanyard
Instruction Sheet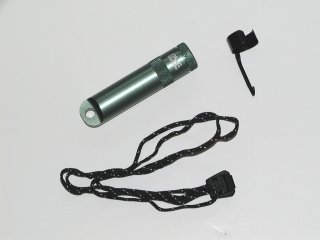 Assembly
---
Well, you can follow along with the instructions if you need to, but this process is really simple. Screw off the lens cap of the light, drop in a AA battery and screw it back on. There, you're done. If you're real ambitious, you can attach the clip and lanyard at this time as well. The whole process only takes a few minutes at most.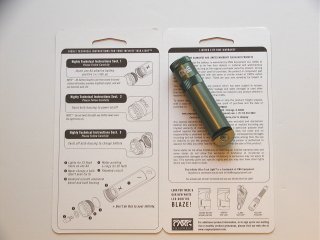 Performance
---
Now there's nothing really wrong with using a MiniMag for your PC tool kit, but an LED light like the Infinity Ultra does give you some distinct advantages. First off, it gives much greater battery life than a conventional flashlight, upwards of 100 hours off of one AA as opposed to 4 to 6 hours. That greatly increases the odds that your light is going to work when you need it. Second, an LED bulb is much less susceptible to damage and unlikely to break if dropped or jostled around. Third, in the case of the Infinity, the LED comes as a very compact package that will easily fit inside the cramped confines of a case while your working on it.
The provided clip and lanyard that the CMG light comes with give you a couple of options to attach the light to your clothing or hang it around your neck while you work to keep it out of the way or in a position to provide light while freeing up your hands to work.
In regard to actual light output, I found the CMG Infinity fell somewhere in between a AAA powered Maglite Solitaire and a 2 AA MiniMag. The light is a somewhat softer hue to it than a regular flashlight bulb. The lights range and brightness were more than sufficient for typical PC work. It also comes in handy for getting your gear out of or into the car when you arrive at your local LAN fest after dark!
Conclusion
---
While a flashlight isn't the first thing that may come to mind when you start planning what to put into your LAN tool kit, it is something that comes in handy fairly often. A light that doesn't take up much space and that has the battery and bulb life to be available when you need it can be a real boon. That extra bulb and battery life will also save you money in the long run as you won't be replacing batteries or bulbs as often as with a conventional light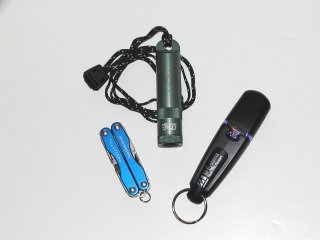 It's worth mentioning at this point too that the CMG is over engineered for use simply as a tool kit light. While it certainly works well in that role its rugged construction, durability and water resistance also make it suitable for any number of other uses such as camping, backpacking, etc. So, if your hobbies range further a field than simply PCs and LAN gaming the Infinity Ultra has certainly got what it takes to go wherever you might be inclined to take it!
LED's are becoming more and more common to PCs these days and while the CMG Infinity isn't the type you usually think of when you think computers it is one that can help you keep your rig up and running even when the lighting conditions aren't optimal for repair work.
Pros:
Superb battery and bulb life
Ultra rugged construction
Compact size

Cons:
A little pricey compared to conventional small flashlights (About $25)

With its extreme battery life and compact size the CMG Infinity Ultra is perfect for stuffing in a LAN tool kit or for general day to day use and gets a 9 out of 10 and the Bjorn3d Seal of Approval!