This Micro-ATX motherboard has just about everything you need for a basic computer: built-in GeForce4 MX video, sound, network connection, USB 2.0, etc.
Introduction
---
The Biostar M7NCG is a well-built Micro-ATX motherboard, based on the NVIDIA nForce2 chipset. It's a complete solution with the all the peripherals needed for a basic computer system integrated into the motherboard. The video is powered by the built-in GeForce 4 MX graphics, and the board has a fast DualDDR 400 memory controller, which delivers up to 6.4 GB/s of bandwidth. The M7NCG provides Dolby® digital 5.1-channel sound for real-time cinematic 3D (positional) audio. All of this is topped off with an AGP 8x slot, USB 2.0, IEEE 1394a (FireWire), and LAN ports.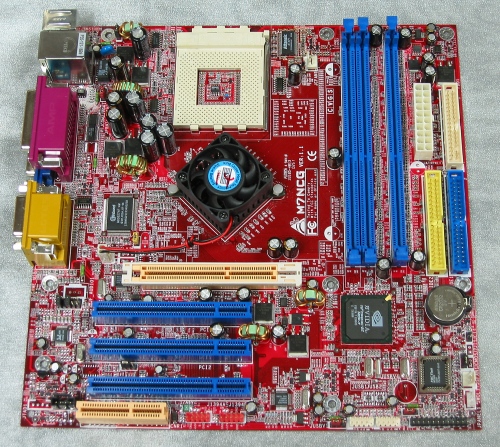 The motherboard is cherry-red, which is a great way to show off your case window
Specifications & Features – 9 out of 10
---
Here are the Biostar M7NCG specifications:
PROCESSOR
Socket A
AMD Athlon™ XP , Athlon™ and Duron™ Processor
200 / 266 / 333MHz system interface speed

CHIPSET
NVIDIA nForce2 IGP / MCP-T

SPECIAL FEATURES
9th Touch – select boot device at start-up via F9 key
FLASHER™ – integrated flash utility function
CPU Savior – CPU overheating protection circuit

MEMORY
3 x 184-pin DDR SDRAM DIMM
Maximum 3.0 GB
Dual Channel DDR 200/266/333/400
(For Dual-channel DDR (128-bit) high performance, at least 2 or more DIMM modules must be installed. (It has to be the combination of DIMMA and DIMMB.) With only one DIMM installed, the memory performs only at 64-bit.)

EXPANSION SLOT
3 x PCI
1 x AGP (4X / 8X) [ with retaining clip for heavy graphics cards ]
1 x CNR (Type B)

I/O
1 x Parallel, 1 x Serial
1 x VGA
1 x PS/2 Mouse, 1x PS/2 Keyboard
2 x Rear USB 2.0
1 x Game Port, 1 x Speak-out, 1 x Line-in, 1 x Mic.-in
1 x Floppy
4 x IDE Hard Disk Devices
Ultra DMA33/66/100/133
4 x Front USB 2.0
1 x Front Audio
1 x IrDA
1 x CD in Connector
1 x S/PDIF Out Connector
2 x IEEE1394a Connector
1 x Chassis Intrusion Connector
1 x WOL Connector

INTEGRATED AUDIO
NVIDIA APU(Audio Processor Unit) Dolby® Digital Encoder + Realtek ALC650 6-Channel AC'97 CODEC

LAN
MCP NVIDIA MAC + Realtek RTL8201BL PHY
IEEE13941a
MCP-P NVIDIA IEEE1394a MAC + Realtek 8801B PHY

HARDWARE MONITOR FUNCTION
CPU / System Fan Speed
System Voltage
CPU Temperature
System Temperature (Optional)
Vcore,+3.3V,+5V,+12V

SIZE
Micro ATX Form Factor
Dimension: 24.4cm X 24.4cm ( W x L )

CERTIFICATION
CE
FCC
CMTL

Features

Like all motherboards based on one of the nForce chipsets, the M7NCG comes with a wealth of standard features. That's why I like nForce motherboards, and this Biostar motherboard is no exception. It has everything you need in a basic computer, built in and ready to go: GeForce4 MX graphics, a network port, 6 USB 2.0 ports, 2 IEEE1394a (FireWire) ports, and a great sound system. This motherboard also has useful features like a CPU overheating protection circuit to protect your AMD CPU from burning up (by cutting power if the CPU temperature gets too high). That's a very important feature, since AMD CPUs do not include automatic thermal throttling like Intel's P4.

The M7NCG is missing a few enthusiast features, however. There is no RAID hard drive controller and no serial ATA hard drive connections. You can always add an adapter board later, but if you want advanced hard disk features, you should probably consider a different motherboard.

Because this motherboard is a Micro-ATX design, there are only 3 PCI slots, which should be sufficient (even if your graphics card cooler blocks one slot), since the nForce chipset includes most of the peripherals you'll ever need. However, due to the reduced slot count, you should be considering a Micro-ATX motherboard because you want a smaller, lighter system. I measured the weight of the M7NCG and found it was only about 2 ounces (56 grams) less than a standard-sized motherboard (the ASUS A7N266-C), so you'll probably only notice the difference in a lightweight aluminum system (if at all).

The BIOS is overclocking friendly; you can change the CPU multiplier setting by 1 MHz steps as well as letting you adjust the on-board CPU, AGP, DRAM, and IGP Voltage Regulators, for improved overclocking potential. In addition, Biostar includes a force-the-system-bus-frequency-to-100-MHz jumper on the board, so that you can recover from that "Oops, I've overclocked too far!" situation. I'm glad to see that jumper, since not every nForce motherboard has it (even though it was on NVIDIA's reference design), which has caused major problems for more than a few overclockers.

Bundle / Package Contents – 7 out of 10
---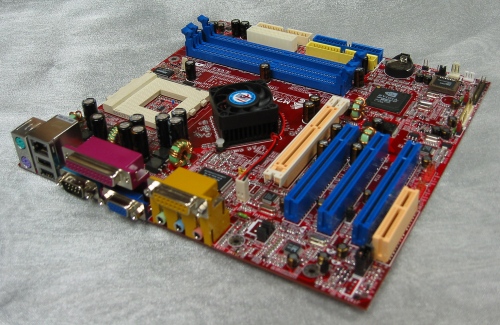 Of course, you expect one of these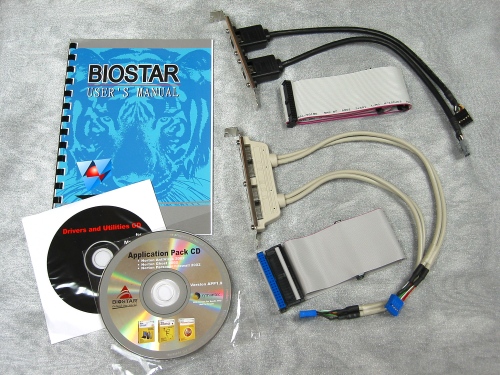 And here's the manual, CDs, 4 USB 2.0 ports, 2 FireWire ports, and drive cables
(notice the LACK of a back cover-plate)
The bundled Norton utilities (AntiVirus, Ghost, and Firewall 2003) are a nice touch, and I like the extra USB and FireWire port connections.
Unfortunately, the printed manual is lacking important details, like configuring the BIOS and what the documented jumper settings actually do. (What's the difference between the 5V and 5VSB selections for "KB:JKBV1" and why would I want to change the jumper selection? Using Google, I've determined that 5VSB is 5V standby, which means that power is cut to the USB ports when the system is in standby mode, which saves power.) Also, some of the diagrams in the English section of the manual are labeled in Spanish (!), as shown below: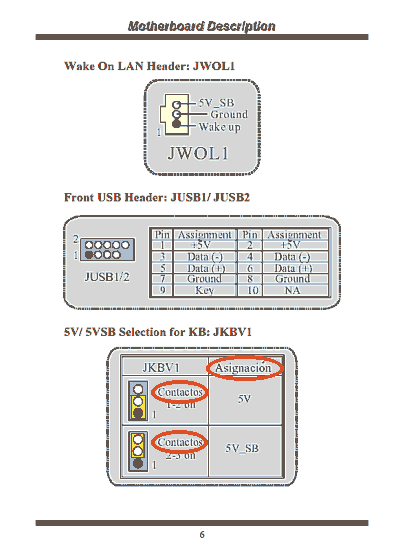 The BIOS manual is included only on the installation CD, which is mighty inconvenient at times. (You may want to print it out.) I'm deducting a point from the Bundle score for the poor quality manuals.
More importantly, the back cover-plate for the integrated motherboard ports was missing! Luckily I had a spare one that fit, but this could be a real issue, especially if the motherboard was purchased mail-order. This omission raises my concerns about Biostar's QA department. While this is a great motherboard, you should make certain you buy it from a reputable dealer, so that you can easily get any missing/replacement parts. I'm also deducting a point for the missing cover-plate.
Installation – 6 out of 10
---
This was more difficult than I expected, since the driver CD that was included in the box was for an "Intel Chipset Mainboard Version I1.25B-1R" based P4TDQ motherboard. The actual board that I'm reviewing was supposed to be a retail shipping version and came with a real, printed manual in the correct (non-generic) box. It was shipped straight from Taiwan, direct from Biostar. Considering the missing cover-plate noted above, I believe the box I received may have been packed in a rush to send it to me for this review. Luckily, the mix-up was not as big a problem as it might sound, as I did have the correct driver disk on hand, from a previous engineering sample of the board. (This review only covers the FINAL, shipping version of the motherboard.) However, due to these problems, I'm scoring the Quality of this otherwise fine product as a 7 out of 10.

The motherboard layout is very good. All the cables, including power, are located on the outer edges of the board, so wiring does not block airflow across the memory and CPU. There's plenty of room around the CPU socket; I measured a clearance of 2.75 x 3.0 inches (69 x 73 mm) before large capacitors would touch a heatsink. All jumpers are well-marked, and the 3 fan connectors are in convenient places. The included USB and FireWire ports went in without a hitch. Once installed, the system has been stable, fast, and reasonably quiet. It's not silent, however, since there is a small fan on the nForce2 Northbridge chip (to cool the built-in GeForce 4 MX).

Because of a Micro-ATX motherboard's smaller size, it should easily fit into most cases. I previously had a full-size motherboard in my system, so I did have to move most of the motherboard support posts to new positions. Also, the installation was made more difficult than it should have been by the manual's lack of detail on jumper settings and BIOS settings. This motherboard should only be installed by someone who knows what they are doing and has installed other motherboards in the past.

The missing cover-plate noted above might have meant leaving it off (and later, perhaps, removing the motherboard, installing a new plate, and reinstalling the motherboard). Luckily, I had a spare face-plate on hand; with a little Dremel work (cutting a hole for the network connection), I soon had a suitable replacement.

I do not recommend the M7NCG for novices.

Testing
---
Testing was performed via everyday use, and I ran both synthetic and game benchmarks. The objective was to determine the effectiveness of the additional features of the nForce2 (especially the built-in GeForce4 MX IGP) and to determine any performance increase over an nForce1 using identical hardware. (In other words, just a motherboard upgrade.)
Test Systems
Biostar M7NCG nForce2 Motherboard vs. ASUS A7N266-C nForce 415D motherboard
AMD XP 1900+ CPU
2×256 MB (512 MB total) Corsair PC3200 CAS2 DDR RAM
NVIDIA reference GeForce4 Ti4200 64 MB (std. clock: 250 MHz core / 500 MHz mem)
Maxtor 40 GB Ultra ATA/133 hard drive
Windows ME
DirectX 9.0
NVIDIA "Detonator" Display Driver version 41.09 (Performance set to "Balanced")
nForce Driver version 2.0
Performance – 8 out of 10
---
Benchmarks Used
PCMark2002
SiSoft Sandra 2002
3DMark2001 SE
Quake3 1.17, Demo001
Unreal Tournament 2003 w/UTBench2003 ver 1.34
PCMark and Sandra were chosen as our overall benchmarking tools while 3DMark, Quake3, and UT2003 were used to measure game performance.
PCMark 2002
PCMark 2002 Pro is a synthetic benchmark that tests the major PC subsystems. Like its sister benchmark program 3DMark, PCMark creates a score based upon all of its individual tests. We used the CPU Score, Memory Score, and HDD Score from PCMark for our comparison test.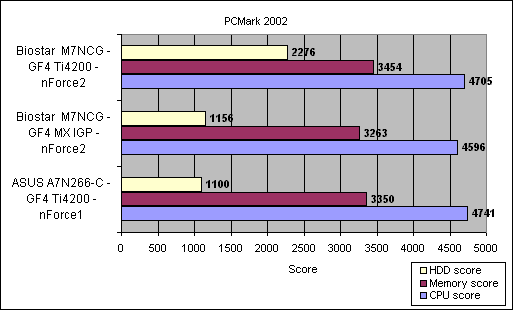 All 3 systems performed similarly, except that the Biostar's HDD score is much improved by an external graphics card.

SiSoft Sandra 2002

Sandra provides a synthetic benchmarking suite that covers the majority of a PC's subsystems. We used it to measure CPU (arithmetic and multi-media), memory bandwidth (speed) and File System performance.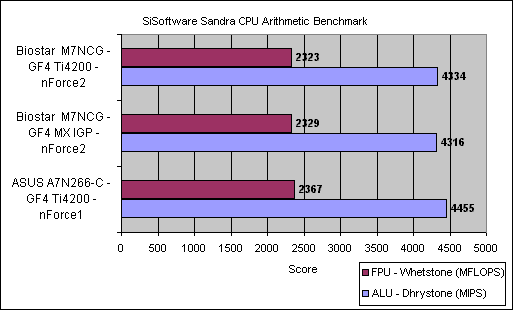 Here we see that the basic CPU arithmetic performance is about the same for all 3 systems.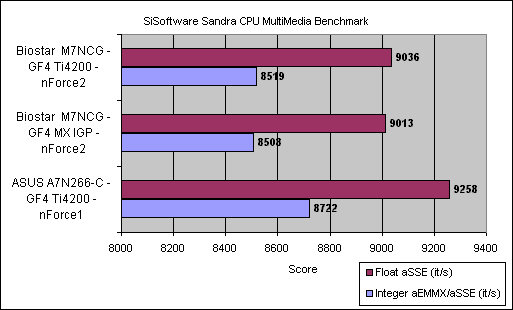 For some reason, the ASUS nForce1 motherboard is a bit faster, probably because I was running aggressive memory timings.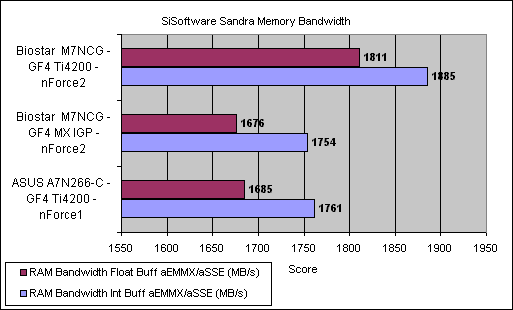 Dual channel DDR really helps the Biostar pull ahead, as long as the integrated graphics processor (IGP) is not in use. Otherwise, the IGP soaks up a lot of memory bandwidth.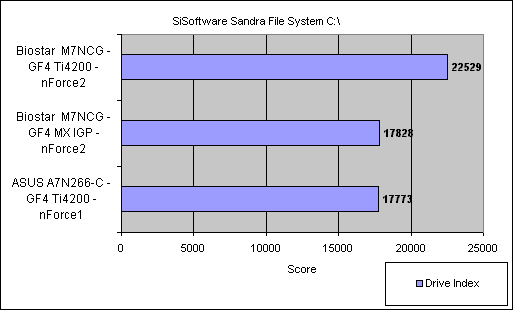 Again the Biostar is in the lead, as long as an external graphics card is used.

Gaming Benchmarks
---
3DMark2001 SE
3DMark is a decent gaming performance simulation. While it is technically a synthetic test, it is based on the Max Payne game engine, and this benchmark is used almost as widely as Quake III Arena.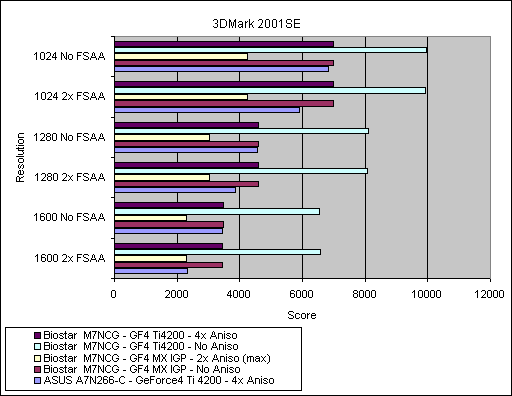 Since the GeForce4 MX IGP can only perform a maximum of 2x Anisotropic Filtering, I decided to add a couple of runs with Aniso turned off. As you can see, enabling Anisotropic Filtering has a bigger performance hit than full screen antialiasing (FSAA).
Unreal Tournament 2003
Until Doom III is released, UT2K3 is probably the closest we'll come to a gaming stress test. Benchmarking was performed using UTBench2003 v.1.34. I added 640 and 800 resolutions to this test (only on the Biostar), just to see how well the on-board GeForce4 MX IGP handles current games. I was pleasantly surprised by its performance in games. (I play-tested quite a few). The only limit is that you have to play at lower resolutions like 800×600 or 640×480.
Note that the ASUS did NOT fail the 640 and 800 tests; I simply did not think to run those resolutions, back when I had the nForce1 motherboard installed (and did not have time to go back and retest it).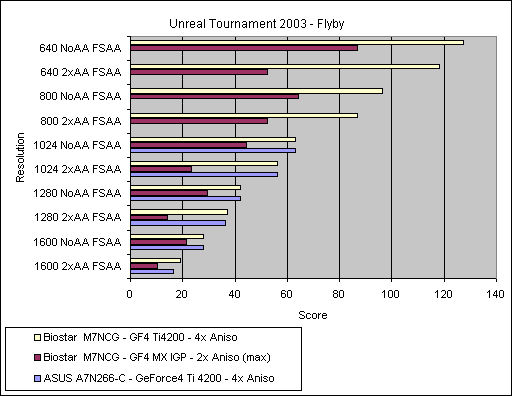 The Biostar and the ASUS are running neck-and-neck, until 1600×1200 2xAA, when the M7NCG wins by a nose.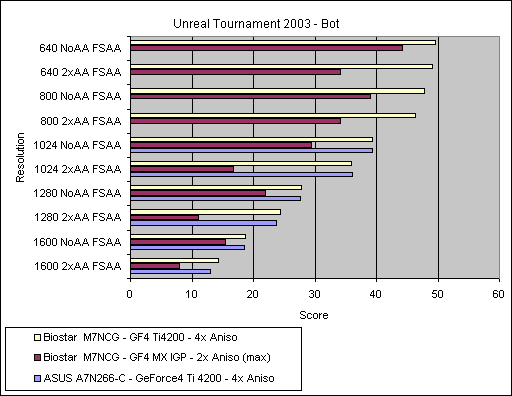 Ditto. The IGP is definitely playable at 640×480.

I ran a bunch of other game tests and benchmarks, but I've decided not to bore you with more charts. Generally speaking, the M7NCG performs well (similar to the ASUS A7N266-C) in games like Quake3 and Unreal II. The Biostar's integrated GeForce4 MX played fairly well, as long as the screen resolution was kept reasonably low. At 1024×768 in Quake3, it scored 77.0 FPS with 2x Anisotropic Filtering enabled, for example.

Conclusion
---
Overall, the Biostar M7NCG is a good, solid performer. One of the best things about it is that its built-in network adapter is FAST, much faster that the LinkSys NIC I was using with the ASUS A7N266-C, which did not have an integrated network adapter. Web pages, in general, load 1-2 seconds faster. The Biostar's hard disk access is also faster (much of the time). Quake3 levels load a lot faster too. I'm sorry I didn't do a few more timings and benchmarks back when the ASUS was installed, so I don't have detailed numbers, but the Biostar M7NCG feels noticeably faster loading applications.
The Biostar's GeForce4 MX IGP played surprisingly well, as long as the screen resolution was kept reasonably low. I did notice one MAJOR visual flaw with the IGP, 3DMark2003 displayed MANY ugly triangular artifacts in the first test, and of course, cannot run the other tests, due to a lack of pixel shader support. That was the only problem I saw with this system. That means you may need to upgrade to a "real" AGP graphics card in the future to support up-coming games. If you're a gaming enthusiast, you'll want to toss in a GeForce4 Ti card, at the minimum.
I'd recommend the M7NCG to any experienced computer user who needs a Micro-ATX motherboard. All the goodies like USB 2.0, make this board a much better choice than an older nForce1 design. There's potential for decent overclocking, but I chose not to run any overclocking test at this time, since both my current CPU and GeForce4 Ti4200 are known to be very poor overclockers.
It's a great value too. I found it on-line for only $102 US, which is amazing considering all the included features. I'm scoring the Price as 9 out of 10.
This motherboard would have scored about 1 point higher, if I had not run into installation issues (and if the manuals were better). It's entirely possible that my installation woes were due to my review motherboard being rushed from the factory for this review, but just to be safe, you should buy this unit from a reputable dealer, in case you need to swap it out for some reason. Because of the cryptic manuals, this product is not suitable for novices, who will need much better instructions to successfully install a motherboard.
Pros:
Solid construction
Compact Micro-ATX design
Good value
Reasonably quiet
Built-in GeForce4 MX (IGP) performs better than I expected
Built-in sound is very good
Fast 10/100 Mbps LAN (network) adapter is built-in
And it's RED!
Cons:
Built-in GeForce4 MX (IGP) is moderately blurry at 1280×1024
Manuals need serious improvement; the BIOS manual is only on CD (not a printed book)
Only 3 PCI slots (as expected in a Micro-ATX layout)
Not particularly overclocking friendly
Final Score: 7.5 out of 10
This is a good, solid Micro-ATX motherboard, with a great price, nice feature set, and a decent bundle. It would have scored about 1 point higher, if I had not run into installation issues and if the manuals were better.