With all the talk about new cards like the ATI Radeon 9800 or the GeForce FX 5800 Ultra it is easy to forget that most people don't want to or can't afford to buy one of those. Thus it still is interesting to look at the GeForce 4 Ti's since they still pack enough punch for most of the users. Today I am looking at the Poladyne Ti4800SE from Compro.
Introduction
---
With all the talk about new cards like the ATI Radeon 9800 or the GeForce FX 5800 Ultra, it is easy to forget that most people don't want or can't afford to buy one of those. Thus, it still is interesting to look at the GeForce4 Ti's since they still pack enough punch for most of users. Today I am taking a look at the Poladyne Ti4800SE from Compro.
Before we move to the card, let us take a look at the company Compro. Until I was contacted by them over ICQ, I had never heard of the company.
This is what they have to say about themselves on their website (http://www.comprousa.com):
Founded in 1989, Compro initially focused on the OEM business by using its engineering and manufacturing skills to produce high quality products for major OEM customers including HP, Compaq and Visiontek. Compro is now co-developing Internet appliances with major consumer electronics companies.
In 2001, Compro released its first self-branded product, Personal Cinema. Jointly developed with NVIDIA, Inc., Personal Cinema is a complete digital entertainment solution, providing 3D gaming; live TV viewing; video recording, editing, and timeshifting; DVD playback; and video capture. In the last two years, NVIDIA has been the undisputed market leader in the 3D gaming graphics market, but its rival ATI has been the leader in the TV/video capture market. Personal Cinema marks NVIDIA's debut in the latter market.
In 2002, Compro is launching a new look and new products. In addition to a new logo, we introduce VideoMate PC graphics products, a complete line of 3D video cards with integrated video features including TV tuner, TV-out, Video In/out, DVD playback, Digital VCR and video editing.
Looking at their product-stock it is clear that they care a lot about Video-features (which isn't surprising since they co-developed the Personal Cinema together with NVIDIA). Not only do they offer the Personal Cinema (and not only a measly GeForce 4MX version but coupled with different cards from the MX up to a Ti4600) and the VideoMate Cinema, their 'regular' gfx cards, the Poladyne Ti and Poladyne OC's, both are upgradeable with a Personal Cinema AV/Tuner box making it easy to upgrade to full video-capabilities afterwards. They also got a TV Tuner card as well as an external USB2 TV Tuner coming up later in May.
All in all, it is quite obvious that Compro is putting their focus on video.
Specifications & Features
---
Specifications:
It feels almost unnecessary to talk about the specifications for a GeForce4 card, but here they are for those who have been hiding under a rock.
• 128 MB DDR memory
• Lightspeed Memory Architecture™ (LMA) II
• NVIDIA nfiniteFX™II
• Enhanced Vertex and Pixel shaders
• NVIDIA nView Display Technology
• Accuview™ Antialiasing
• Dual Vertex Shaders
• Advanced Pixel Shaders
• 3D Textures
• Shadow Buffers
• Z-Correct Bump Mapping
• Lossless Z Compression
• Unified Driver Architecture (UDA)
• High-Definition Video Processor (HDVP)
• TV-Out
• VIVO functionality (Video In/Out)
• Microsoft® DirectX®, 8.X and OpenGL Optimizations and Support
The Ti4800SE could be called a Ti4400 with AGP8X support since it has the same clockspeed as the Ti4400 — 275/550 MHz. However, Compro also has added an enhanced setting which clocks the card at 300/650 MHz. This is the same speed as the Ti4800 and the Ti4600.
Package Contents:
Let's see what we get when we open the box. The Poladyne Ti4800SE looks like most other GeForce4 cards. It's quite long, which means that you have to make sure that it fits in your motherboard. In contrast to many other companies, Compro has chosen to keep the PCB black. The GF4-chip is cooled by a nice-looking cooling fan that according to Compro is a high-efficiency cooling fan by SUNON with Magnetic Levitation System. The memory chips are cooled by heatsinks that sit both on the front and on the back of the card.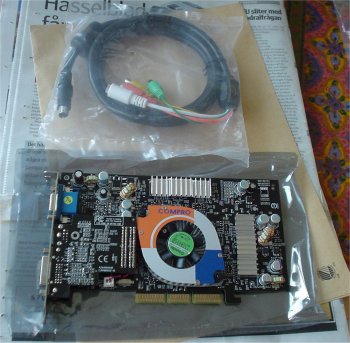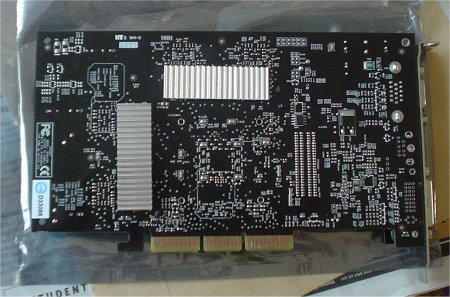 On the card, you find a VGA connector, an S-Video IN/OUT connector and a DVI connector. Included in the box is a DVI-to-VGA adapter as well as an all-in-one cable that has S-Video In and out cables as well as Composite In and Out cables all connecting via the S-Video connector on the card.
If we look at the software side, we get:
• Drivers (41.04 was shipped with the card) + WDM Driver (1.19b)
• Software DVD player (a Compro branded version of PowerDVD 4)
• ComproPVR 1.3 – turn your computer into a Personal Video Recorder. Use it when you upgrade your Poladyne card to VideoMate Cinema
• Compro COACH utility
• CyberLink PowerDirector Pro 2.1 ME
It is an okay bundle but not a great one. The bundled PowerDirector is good, but since it is just an OEM version, you do lose some functionality. To see what the difference is between the full version and the OEM versions, just check here: CyberLink web site. I usually use Sonic Video Factory for my video work, but I played around a bit in PowerDirector, and it's not bad at all. I found it to be a bit too simplistic, but for the novice, it should be a good program.
ComproDVD 4 is as I said just an OEM branded version of PowerDVD. It works just as well as you would expect a software DVD player to work, but you will only get 2 speaker support.
The Compro COACH utility helps you overclock the card. It actually has a funny feature. It doesn't let you overclock as high as you want right away. Instead you will only be able to increase the clock a little bit each time. If the card works with the new clockspeed then the 'red' zone (marking a 'too high' clockspeed) will be moved upwards, and you can overclock a bit more. The COACH utility also lets you switch to the enhanced mode, which clocks the card at 300/600 MHz. I ran the card at that speed a long time and had no stability problems at all. I probably could have continued to move to higher clock speeds.
Performance
---
I had the fortune to be building a new system for a friend at the same time I was reviewing this card. This gave me the opportunity to bench it on a clean system against a Creative Ti4200.
The system:
XP1900+
Soltek nForce 2 motherboard
512 MB PC2100 DDR
Creative Ti4200 and Compro Poladyne Ti4800SE
Drivers used were the latest official drivers from NVIDIA: 41.09
Drivers were set to Quality setting (not Balanced)
WinXP Pro with SP1 + DX9.0
3DMark 2001 SE
Since we are dealing with a DX8.1 class card, I chose not to use 3DMark03 and instead just use 3DMark 2001 SE. One little note – I chose to set the drivers to deliver the best visual quality as opposed to the balanced setting that is the default in the drivers. Running the same benchmark below using Balanced setting results in almost 1500 more 3DMarks.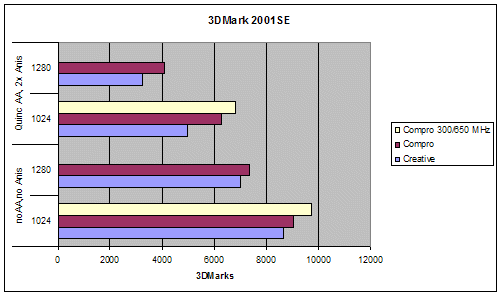 Compared to a Ti4200, the Poladyne Ti4800SE managed to score between 4-25% better than the Creative board. Turning on the enhanced mode helps it draw ahead even more. Clock speeds DO matter.
RTCW
To test OpenGL, I chose to use RTCW v1.40. The benchmarks were taken with QBench 3.0. Every setting was set to max, texture compression was turned on, and sound was on.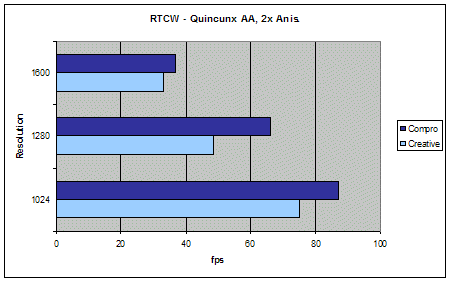 At 640×480 with no AA, I get about 96 FPS, so that is the limit. Even though both cards have a hard time running at 1600×1200 with AA and anisotropic filtering, the Compro leads the Creative by between 12 and 35% through all resolutions.
Unreal Tournament 2003
The latest released version was used for this benchmark. UT2kbench1.4 was used for benchmarking ( http://www.benscustomcases.com/utbench/ ), and I used the HardOCP High Quality benchmark setting.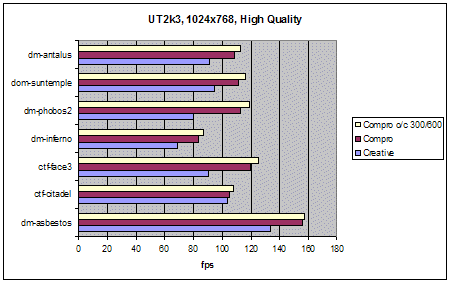 Once again, the added clock speed of the Compro Poladyne helps it draw ahead of the Creative card.
Conclusion
---
The Compro Poladyne Ti4800SE is a competent and fully featured card. The bundle might not be very interesting for gamers, but if you are interested in video editing, it does a good job of giving you tools to start with. The ability to upgrade the card to a fully featured Personal Cinema later is an added bonus.
The main drawback with this card is that it might be hard to find. Compro said though that you will be able to buy this card at Newegg for $219 soon. Compared to other Ti4800SE cards this price is good. The fact that they give you the means to run the card at the same speed as a regular Ti4800 makes it even better.
This is my first encounter with a Compro card, but I hope it will not be my last. The quality of the card and the software that was shipped was great, and I cannot wait to see what they can do with the GeForce FX cards. If you are after a GF4 card, then make sure to try to look one of these up. You won't be disappointed.
The Compro Poladyne Ti4800SE gets an 8.5/10 and the Bjorn3D Seal of Approval award