Introduction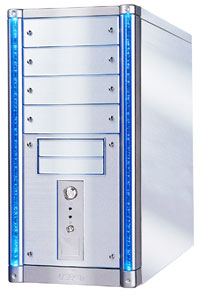 Aluminum cases have been slow to creep onto the PC scene in recent years despite having some unique advantages over steel cases. For one thing, they're lighter, which is a major bonus to LAN gamers or those who have to move their PC's around a lot. Second, they're supposed to dissipate heat better than steel cases so they should be a bit easier to cool. Third, they just plain look good and are begging to be modded.
So why don't we see more aluminum cases than we do? Well, cost is probably the main reason. Aluminum cases have traditionally been much more expensive than their steel counterparts. That's all starting to change though, and Skyhawk USA is one of the companies that's bringing you the benefits of aluminum in an affordable package. Skyhawk is part of the global SkyHawk Group which touts itself as one of the "most renowned manufacturers and distrbutors of computer products in Greater China," and they're bringing that reputation and marketing background to the US through Skyhawk USA. The Skyhawk Group was founded in 1988 and has an R&D and Operations center in Taiwan and a manufacturing facility in China.
For this review they sent us their Galaxy PSR4616B1 aluminum case. This is a midtower case adorned with two full height "bubble-tube" lights and an acrylic front bezel which make for an attractive package that should easily woo your pals at the local LAN party.
Specifications and Features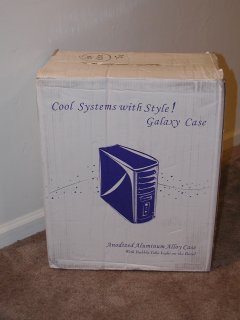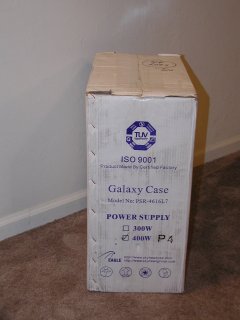 The Galaxy came shipped in a rather basic white fiberboard box adorned with the image of the case and the Galaxy logo and some basic information. I was excited to see that the box was checked off indicating the inclusion of a 400W P4 rated power supply at first, although upon opening the box I found this to be in error. The Galaxy was shipped sans power supply which is its basic configuration. 300W and 400W power supplies are optional items – my box must have been marked by mistake.
While the box took a bit of a beating in transit, the case was well packed and padded with cardboard and foam, and the case itself was sleeved in a plastic bag so everything arrived in good shape.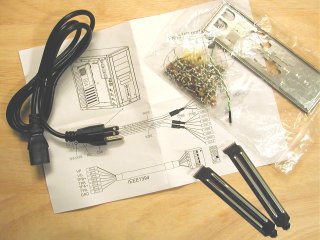 Aside from the case itself, the box contained a small cardboard box containing a bag of screws and motherboard standoffs, a power cable, 2 steel slot covers, an I/O cover, and a sheet diagramming the jumper connections for the cable leading to the front USB and audio ports (more on those below).
The Galaxy has a pretty good selection of features for the money. I'll give you the factory specs first and then give you some personal impressions of the case.
Specifications:
Material: 1.0 mm anodized Aluminum Alloy resisting dust & fingerprints
Coating: Hardness scale 3, protecting from scratches
Color Lights: Two bubble-tube lights powered by VSB output
Front Jacks: USB version 2.0, Microphone, earphone, IEEE1394
Fans: One front 80mm intake fan, one rear CPU blower with 80mm fan, one rear 60mm exhaust fan
Drive Bays: 4 x 5.25" (external), 2 x 3.5" (external), & 4 x 3.5" (internal)
Expansion Slots: 7 slots with screwdriver-free thumbscrews
Motherboard: ATX or Micro ATX
Dimension: 7.9" (W) x 16.2" (H) x 19.3" (D)
Options: Side cover with transparent window, 300W/400W power supplies.
You can see in the above specifications that the power supplies are optional (as I found out!), as are the case windows. Personally, I'd really think about looking into a case window if you're considering this case. Skyhawk has a really slick "Q-Window" that not only looks really sharp but has the added benefit of an extra cooling fan mounted in its center as well. For the minimal price difference between the standard model and the Q-Window I wouldn't skip it, but your tastes may vary. Not everyone may want or need a window so I guess that's why its an optional item. 🙂
The power supply is a similar issue. While I can't attest to the quality of Skyhawk's power supplies one way or another many people are very particular about what PS they use in their PC, so Skyhawk gives you the option of adding one of theirs or going with one of your choice.
Description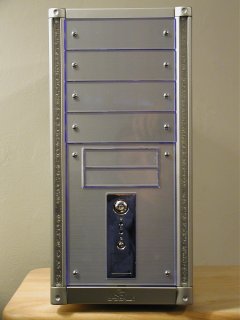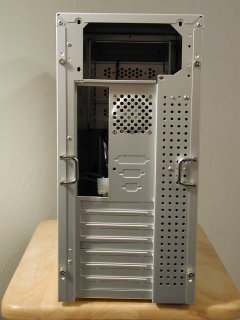 The thing that's immediately noticeable, even before pulling the case out of the shipping box, is that its light. The Galaxy is nearly the size of my old Inwin steel midtower but it has got to be half the weight. Next, you notice the nicely burnished aluminum surface. While appearance is certainly subjective I find the matte aluminum a lot more attractive than the boring beige of most PC cases, including my own. The front bezel's acrylic cover and chromed power buttons compliment the burnished aluminum nicely. You also get your first look at the bubble-tube lights as well, although these won't really come into their own until you get power to them.
Just below the 4 5.25″ and 2 3.5″ drive bays are the power and reset buttons which exude a retro 50's sci-fi style with their chrome-esque plating. At the very base of the case is a hinged door that conceals the front USB and audio connection ports. The door is a grey plastic unit that I managed to pop off while pulling the Galaxy free from its box. It was undamaged and went right back on but I do have some concerns as to its durability if your case is going to be pressed into service as a LAN box where it will get moved and jostled around frequently.
The rear of the case is fairly typical and reveals 7 expansion slots with covers that'll need to be broken off before you can insert cards in them. I much prefer screw-attached bay covers and, while Skyhawk does give you 2 of those, it would have been nice to see that option on all the bays.
You can also see the opening for the power supply which appears to allow you to mount it in the normal right side up position as opposed to Skyhawk's Jupiter case which forced you to put in your PS upside down. More on this later. Just below that you can see the vent for the 60mm rear exhaust fan. I typically use an 80mm exhaust fan but, perhaps with the better cooling properties of aluminum, 60 is sufficient.
The last thing of note on the rear of the case is the D-ring looking things that Skyhawk refers to as "pull out handles". These actually do come in handy for popping off your side panels as I found them a little stiffer to get off than I was accustomed to. They have a series of tabs on the top and bottom of the panel that need to be aligned before you can slide it into place and the handles give you something else to grip on the slick aluminum surface while you're trying to do that. I suspect without them the side panel would go from being a bit stiff to an actual pain in the but to remove and replace.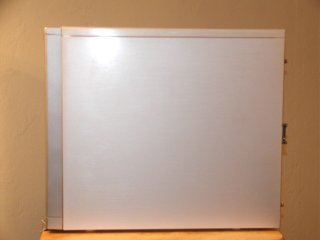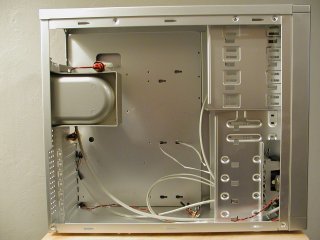 The sides of the case are bare, smooth expanses of aluminum that are just yearning for windows or adornment of some sort. They are each held in place by two thumb screws. The right hand side of the case (when viewed from the front) doesn't really let you access very much, just the space below the motherboard tray, which is non-removeable. The left side's panel allows you access to the guts of the case.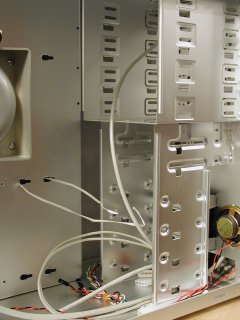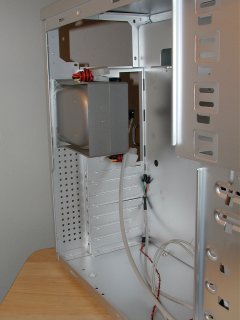 Taking a look inside you can see the external drive bays previously mentioned as well as 4 more internal 3.5″ drive bays. All bays are fixed in this case and not removeable for drive installation. Just in front of the drive bays is the PC speaker and the front 80mm intake fan. Also visible are the cables required for hooking up the front USB and audio ports and the CPU blower assembly with its 80mm fan. I suspect that the inclusion of this 80mm blower will help make up for the smaller 60mm exhaust fan.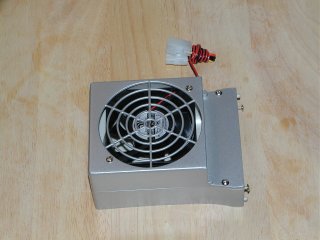 The bottom of the case has 4 white plastic feet on it which could be attached a little better. One of them came off while I was doing my parts installation and I haven't gotten it back on solidly yet. Its probably not something a glue gun or some super glue couldn't quickly rectify however.
Installation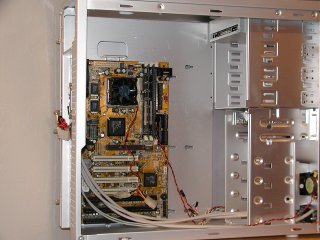 Adding parts to the Galaxy was relatively straightforward. While the mother
board tray and drive bays were not removeable the case still provided ample room to work and there were no major problems encountered. The drive bays themselves were easily accessed when both sidepanels were removed from the case and their front drivebay covers popped out easily when you needed to install a floppy or CD drive.
Its also worth noting that there were no obvious sharp edges inside the case. While aluminum isn't going to be as bad as steel everything was still nicely rounded and it was nice to work inside a case without coming back with a few nicks and cuts from sharp internal panels and edges. That's a welcome change from low-end and even some mid-range cases I've worked with in the past.
The motherboard dropped in as it should and bolted snugly into the provided brass standoffs. There were no problems with the alignment of any of the standard ATX ports and it was a relatively quick and painless job mounting it to the integral tray.
Attaching all the various jumpers for the front USB ports, reset switch, drive lights, etc. required some squinting and fussing but that was really just a matter of figuring out where they went on the board. A good motherboard schematic is just about a must for this job unless you have better eyes than me for close up work or an intimate knowledge of your board's jumpers. Hooking up the front audio port was more problematic with the sound card I had. It was a rather generic 16 bit model and had no documentation as to what jumpers were what, so there was really nowhere to hook up the case connectors. I suspect you might be better off with a quality, brand name card with some better resources if you want to take advantage of the front audio ports.
When it came time to mount the power supply I found out that my initial speculation that I could install the PS right side up was both right and wrong.  I initially tried an older 250W power supply that I had laying around and it appeared to work right side up just fine but when I later went to install a newer 350W power supply it did indeed need to be mounted upside down.  This can be problematic depending on your PS and the position of its exhaust fans. The fans weren't an issue in my case but by flipping the PS upside I lost a couple of inches of power cable and getting my hard drives plugged in was a close call.  I could have used that extra cable length that was lost due to the orientation of the power supply.  Stretching the cables to my lower drives was a close call.
Speaking of drives, I installed a silver floppy and a silver CD-ROM drive from Directron and these proved to be a good matchup for the burnished aluminum of the Galaxy case. They helped maintain the overall aesthetic quality of the case much better than the typical blah beige drives you find for most PC's. If you're buying this case for looks it might well be worth getting some silver drives to match.
Conclusion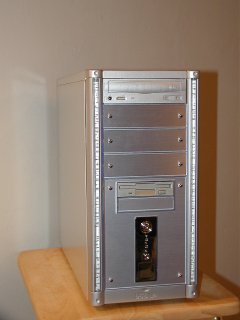 Running for a retail price $75, the Skyawk Galaxy offers a good, affordable mid level aluminum case design for those seeking to reduce the weight of their system while simultaneously enhancing the aesthetics. Its swank appearance will be a hit at home or at a LAN party and its nicely finished interior makes assembly relatively pleasant and injury free. The bubble-tube lights, front USB ports, and the CPU cooler are nice extra touches for an aluminum case in this price range. If you want to jazz up the appearance a bit more you can always add on one of Skyhawk's windowed side panels as well.
I can give this case a thumbs up for the average user, although the sticky sidepanels and lack or removeable harddrive bays and motherboard tray might be an issue of concern to some folks who are in and out of their PC's on a pretty regular basis – they might want to hold out for a case that's a little easier to get in and out of quickly.
Pros:
– Lightweight aluminum design
– Stylish design and integral light mod
– 3 included case fans
– Reasonable cost-to-feature price point
Cons:
– No removeable motherboard tray
– No removeable drive bays
– Side panels are a little stiff to get on and off
– Plastic door over front ports seems fragile
For an attractive and affordable entry into the realm of aluminum cases I'm giving the Skyhawk Galaxy a 7.5 out of 10.