Introduction
---
As you all know, video card companies market the Ti4x00 family of video cards to the hardcore gamers and high-end users out there. You also probably realize that this isn't everyone, so there has to be cheaper (but still good quality cards) out there for the casual gamer and average user. That is where the MX line of cards comes in. A GeForce4 MX card will definitely not appeal to a gamer addicted to ridiculously high FPS gaming running smoothly at high resolutions with high quality settings, but someone concerned with just getting the job done well enough to run the game he wants to play can find satisfaction in the MX line. Leadtek is definitely one company that can help you out if you are the latter type of gamer, especially if you are also interested in VIVO (Video-In Video-Out) capabilities. The Leadtek WinFast A180 DDR TH MX440 is one of the most feature-packed MX cards I've ever seen. The new A180 line adds the AGP8X spec to the former A170 line that you may already be familiar with. Read on to see how well this cool little card performs.
Specs & Features
---
WinFast A180 DDR TH Specifications:
NVIDIA GeForce4 MX 440 With AGP8X GPU
Accuview Antialiasing™ – Delivers unbeatable visual quality and frame rate
nView™ Multi-Display Technology – Empower user with maximum flexibility in display options and control
Lightspeed Memory Architecture™ II – Increases MA II – Increases memory bandwidth efficiency for unmatched performance
34M triangles/sec through T&L and Set-up
1.1 billion texels Fill Rate
Default Clock speed 275/512(Core/Memory)
Onboard 64MB high speed DDR memory
8.0 GB/sec Memory Bandwidth
2 dual-rending pipelines
4 texels per clock cycle
Cube environment mapping
High-Definition Video Processor(HDTV)
AGP 8X/4X/2X and AGP Texturing Support
High-quality HDTV/DVD playback
Video capture function supports S-Video and composite video device
Integrated TV Encoder Supporting 1024×768 resolution
Microsoft® DirectX® 8.X and OpenGL® 1.3 Optimizations and Support
WinFastDVD, WinFox II, ColoReal and other valuable software included
A180 Features:
Leadtek ZBIOS Technology: Used for protecting graphics BIOS on the WinFast graphics card series. This is a single BIOS that consists of two parts, a "Primary" and "Backup" BIOS. If the "Primary" BIOS fails, the "Backup" BIOS will automatically take over on the next system boot up. Whether the problem is a virus or a reflash failure of the "Primay" BIOS, ZBIOS will back you up, automatically.
Hardware Monitor: The Hardware Monitor helps you be able to control the details of your PC and make the right decisions if problems occur. It also provides immediate access to hardware status information such as Sample Tim, Critical Temp, Fan Speed and Voltage level.
Software Bundle: Ulead Video studio SE DVD, ULead cool 3D SE, WinFast PVR, WinFastDVD, WinFox II, Cult 3D, Coloreal Embedded, Coloreal Visual, Coloreal Bright, Aquanox, Master Rallye, Tom Clancy's Rainbow Six – Rogue Spear Black Thorn and 6 value demo game.
Diagnostic LEDs: 3 LEDs are embedded on board to help users identify the hardware status.
A180 MyVIVO Features:
For those of you who don't know, VIVO stands for Video-In Video-Out. Leadtek's MyVIVO series is aimed at users who want an all-in-one solution for video in and out options, 3D gaming, surveillance and entertainment. The unique MyVIVO features include:
PIP ( picture in picture): One for live and the other for captured program. And master video can be alternative. The slave video can be displayed with any size and anywhere
De-interlace: Make the best quality for fast-motion video. No noise and flicker on the edge of motion objects
Capture format profile: Support friendly setting for MPEG1/MPEG2/VCD/DVD video format
Supports MPEG1/MPEG2/MPEG4 video codec and MPEG3 audio codec configuration to get the smaller file size for capturing. MPEG4 codec can be download at www.microsoft.com
Supports de-interlaced function to get high quality of motion video
Bridging video to PC from VCR, camcorder, LD/VCD/DVD player
Support for picture-in-picture (PIP) display allows users to watch video programs and play recorded programs at the same time
Package includes DVI to VGA adapter to enable users to use two monitors simultaneously for enhanced ease of use
Package includes video in/out connector for connecting external video devices like Camcorder, CCD camera, VCD/DVD/ VCR or TV, supporting S-Video as well as Composite-Video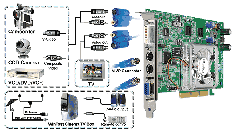 Retail Package Contents:
WinFast A180 DDR TH MyVIVO graphics card
General guide
Quick installation guide
AV cable x 1 / S-Video cable x 1
9 pin mini-din cable
Driver & Utilities CD-ROM
Software bundle: WinFastDVD, WinFox II, ColoReal, Ulead VideoStudio 6 SE, Ulead Cool 3D 3.0 SE, Rainbow Six Rogue Spear – Black Thorn (full), Aquanox (full), Master Rallye (full), Games Gallery (demos)
As you can see, Leadtek gives you a lot of stuff for your hard-earned dollar. While the games included might not be the latest releases out, they should provide some fun and entertainment. The included Ulead software is a nice extra touch and definite improvement over the older MyVIVO bundles. Ulead makes some good products, and the included software will help you edit any captured video you decide to store on your hard drive.
You've probably seen in other reviews that the difference between 4X AGP and 8X AGP is for the most part insignificant, but when you compare the two side-by-side, I still think you'd prefer to have the advantages that 8X provides (on paper at least). This table demonstrates the technical differences between the two specs.

Installation 
---
Same old (and good) story with NVIDIA card installation and those handy Detonator drivers — painless and simple. I just pulled out my Leadtek WinFast A250 Ultra TD GeForce4 Ti4600 and then popped in the WinFast A180 DDR TH GeForce4 MX 440. Then I started up my system, and WinXP detected the new hardware. Since I wanted to install the latest Detonator drivers, I cancelled out of that. I had already downloaded the Dets, so I proceeded to install them. The installation went smooth, and there were no problems setting up the card as I wanted. With installation out of the way, it's time to get to the tests. Here are my test PC's specs for your reference.
Test System Specs:
Performance 
---
Since the MX series of cards is not geared towards hardcore gamers, I won't focus primarily on gaming benchmarks in the performance part of this review. Obviously, Leadtek's MyVIVO family has a lot to offer, and I will briefly discuss its other functions and how well it performs these functions.
I think it is important to note that the performance of this card is similar to what you can expect on the nForce2 IGP platform, which of course uses an onboard GF4 MX 440.
DVD Playback
I used a couple DVD programs and several different DVDs to test out the DVD playback performance and quality of the A180 DDR TH. The first program I tested was the included WinFastDVD, which by the way is a very simple and straightforward install. You shouldn't run into any problems getting this to run on your PC. After the installation completed successfully, I popped Bad Boys into my Pioneer slot DVD player. The video playback was good — no hiccups or other noticeable problems. I also had no problems with Spider-Man.
Before placing a check mark next to DVD testing on my list of things to do, I played the same DVDs in CyberLink's PowerDVD XP 4.0. As expected, they also played fine, and there were no problems with quality or slow downs.
VIVO
Video-Out
To test the video-out capabilities of the A180, I hooked up the S-video cable to the video card and hooked my PC up to my 27″ Toshiba flat TV. This is actually when I also tested out the DVD playback mentioned above. Most people hook up PCs to their TVs for gaming or movies I think, so it makes sense to me to test it this way. Setting it up was very easy, and the DVD movies looked great on my TV. I also played a little Aquanox while the PC was hooked up to my TV, and it was pretty fun playing on such a big 'monitor.' I had no problems with the TV-out hookup and found it to work as expected.
Video-In
This is the second Leadtek MyVIVO series card that I have reviewed, and there aren't many changes in the package. But one important change is worth noting. In the new MyVIVO packages, you will find that WinFast PVR software has replaced the WinFast MyVIVO software. Leadtek inserted a small yellow piece of paper into the manual to explain this change:
"WinFast PVR has replaced WinFast MyVIVO to be provided in all MyVIVO series products. Leadtek Research Inc. created this most up-to-date multimedia software that can be adopted in our multimedia and graphics products to suit your many multimedia needs and to add great value to your purchase."
I definitely think it was a change for the better since we now get a cool feature — Time-Shifting. I'm going to be lazy again and quote Leadtek on the definition of time-shifting. 🙂
"Time-Shifting is a type of recording that enables you to view, rewind or stop the playback of recorded video when its recording is still in progress. It is used mainly when the viewing of input video is interrupted, and you do not want to miss any of it. By clicking the Time-Shifting button, you start recording the input video; when you return, you can choose to view the part you've missed or search for what you want to view with the input video still playing in the sub screen and the recording still continues."
Pretty cool, huh? It actually just brings the same functionality to your PC that is provided by the digital video recorder set top boxes (like TiVo) you can buy at your local electronics stores.
In my Leadtek WinFast A250 Ultra TD – MyVIVO Edition review, I tested the MyVIVO video-in functionality, and it worked great. There is no reason not to expect it to work just as well and even a little better perhaps with the improved software with the A180.
This is a very capable card. It may not be the the best or most powerful video card out there, but it does a lot of things very well. Plus, it does it all at a very reasonable price. Having a card like this just might tempt you to buy a TV-tuner card or another monitor or at least a TV with video-in and video-out capabilities. 😉 As long as you don't want to do hardcore gaming with all the details cranked up, the A180 would make a great home-theater PC video card in my opinion.
Performance cont'd 
---
3D / Gaming Performance
To test the 3D performance of the card, I ran a couple standard benchmarks, including Quake 3 Arena and 3DMark2001SE. Because of the lack of DirectX support, I have left out some of the other tests we typically do, such as ChameleonMark.
Quake 3 Arena
I used Q3Bench to run the Q3A tests with the settings maxed out at several different resolutions, and I also set anisotropic filtering to 2x. Q3A version 1.31 and the Four demo were used in all tests.
As you can see below, the A180 DDR TH scored pretty well in these tests. The game is playable with all combinations, but it would probably be wise to go no higher than 1280×1024 if you enable 2xAA.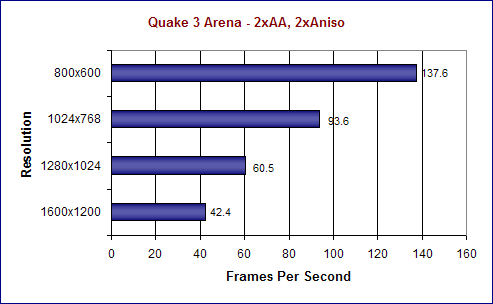 3DMark2001SE
When running the 3DMark tests, I set the color depth to 32-bit and textures to 32-bit. This time I opted not to run the tests at 1600×1200 since most MX card owners probably wouldn't crank up their resolution that high.
The A180 looked pretty good in these tests too. With AA disabled, the card even surpassed 5000 3DMarks at 1280×1024. If you want to max out AA to 2x, you should be able to play at 800×600 and probably even be okay at 1024×768 with some games as long as you don't crank up the detail settings really high.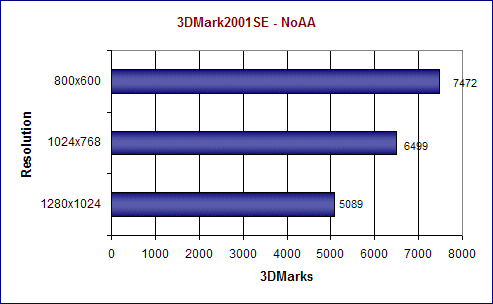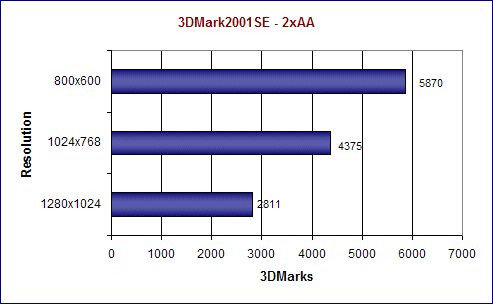 Final Thoughts & Conclusion 
---
The WinFast A180 DDR TH MX440 from Leadtek is a winner in my books. If I were the type of user who didn't care about games running smoothly with all the detail levels cranked up high, then I could definitely be happy owning this card. You get a great package with everything you need plus outstanding VIVO performance at a reasonable price. This card would be perfect for the casual gamer who likes to hook up his video camera to his computer or for the average business workstation. I know several programmers at my office using a dual monitor setup with an MX card (sorry can't remember which brand or model), and they haven't had any problems with it.
Pros:
Good game performance
VIVO functionality – cool new PVR software
Great retail package packed full of everything you need
Lots and lots of possible ways to use it!
Nice features (like the LED status lights and the HSF)
Cons:
Can't crank up the quality levels in games
Lack of DirectX support
For its great features, generous package and solid overall performance, I'm giving the Leadtek WinFast A180 DDR TH an 8.5 out of 10 and the Bjorn3d Seal of Approval.