Introduction
---
As you can tell if you've been following our latest reviews, small portable storage solutions have been popular around here. We are very impressed and happy with the flash USB drives we've reviewed so far, and they are all similar in many ways. The main differences between them have been the sizes (storage capacities) we received to review and the little extras included in the boxes. Recently, Tim and I both discovered another cool little device that has one big difference from the rest we've seen — its capacity is upgradeable! The company that makes this unique USB flash drive is SanDisk, and they call it Cruzer.
Here's a little about SanDisk from their web site:
SanDisk Corporation is the world's largest supplier of flash data storage products. SanDisk products are sold worldwide through numerous OEMs (original equipment manufacturers), distributors, VARs (value-added resellers) and retailers. Many major OEMs sell cards produced by SanDisk under their own brand names. These companies include Hewlett-Packard, Fujitsu, Motorola, Kodak and Panasonic.
So chances are that you have used something produced by SanDisk if you use any products that use flash storage from the major companies listed above. Pretty impressive for a company that I hadn't heard of until I stumbled upon the Cruzer on another review web site. Plus, on a side note, I was very impressed with how quickly their public relations department responded to my request for a review sample. I got it the next day! (Thanks Bob!) That is not very common at all from my experience so far at Bjorn3d. Before I get to the review, here is one of SanDisk's descriptions of the Cruzer.
It's the world's first, personal, pocket-sized, truly portable, expandable capacity, data transport device. It's the device that makes transporting your pictures, data, and music a truly moving experience. Just one look at the silver case and you'll want one.
Well, if I've captured your attention, read on to see how SanDisk's contribution to the death of the floppy performs and how much I like it!
Specifications & Features
---
Specifications:
USB 1.1 specification compliant
Upgradeable firmware
Advanced Power Management (APM) supported
Up to 12 Mbits/sec transfer rate (depending on computer)
USB powered
No driver needed for Windows ME/2000/XP
Size: 2.68″ (68mm) L x 1.73″ (44mm) W x 0.67″ (17mm) H
Accomodates both Secure Digital and MultiMediaCards 
2 year warranty
Features:
Individual file encryption with password protection (package includes data security software)
Upgradeable with purchase of additional SD memory cards
Included travel case attaches to your bag or purse when you're on the go
Fully compatible with both PCs and Macs (Windows 98SE/ME/2000/XP and Macintosh OS 9.1+ & OS X, v.10.1.2+)
Three Modes:

"Load" to change memory card
"Travel" locks and protects the USB plug and memory card
"Connect" exposes the USB plug to insert Cruzer into a computer

Status LED light indicators:

SOLID GREEN: Power is on
BLINKING GREEN: Data is being transferred
Package Contents:
Cruzer with installed SD memory card (64MB in this case – also available in 32, 128 and 256MB)
2-inch USB extension cable
CD with Win98/98SE driver
Quick Start Guide
Travel case
The stylish Cruzer came in a very nice retail package, and I found myself very surprised about just how small that SD (Secure Digital) memory card is. SanDisk's description of an SD card is as follows: "The SD Card is a highly secure stamp-sized flash memory card." Yup, that's pretty accurate. It is about the size of a stamp and is inserted into the bottom of the Cruzer. You can see how small it is compared to a nickel and a dime in the above picture. Isn't it amazing that that little card can hold so much data?! You can buy additional SD cards with capacities of 16, 32, 64 and 128MB if you want more storage, so there's no need to buy another Cruzer unless you want two devices plugged in simultaneously for some reason. I think this is a great idea, and you can bet other companies are coming up with their own expandable devices as well! You could have one card full of MP3's, one full of pictures and another one for miscellaneous documents.
This device is definitely pretty cool and unique at first glance. When you add on the 2 year warranty, it becomes even more impressive. Many of the flash USB drives I've seen available only include one year warranties. I don't know about you, but I'd much rather have 2 years! The included Quick Start Guide is to-the-point and comprehensive enough for users unfamiliar with the technology involved with the product. The guide briefly describes what USB is and then goes on to explain how to install and use the Cruzer.
One last thing to point out about the Cruzer is the included USB extension cable. This is a nice little touch to the package, but I have to scratch my head and wonder why SanDisk chose a 2-inch cable. I have front USB ports on two of my PCs, so it really doesn't matter to me, but to users with USB ports in the back, I wonder how much help this really is. No doubt it is better than nothing, but I seriously doubt that a 6-12 inch extension cable costs much more than a 2-inch one to include in the box. SanDisk is definitely on the right track with the inclusion of the extension cable. I just think they should consider filling up the box a little more with a longer one.
Installation
---
Well, just as you would expect with a device like this, installation is very simple and brainless. Since I am using Windows 98SE on my main machine, I had to install the provided driver from the included CD. I just double-clicked the setup.exe file and let it go to work. My machine needed to reboot to recognize the changes that were just made, so I restarted and then plugged in the Cruzer to see what it could do.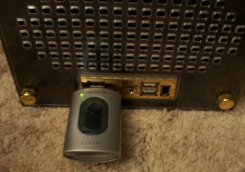 Here is a pic to show you how the Cruzer will show up in Windows Explorer. As you can see, Windows just assigns it the next logical drive letter, and it acts the same as any other storage device on your system. For those who haven't figured it out yet, the Cruzer is "Removable Disk (H:)."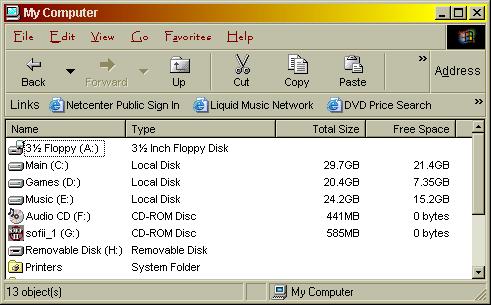 If you are worried about security and want to protect your files, you can use the CruzerLock Security Application supplied on the CD. It is a simple executable file that starts an application which allows you to encrypt/decrypt the files of your choosing. This is definitely a nice little touch and would definitely be welcomed by business users. After starting the CruzerLock application, you are asked for a password, and then you can choose files to encrypt and copy to the Cruzer or to decrypt from the Cruzer. In the picture below, you can see that you can choose any file on your computer and then encrypt it to the Cruzer. CruzerLock is pretty cool and very simple to use.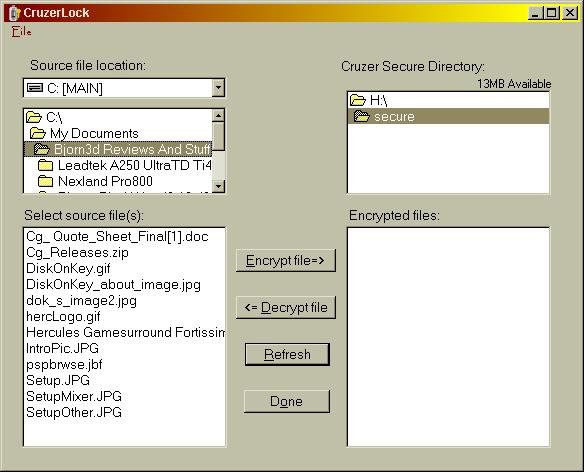 Performance
---
Test System:
AMD Athlon XP 1800+
512MB VisionTek PC2100 DDR RAM
80GB Western Digital "Special Edition" HDD
Leadtek GeForce4 Ti4600
EPoX 8k7a+ motherboard
SB Live! 5.1 Platinum
To test the Cruzer's performance, I first used SiSoft Sandra File System Benchmark. Here are the results of the test. As you can see, the Cruzer scored a drive index of 645, and its write/read speeds were around 700-800 kB/s, with the exception of the buffered read which topped out at 1050 kB/s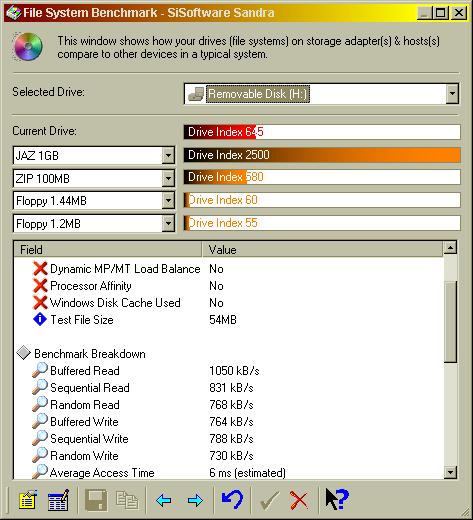 That's a pretty decent Sandra score. You can see that the Cruzer is more than 10 times faster than a floppy drive and is also slightly faster than a Zip 100 drive. On top of that, it is much more convenient than a floppy or Zip, especially considering that most PCs have USB ports nowadays, but only a few have Zip drives.
To further test the Cruzer, I simply used it like any other drive on my system. I copied some files to it in Windows Explorer and timed the copying process. The first set of files I copied to the Cruzer was a group of 13 MP3s totalling 45.9MB. It took about 85 seconds for the process to complete, which is equivalent to 0.54MB/s. Not too bad, but I honestly expected a bit faster. So I deleted the files and then tried another group of MP3s. This time the group totalled 24.8MB, and it took only about 3 or 4 seconds (6-8MB/s). Hmmm…way better, but why did it take so long on the larger group of files and why isn't the Sandra score higher if it is this fast?
I can't quite figure out the big difference in transfer speeds. I tried several other tests of copying over groups of files from 10-52MB, and they ranged in transfer speed from about 0.5MB/s to around 3 or 4MB/s. I tried MP3s most of the time, but I also tried 51MB of QuickTime .mov files. Same result. When I copied over a group of 6 files totalling 51MB, it took about 90 seconds, but then I copied over just one 12.3MB .mov file, and it took only 6 seconds. Well, I then decided to try a bunch of MS Office documents, mostly Word and Excel files. It took only 3 seconds to copy over 18MB worth of Word documents, Excel files, GIFs and other miscellaneous files. It also only took about 3 seconds to copy 12.4MB of Max Payne saves to the Cruzer.
I can't explain the inconsistent speeds of the Cruzer, but I would be more than happy with the average data transfer speed, which I'm guessing would easily be around 1MB/s. That isn't blazing fast but for its intended use, it is fast enough in my opinion. One thing that did make sense (and would with any storage device) was that when the Cruzer was idle (as in the LED wasn't blinking) it seemed to accept the data much more quickly than when the light was blinking. That seems pretty obvious I guess, but it's important to note that the LED keeps blinking for a little while even after the data transfer completes. I'm not sure why, but it does. It seems as though Windows Explorer treats it as if it were done copying but it acutally isn't…...
In order to determine how much difference the operating system makes, I tested the Cruzer out on my Windows XP box. Note that all the tests mentioned above were done on my Windows 98SE machine. The first thing I did was copy 48.7MB of miscellaneous files (MP3s, Word docs, Excel files, JPEGs, GIFs and text files) from the Cruzer to the hard drive. This process completed in 55 seconds, which is a speed of 0.88MB/s. Next, I deleted all the files off the Cruzer and then reversed the previous test. It took 67 seconds to copy the same 48.7MB group of files from the hard drive to the Cruzer. That is equivalent to 0.73MB/s. Well, so far these tests seem to be more consistent and agree more with Sandra. I did several more tests of varying sizes, and they all came out around 0.7-0.9MB/s. Additionally, the LED did not continue to blink after data transfer was complete with XP. So, it would seem that the O/S does make some sort of difference with the Cruzer (and probably all other similar devices).
Well, no matter what O/S you are using, I don't see why you wouldn't be happy with the performance of the slick little Cruzer. I didn't find myself being impatient and wondering if it would ever finish. You can't expect the Cruzer to finish before you blink, but you will be pleased with how much faster it is than a floppy. 🙂
Conclusion
---
Overall, SanDisk's Cruzer is a very cool and intelligently designed storage device. For anyone wanting a flash USB drive but not wanting to be stuck with a fixed capacity, the Cruzer is for you! If you continually fill up your SD memory card, you can just buy another one. The expandability of the Cruzer is obviously a big plus and will appeal to many people. The 2 year warranty, USB extension cable (although a little short), travel case and silver metallic finish are also very appealing features.
I don't think there are many storage devices that can compete with the flexibility and convenience of the Cruzer. It can easily go with you in your pocket, purse or briefcase, and you won't even notice it is there. The only thing that gets me worried about the Cruzer is the moving parts – namely the button-like mechanism you slide up/down to expose/hide the USB plug and to eject the SD card. It is highly unlikely that this would ever fail or break, but the fact that it could makes me a little cautious. In the end though, I think it is good that the USB plug retracts because that will actually decrease the chance of breaking the plug, which would obviously render the Cruzer useless.
Expect to see more devices like the Cruzer in the coming years. The Cruzer may the the first of its kind, but it won't be the last.
I'm excited to see how big the SD memory cards get and hope I can afford a 256MB or 512MB one when they come out. Now, I have one more thing to worry about upgrading. 🙂
Pros:
Upgradeable storage capacity
Cool design
Convenient and flexible
Easy to use, especially with newer O/S's like Windows XP
2 year warranty
USB extension cable and travel case included
Cons:
USB extension cable will probably be too short for users with USB ports in back of PC
Moving parts could break although not likely
I highly recommend the SanDisk Cruzer to anyone looking for a convenient storage device with great features and expandability. I'm giving the Cruzer a 9 and the Bjorn3d Golden Bear Award. It truly is an excellent product.