Introduction
---
Those of you who don't have $250-400 to spend on a top-of-the-line GeForce4 have more than likely been anxiously awaiting the Ti4200's, and I am fortunate enough to be able to take a look at one of VisionTek's offerings of this entry level Ti card — the Xtasy GeForce4 Ti4200 128MB card. We first got a look at NVIDIA's 64MB reference Ti4200 card in mid-April, and you can check out its performance in Gene's review. I'm excited to see how VisionTek's 128MB model compares to the reference board, but it is important to note the difference in memory configuration between a 64MB model and a 128MB model. The 64MB DDR SDRAM is clocked at 500MHz while the 128MB DDR is clocked at 444MHz. The faster memory may lead to slightly better performance from the 64MB version, but you will probably want the additional RAM that 128MB provides for future games.
Most of you have probably heard that the Ti4200's would be the best card you could get for around $150-200, depending on whether 64MB or 128MB of RAM is used and what the manufacturer decides to include as "extras." Current street prices start at about $160 and $190 for a 64MB Ti4200 and 128MB Ti4200, respectively. On the other hand, a Ti4400's price range is from around $220 to $270, and the Ti4600's go for $300 to $380. Don't let the costs fool you though. Even though the Ti4200 costs considerably less than its big brothers, it performance still shines and can make even hardcore gamers happy.
Specs & Features
---
| | | | | | |
| --- | --- | --- | --- | --- | --- |
| GPU | Memory | Interface | Core Speed | Memory Speed | Theoretical Fill Rate |
| Geforce4 Ti4200 | 128MB DDR | AGP | 250 MHz | 444 MHz | 1.03 trillion ops/sec. |
Product Features (straight from the box):
AGP 4x compatible with fast writes
256-bit 3D and 2D graphics accelerator
NVIDIA nView display technologies
Lightspeed Memory Architecture II
Dual Integrated 350MHz DACs
Accuview Antialiasing
High Definition Video Processing Engine
TV-Out connector
DVI connector
Lifetime warranty with on-line and toll-free telephone tech support
Package Contents:
GeForce4 Ti4200 Graphics Accelerator
Installation Guide
Installation CD

Install Guide .pdf
Demos
Adobe Acrobat Reader
NVIDIA Unified Driver Architecture

Cyberlink PowerDVD XP 4.0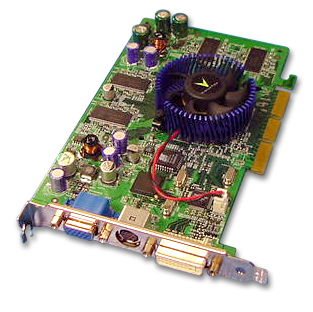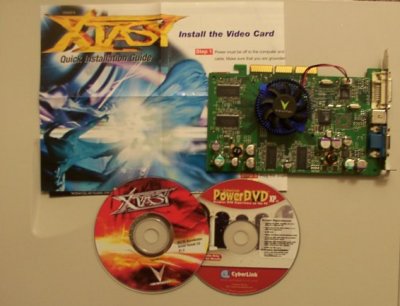 The only things missing from this package in my opinion are a game and perhaps an S-video cable for the TV-out, but most companies opt not to include these so it's not a big deal. On the brighter side, VisionTek replaces the stock heatsink and fan with an attractive shiny blue heatsink and a simple black fan for cooling. This seems to do the job and keeps the card from getting too hot. While VisionTek chose to skimp on the games, it did include Cyberlink's PowerDVD XP 4.0. It is a good DVD player, and you definitely don't need to waste a PCI slot on a hardware decoder when you have a powerful little GPU like this one running the show (pun not intended).
Installation
---
I had no difficulties installing this card. I simply removed my eVGA GeForce4 MX 440 and popped in uncle Ti4200. Next, I just powered back up after finishing the installation and installed the drivers from the installation CD, which happened to be version 27.42. I then upgraded to the version 28.32 drivers that I downloaded off of VisionTek.com.
The card fit into my AMD-based system without any problems – plenty of room on my mobo and in my case. My system specs are as follows:
Epox 8K7A+ motherboard
AMD Thunderbird 1.2GHz
256MB Crucial PC2100 DDR
40GB IBM Deskstar 60GXP
Pioneer Slot DVD-ROM
Linksys 10/100 NIC
Creative Labs Sound Blaster 5.1 Platinum with Live! Drive IR
ViewSonic G790 19″ monitor
Win98 SE
Performance / Benchmarks
---
I tested the card's performance using several of the standard benchmarking tools and games – Quake 3 Arena, 3DMark2001SE, ChameleonMark, and Code Creatures. Below you will find the results of my testing.
Quake 3 Arena (OpenGL)
Quake 3 Arena has been a must-use video card benchmarking tool for quite a while now, and it is used to test the OpenGL performance of a card. For all these tests, I used the latest version (3.00 beta) of QBench with the following settings: trilinear filtering, 32-bit textures, 32-bit colors, compressed textures, maximum texture detail, high quality sky and high geometric detail. My Q3A version was 1.31, and I used the "Four" demo. These results weren't quite as high as I expected them to be, but once again my CPU was the bottleneck and hurt some of these scores by anywhere from 10 to 30 FPS.
(Update by Björn: We also have started to use lv4 anisotropic filtering during benchmarking since we feel that image-wuality now has taken a frontseat over pure performance. This itself is an explanation why the scores are a bit lower than you normally could expect.)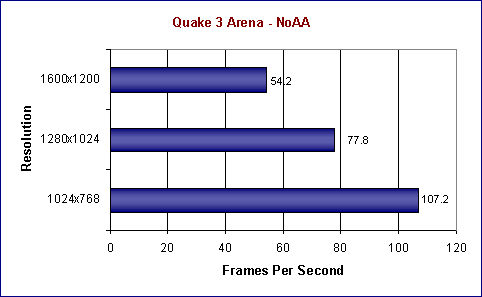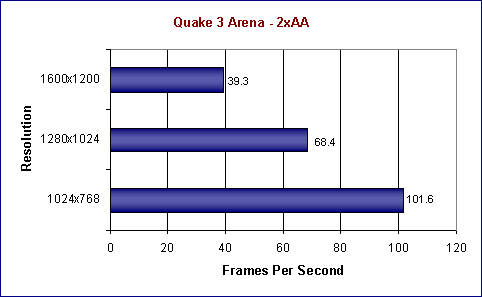 Don't get me wrong, these scores are decent, but I know that this card wasn't sweating much during these benchies. Someone get me a real processor, and I will open this baby up! 😉
Performance / Benchmarks cont'd
---
3DMark2001SE (DirectX)
For the most part, VisionTek's Ti4200 showed very nice performance in the 3DMark2001. If you take a look at Gene's NVIDIA reference card review and compare it to these results, you can see that the two cards perform similarly until you get to the highest resolutions, where VisionTek's 128MB 4200 seems to trail somewhat. I am positive though that this is because of my weak little 1.2GHz AMD T-bird processor (compared to Gene's 1.6GHz P4). If I ever get a faster processor, I will definitely have to redo some of these tests to see what this card can really do. It sucks being CPU-bound!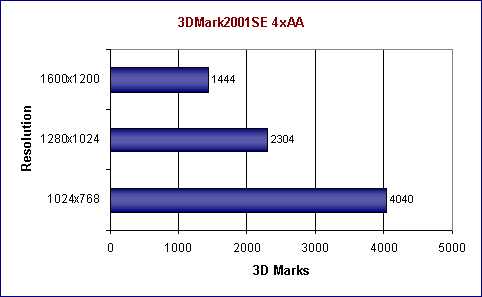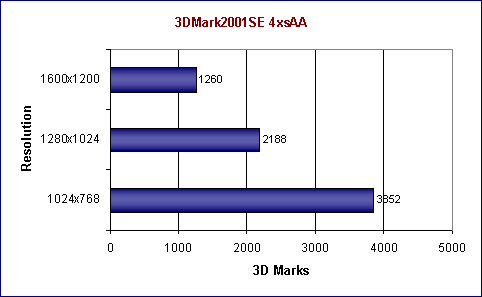 These benchmarks were all run with 32-bit textures and 32-bit colors, and the AA setting was changed outside of 3DMark application. Overall, I am very pleased with these scores. The performance is more than double that of my old MSI GeForce2 Pro, which in my opinion would definitely make it worth the upgrade.
ChameleonMark (DirectX)
ChameleonMark is a benchmarking demo created by NVIDIA to showcase the advanced pixel and vertex shading techniques of DirectX8.1. The demo shows a chameleon walking across a branch and renders it with three different skins (glassy, real and shiny). It is a nice way to show off some of the eye candy that your new NVIDIA card can produce. I went ahead and ran the demo with AA disabled and then with 4xAA to see what difference it makes.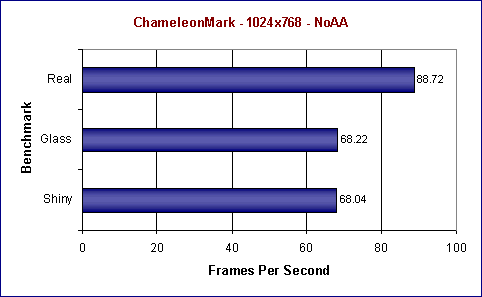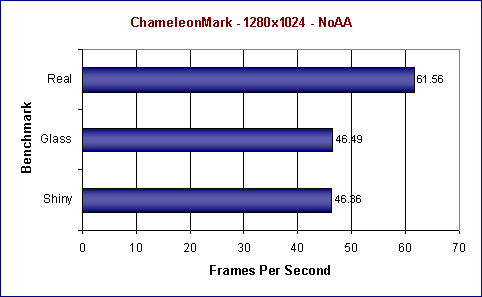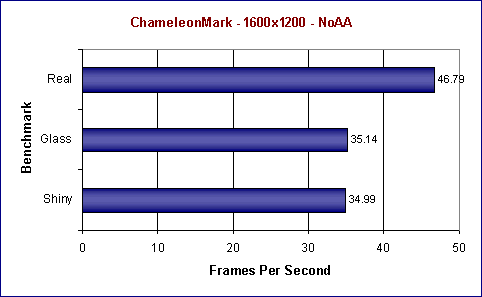 Once again, these results are right on par with our NVIDIA reference card, which by the way was very close in performance to a Ti4400. Gotta love what you can get for a little over $200! Next, you can see the results of the same tests but this time with 4xAA on. These results are pretty impressive as well.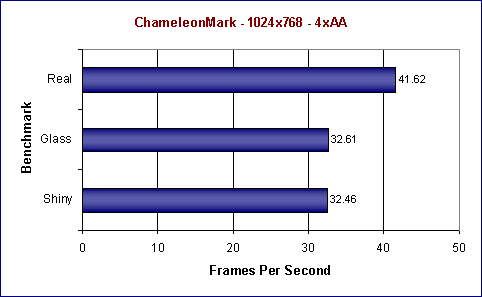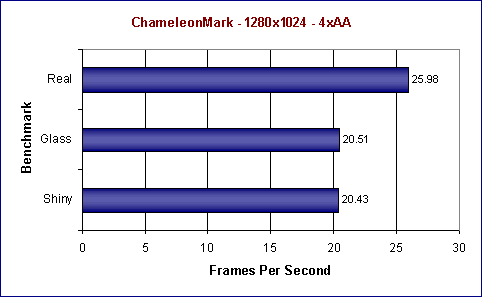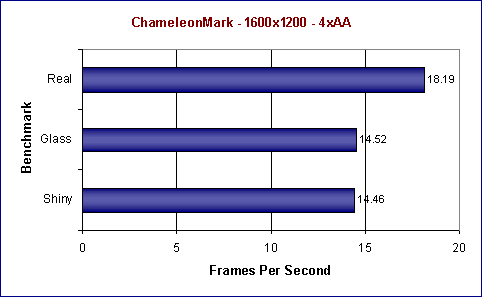 One More Benchmark
---
Code Creatures (D3D)
This is the first time we have featured the Code Creatures benchmark in a review. It seems to be a good tool to me. The program is very simple and easy to use. The test runs through some intense nature scenes that really push a graphics card and then spits out the performance results in an easy to read format. I simply ran the official benchmark and entered the results into the table you see below.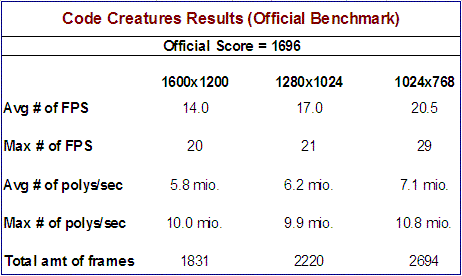 I ran this benchmark with AA disabled. Because this benchmark has not been used much yet at Bjorn3d, I'm not sure how this score compares to other cards in other systems. The total score of 1696 is pretty good for a system like mine though as far as I can gather. Scott did get about 800 points higher though with an NVIDIA reference Ti4600, an AMD XP 2100+ processor, and 512MB PC2700 CL2 RAM.
Pros and Cons
---
Pros
Lots of bang for the buck
High quality – nice heat sink and fan
Lifetime warranty with on-line and toll-free phone tech support
Free DVD software
Easy to install
Cons
No game or cables included
Conclusion
---
If you have about $220 burning a hole in your pocket and really want to see games how they are meant to be seen, then let go of your mouse and keyboard just long enough to go grab yourself one of these great cards! VisionTek consistently delivers high quality products, and they definitely continue that trend with this entry level GF4 Ti card. It seems strange in some way though to call such a high performing card an "entry level" card. You really get a lot for what you pay for with this product, and you can sleep easy at night after punishing the card with 8 hour frag fests knowing that you have a lifetime warranty and good tech support by your side. Since the features are great, the performance is great and the quality is great, you really can't go wrong with this card. I am very happy with the card, but I am really excited to see how much more it has under the hood once I get a faster processor. The considerable performance gains will make it feel like getting a whole new card all over again. 🙂
| | |
| --- | --- |
| | For its incredible performance, above average quality and nice set of features, I am giving the 128MB VisionTek Xtasy GeForce4 Ti4200 a score of 9 out of 10 and the Golden Bear Award. |