A while back I managed to break my beloved Microsoft Opti Mouse during a bout of upgradus irritatous. Much to my dismay, it was the old style ergo mouse which I much preferred over the current shaped Opti mice. I ended up needing a mouse in short order but was hesitant to drop $40 or so on another one that I might not like so I started looking at "economy" mice.
I have a Micro Innovations optical mouse that I got for about $15 at CompUSA and it's okay, but just that. It feels pretty good and seems to work well enough most of the time but every once in a while there seems to be a hitch with it recognizing button presses and I find that it doesn't have quite the same control in FPS games that my old mouse did.
So, it was while browsing the shelves of a local office supply chain that I stumbled onto the Belkin MiniScroller Optical Mouse. I was about to buy another cheapie mouse when I found the Belkin package half hidden at the far end of the shelf. I've been using a Belkin 4 port USB hub for about 6 months now and have been happy with that, and the other Belkin products we've reviewed here at Bjorn3d have been pretty good as well so I stopped to give this a closer look.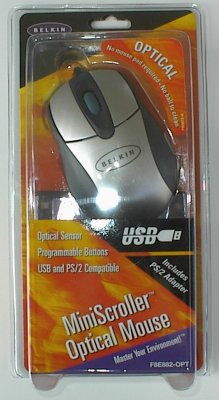 It was a smallish silver and grayish-black design that I thought would actually go pretty slick with my Toshiba laptop. I figured I could always use it with my main PC for now and then shift it over to laptop use once I eventually got another full sized optical unit.
The sleek design, compact size, and, best of all, the cheap price won me over and I had to pick one up. While the suggested retail on the MiniScroller is a very reasonable $24.95, they were actually selling in the store for only $19.99. That's about half of what the MS mouse I was looking at was running!
Let's take a look at what you get and how it performed!
Product Description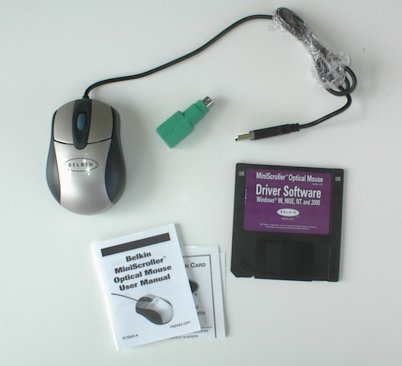 The Belkin came packaged with a USB to PS/2 connector, instruction manual, warranty card, and floppy disk of drivers.
The Belkin web site describes the product as follows:
Features:
Small and compact for road warriors.
Great for those with small hands and perfect for children.
USB or PS2 compatible.
Works with Windows® 98, 2000 and NT 4.0.
Reduced Length Cable of 2'8″ perfect for mobile users
Full Lifetime Warranty
Please note: The optical sensor functions on surfaces with visual texture. Transparent surfaces (i.e., glass) and reflective surfaces (i.e., mirrors) will diminish mouse control.
How it Performed
The MiniScroller saw use on both my desktop PC and my laptop and it was with the later machine that it was destined to stay. My Toshiba has one of those rubber nub pointers on it and, to be honest, I hate it. I don't care for track balls or touch pads much better either. Even on a mobile PC I much prefer a mouse to any other interface and I'd been looking for a compact one that'd pack in my carry case easily.
Installation of the MiniScroller went without a hitch. As it was USB device I just plugged it in and Windows 2000 Pro on my desktop machine recognized it right away. I didn't even need to look at the driver disk at all. I next tried it on the Toshiba laptop, which is running Windows ME, and it too recognized the mouse without any problems.
My first impression of this mouse was that it seemed a little small. Belkin says "great for those with small hands and children" and they're probably right. With that said, it doesn't feel bad for an average sized adult hand either. I have to grip it slightly differently than I do a full sized mouse but it's still comfortable enough. It has a good feel to it, and good response. Unlike my other mouse this one accepts mouse clicks positively and tracks well. I haven't had any problems with it using it for surfing, scrolling web pages and Word documents, or in game use.
I used it pretty extensively playing Laser Squad Nemesis which is a turn based, play be e-mail game with a mouse only interface. Generally, setting up your turn involves a lot of clicking around on the screen and full use of your mouse. The Belkin proved comfortable enough for hours of continuous use (much to my wife's dismay). I've also used it a bit playing Unreal Tournament and, while the smaller size took a little getting used to, it worked well enough. It needs a slightly different grip than a full sized mouse but other than that worked well. It seemed to permit much smoother movement and targeting than my Micro Innovations mouse did. I wish I would have thought to leave that one at home and used the MiniScroller at my last LAN party. I may have faired a little better than I did had that been the case!
The optical interface seems to be pretty tolerant of various mousing surfaces. I used it with a couple of mouse pads as well as my bare desk surface and wooden table tops and never had any problems with it picking anything up.
Speaking of picking things up, that leads me to one of the main reasons I like optical mice over thier ball operated counterparts: dirt! You don't know how sick I got of cleaning out the lint and junk from the ball sensors on conventional mice. If the optical mouse does nothing else but provide a sealed enviroment to minimize crud that'd be enough to recommend them right there!
One thing worth noting though is the short cable. Belkin lists the 2'8″ cable as being "perfect for mobile users". I don't know about perfect, but it certainly is fine for use with a laptop or notebook PC. The length would have been a problem with my desktop PC though, if I didn't already have a Beklkin 4 port USB hub on my desk. If I'd have had to plug it right into my tower case on the floor it would have been way too short. The hub on the desk shortened the distance enough though that the length wasn't a problem. In fact the shorter cable was actually a little better in that setup than a longer corded mouse is. Typically I'm stuffing excess cable out of the way when I have a longer cord plugged into the hub. With the MiniScroller, the length was just about right.
Conclusion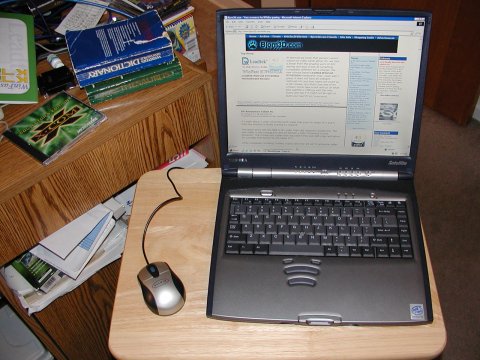 Sometimes it's easy to overlook peripheral devices such as mice, until you find yourself without a good one. I haven't had a crappy mouse in quite a while and had forgotten how miserable it is to work with one that doesn't track well and doesn't always recognize mouse clicks. Moving from something like that back to a quality product really makes you appreciate it all the more.
I picked up the Belkin MiniScroller almost on a whim, but I have to say I walked away from testing it pretty impressed. It's a well made product that performs on par with products twice it's price. It's small size and short cable may not be for everyone, but really didn't pose any problem for me. For a laptop computer, it's just about perfect and my MiniScroller has found a permanent home with my Toshiba laptop.
Pros:
– Well made
– Good performance in Internet Explorer, Office and in assorted games
– Great price
Cons:
– A little small for some users
– short cord (which is still good for notebooks and desktop USB hubs)
The Belkin MiniScroller optical mouse recieves the Björn3D Seal of Approval for great performance, sleek design and, best of all, low price.