Introduction
This is, happily, my first foray into ATI's world since the Rage chipset.  I was extremely excited to test this product as there is a lot of buzz on the net about happy Radeon users.  Given the street pricing of Hercules 3DProphet FDX 8500 LE cards (~$150), it certainly appeals to my Bang-for-the-Buck theory of 3D accelerators…Especially since this chipset includes DirectX8.1 support in hardware and something else I've actually missed since my S3 days: Environmental Bump Mapping.  Unfortunately for ATI, there is also a lot of buzz around the net about driver failings.  I've never been able to take a stance on the subject of buggy drivers since I've never used a Radeon equipped video card until now.  In this review, I'll look at both 2D and 3D performance of the Hercules 3DProphet FDX 8500 LE 64MB AGP video card utilizing the ATI Radeon 8500 video processing unit.
OK, So Hercules has jumped the proverbial nVIDIA ship?  Given the above mentioned features and pricing, and the glut of nVIDIA card manufacturers in the market, perhaps it was a wise move.  Only the reviews will tell.  On a personal note, I want to add that YES Bjorn3D is an nVIDIA affiliate which smacks of bias but I must also add the we few Bjorn3D workers are unpaid labor.  We do this stuff because we love it and healthy competition is the only thing to keep corporations honest.  To me, this work is a never ending search for the best Bang-for-the-Buck hardware on the market, which IMO the 3DProphet FDX 8500 LE is in direct competition for.
Specifications
Hercules reports the following specifications for the Radeon 8500 chipset:
·        250MHz core frequency
·        Hyperz II:  ATI's trademarked, second generation Hidden Surface Removal architecture which permits the video card to more efficiently utilize it's available memory by attempting to eliminate needless rendering of un-rendered scenes in 3D applications.
·        Smartshader: ATI's Pixel Tapestry II, second generation vertex and pixel shader engine which is the heart of the DirectX8.1 hardware support.  Up to 6 blended textures in a single cycle are possible.
·        Charisma Engine II:  ATI's Full Transformation, Lighting, and Clipping engine in it's second incarnation.  T&L has been incorporated into just about every recent 3D game.  The Radeon 8500's Charisma Engine II can process up to 75million triangles/sec.
·        Smoothvision:  ATI's antialiasing engine which uses the traditional multisampling approach.  AA levels from 2x to 6x can be selected in 1x intervals.  Note that ATI forces limiting resolutions for a given AA level (1024×768 max at 4xAA, noAA at 1600×1200).
·        Truform: algorithms for smoothing triangles into curved surfaces.
·        Video Immersion II: A nice feature: Hardware HDTV decoder and DVD playback.
·        TV and DVI encoders in hardware.
The card is a standard sized AGP card.  The heatsink utilized by Hercules is a common circular aluminum sink with a clip-on, recessed fan.  It's not a particularly robust cooling solution but it remained cool through my testing.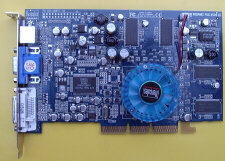 The memory is 4 nanosecond DDR-SDRAM.  4 ns stuff is rated to 250MHz. The DDR-SDRAM is placed on both sides of the card, which is a common practice to save real estate and it stream lines the routing of the memory connections.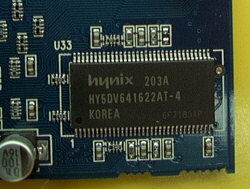 The Radeon's Video Immersion support is via  on-board ATI Rage Theatre chipset.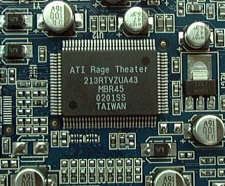 The edge connections include (from left to right in the picture below) TV-out, VGA out, and DVI output.  These connections are gladly becoming more common.  Note too that the Hercules 3DProphet FDX 8500 LE can utilize these ports in multi-display configurations.

Installation
I've started with a fresh installation of Windows 2000 Professional SP2.  I didn't want any potential for remnant video drivers to corrupt the performance of the 3DProphet 8500.  I've also utilized Hercules' latest available drivers (version 7.6.6).
The test system is my standard Intel P4-1.6GHZ rig:
·        ECS L4S5MG Socket 478 motherboard
·        200W Enhance mATX power supply
·        Pentium 4 1.60GHz w/retail cooler
·        256MB OCZ PC2400 2-2-2 DDR SDRAM
·        3COM 3C905C NIC
·        Hercules Gametheatre XP audio
·        Maxtor 40GB 7200RPM ATA100 hard drive
·        Pioneer 40x16x DVD-ROM
·        LiteOn 24x10x32x CD-RW
The driver CD supplied by Hercules includes several applications which I also tried out since a few of them are intended to aid in tweaking the video quality.  These include E-color and Hydravision.  Hydravision is used in worked with multi-displays.  This review does not address the multi-display aspects of this video card.  The most interesting app. is E-color.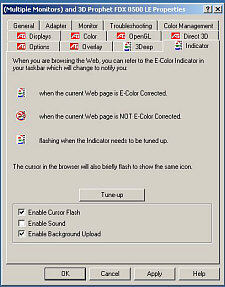 E-color, upon installation, runs through a few chromatic screens which prompt you to adjust the monitor brightness and select best matched colors in order to optimize the 2D/Windows display.  E-color also works in an active sense when certain windows are opened, such as IE, to try and optimize the graphics shown in the window.  As you can see (barely) in the above picture, E-color pops-up a different icon adjacent to your mouse pointer based upon E-color's activity for the given window.  The good old crossed-out circle represents that E-color has not optimized the window, etc.  ON a personally level, I found the pop-up cursor to be more of a nuisance than any potential video quality improvement offered by the software.  Also, the settings made during E-color set-up forced my brightness down to a level lower than I prefer…This especially impacted gaming where gamma or brightness had to be greatly increased to make the game presentation palatable.  
Under the Additional Display properties for the Radeon, I found that the customization features for gaming were very well laid out and easy to use. The Direct3D (below) settings include nice and simple radio buttons for vsync, compressed textures, and more.  The lower buttons provide pop-up windows for SMOOTHVISION, with a slider selection for antialiasing, and Anisotropic Filtering, which is also controlled by a slider.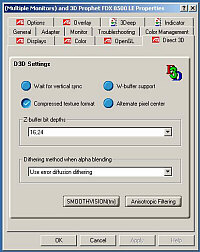 The OpenGL tabi is similar.  For the faint of heart, there are quick buttons for "Quality" or "Performance" oriented settings.  This may be useful for quick tweaking for more or less demanding OpenGL games.  The SMOOTHVISION and filtering buttons are also available here and may be set separately from the D3D settings, which is a very nice feature.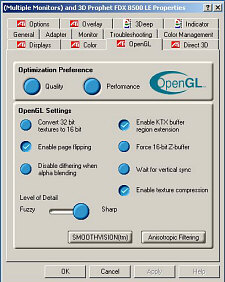 The Displays tab incudes a very nicely laid out set of controls for setting up multiple displays.  The numerous quick set buttons make this the easiest configurator that I've come across.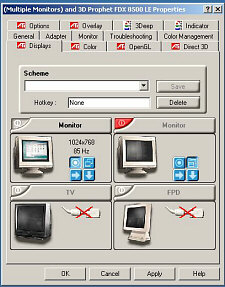 Hercules and ATI has done quite a job with these display applets.  Everthing you could want to to tweak is included in here.
ON to the next page….2D Performance
 2D/Windows Performance
Windows performance was flawless (for the most part, read on).  Colors were excellent and sizing/dragging windows was fluent.  To my untrained eye, the E-color application made no noticeable difference when on or off with my Hitachi CM771 19" monitor.  This may not be true for other people who might work heavily in graphics development or some other similar field. 
PROBLEMS: 
At start-up of Win2k, I have several applications that load, like most people.  Perhaps I have too many because I often become impatient and try to get an IE window or Windows Explorer open while Windows is still initializing all of the task bar applications.  The following desktop image shows what happens quite often when I'm trying to work with windowed applications while the system is partially busy but still accepting input:
 Remnants of previously open windows become stranded as a part of the desktop background.  These errors remain until I open a new window that overwrites that area…very annoying.
Unfortunately, the Hercules 3DProphet FDX 8500 LE also had some serious issues when working with DirectX applications in windowed modes: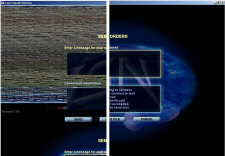 Laser Squad Nemesis is a great, little play-by-e-mail game that I've been playing often.  The game works by receiving a file attachment via e-mail.  Double clicking on the file loads the game.  You perform your turn then e-mail the turn results back out through the game interface.  Playing this game and using Yahoo e-mail forces me to switch between windows (LSN and IE).  After having completed my turn and telling LSN to send my turn, I typically switch to the IE window to download my next turn and start the cycle over.  The above picture (left side is 3DProphet, right side is GF4 Ti4200) shows what happened when I switched back to LSN to check on how my e-mail transfer was going. 
I had a similar error when I test ran the game demo, MDK2, where my entire start menu became suspended in the middle of the screen, due to the resolutino change made by DirectX: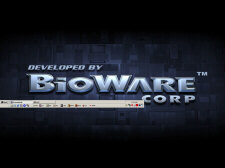 I'm assuming this is all a driver issue as I haven't had any problems like these since my S3 Trio days and I certainly haven't had these problems on this system.
Anyway, on to the 3D tests……
3D/Gaming Performance
For gaming performance, I've tested the Radeon against a nVIDIA Reference Geforce4 Ti4200 64MB AGP card w/27.30 drivers.  The Radeon 8500 is in direct competition with the Ti4200 since they are of similar price (~$150).
3DMark2001SE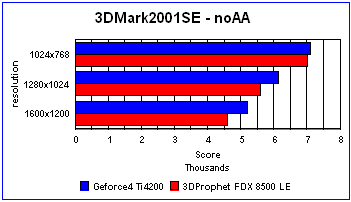 3DMark2001SE is now a DirectX8.1 3D test, which both the 3DProphet and the GF4 Ti4200 support in hardware.  Without antialiasing, the 3DProphet FDX 8500 LE performs well at lower resolutions.  As the resolutions climb, the Ti4200 establishes a 10-15% lead.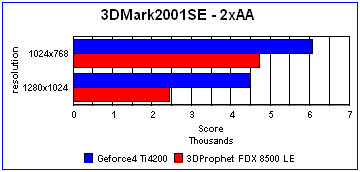 When antialiasing is enabled, the Ti4200 pulls away with a commanding lead.  However, 1024×768 w/2xAA is still quite playable on the Radeon with a score near 4700.  At 1280×1024, the Radeon dives below 2500 points and is marginal for a video card of this price range, IMO.
Quake 3 Arena
Q3Bench was used to test Quake3Arena version 1.30.  Sound is enabled and all video quality settings are maxed (32-bit colors and textures, max texture quality and trilinear filtering).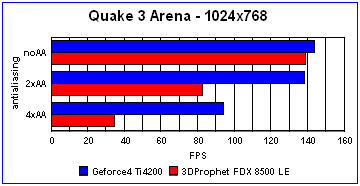 Once again, the Radeon performs on par with the Ti4200 at 1024×768 w/o AA and the Radeon drops off quickly as antialiasing is increased.  After having looked at both and OpenGL and DirectX benchmarks, it appears that ATI hasn't put as much effort into optimizing their drivers to aid in antialiasing as nVIDIA has, unfortunately.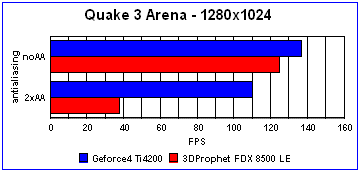 1280×1024 is a similar story.  Going from noAA to 2xAA shows a whopping 60% performance drop!  However, Q3 is still playable at 38fps with 2xAA enabled.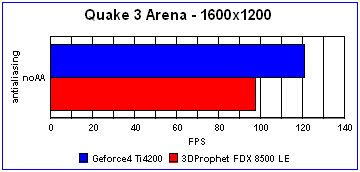 1600×1200 shows excellent performance by both cards, without AA.  Unfortunately, ATI's drivers won't perform AA at 1600×1200 (Similarly, 4xAA isn't possible at 1280×1024).
Commanche 4 Demo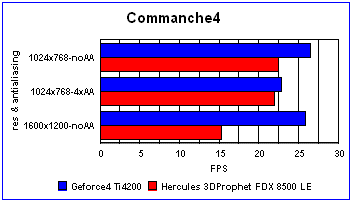 The latest DirectX8.1 benchmark is the Commanche4 demo.  As can be seen from the frame rates, it's a demanding test with a considerable number of triangles and detailed lighting.  A departure from the previous testing shows the Radeon holding steady between noAA and 4xAA at 1024×768.  However, all but 2 of the above scores are above the 24fps level which is where visual stuttering will become apparent.  The Radeon has lost it's steam by 1280×1024.  This benchmark may prove better with a higher power CPU to help bring these scores up a few frames.
Return to Castle Wolfenstein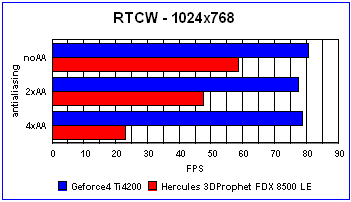 RTCW is great game with very detailed textures.  At 1024×768, the Radeon performs well with even 2xAA enabled.  Unfortunately, the Ti4200 really seems to like RTCW with frame rates well above 70fps while the Radeon drops off quickly with increasing antialiasing.
So, what can be said about the Radeon 3D performance?  The 3DProphet performs adequately but I've become accustomed to using antialiasing in all my gaming, which the Radeon doesn't appear to handle overly well.  On the brigh side, visual quality in all four of the games tested was excellent.  Picture quality was noticably different (I can't say it was better than other, similar cards I've tested recently but it was pleasing to see well rendered scenes in all tests) and it was nice to finally see the Environmental Bumpmapping test in 3DMark2001SE. 🙂 
Beyond the benchmarking games, I wanted to test a SLEW of games with the 3DProphet, in search of the claimed driver glitches of ATI.  I tested just about all of the games in my inventory, from DirectX6.1 to the latest fare. Here's a list of games tested:
SportsCar GT, PowerSlide, Starfleet Command, Tribes2, Quake1, Quake2, Heretic II, Half-Life, MDK2, Myth, Freedom Force Demo, Mechwarrior 4, Crimson Skies, IL2 Sturmovik, Serious Sam, Unreal Tournament, and Baldurs Gate. 
ALL worked fine (except for the slight D3D glitch with MDK2, mentioned on Page 2 which didn't impact the game play)!!!  I expected worse but was very happy to see it work with everything.  ALSO, note that in IL2 Sturmovik and in Mechwarrior4, I'd even to go so far as to say the picture quality was better than what I'm used to.
With that said, let's look at my conclusions…
Conclusions
After having the opportunity to work with the Hercules 3DProphet FDX 8500 LE, I come away with mixed signals. 3D game picture quality was excellent and ATI should be commended for their efforts on that front. However, actual gaming performance, especially with antialiasing enabled, leaves a bit to be desired for a $150 3D accelerator. Additionally, the 2D/Windows anomalies were disturbing to say the least. With a fresh installation of Windows2000, I would have assumed that any late generation video card would be above windowed DirectX issues. On the plus side of things, Hercules'/ATI's provide excellent adjustability via the display properties.
In the end, I can't give the Hercules 3DProphet 8500 LE more than a 7.5 out of 10. Regardless of picture quality, the average gaming performance and Windows glitches leave me wanting more.