Finally We Have a Way to Gauge Real Time Ray Tracing Performance
So, you want to see what your new RTX or ray tracing capable can do? Don't have the time or skill to plot a run on the only real ray tracing title (Battlefield V) available as of now?
3DMark is finally updated with its newest benchmark designed specifically to test real time ray tracing performance.


Now 3DMark formally owned by company Futuremark is now wholly owned by UL. The benchmark we are looking at today is Port Royal, it is the first really good repeatable benchmark I have seen available that tests new real time ray tracing features.
This does of course have some caveats in the fact that it can only be tested on card which are considered "real-time ray tracing capable".
This means you cannot test it on any Pascal based cards I tried and is almost solely available on Nvidia RTX parts. Almost being that I got it to run on a TITAN V. Running on a TITAN V might be a bit of an understatement as it did not do well and I can only assume that it lacks the RT cores which are the magic sauce cooked up by Nvidia in the RTX entries that perform the real time ray tracing work.
The fact that I got the TITAN V to do it at all I guess we could say it speaks volumes to the immense horsepower of the GV100 to take on that workload which it was not intended for as the GV100 was made for ML/DL via its Tensor core based design.
What does Port Royal Look Like?
Here we can see a few screenshots of the new Port Royal benchmark.
Here you can see it has a very spaceship or almost a strong familiarity to a game like No Mans Sky. It is a visually nice looking benchmark and not super long while showing some really nice lighting and reflection effects. Which is of course what real time ray tracing is designed to do.
Our Test Bench?
Test Rig

Case Type
Dimastech Easy XL
CPU
Intel Core i7 8700K (Amazon)
Motherboard
ASUS Maximus X Formula (Amazon)
RAM
32GB (4x8GB) Corsair Vengeance LED 3200MHz C15 (Amazon)
CPU Cooler
Thermaltake Floe Riing 360 (Amazon)
Hard Drives
Samsung 960 EVO 512GB M.2 2280 NVMe (Amazon)

Samsung 860 EVO 4TB SATA  (Amazon)

Optical
LG BD-RW BH16NS40
GPU
Nvidia GeForce RTX 2080 Ti Founders Edition

Nvidia GeForce RTX 2080 Founders Edition

Nvidia GeForce RTX 2070 Founders Edition

Zotac RTX 2070 Mini

Nvidia GeForce RTX 2060 Founders Edition

Nvidia TITAN V

Monitor
ASUS PG27AQ 4K 60Hz GSYNC (Amazon)
Case Fans
1 x 140mm Mosfet / CPU / RAM cooling fan
1 x 140mm PCI-E Cooling Fan
Docking Stations
None
Testing PSU
Thermaltake XT 1475W Gold (Amazon)
Legacy
None
Mouse
Logitech G502 (Amazon)
Keyboard
Logitech Pro eSPORTS Keyboard (Amazon)
Note – we received a commission on any purchases made via any Amazon-link here.
Enough with the Fluff, how does the performance stack up?
We tested every card we had on hand to see exactly how stressful the new Port Royal benchmark is for new real-time ray tracing capable card.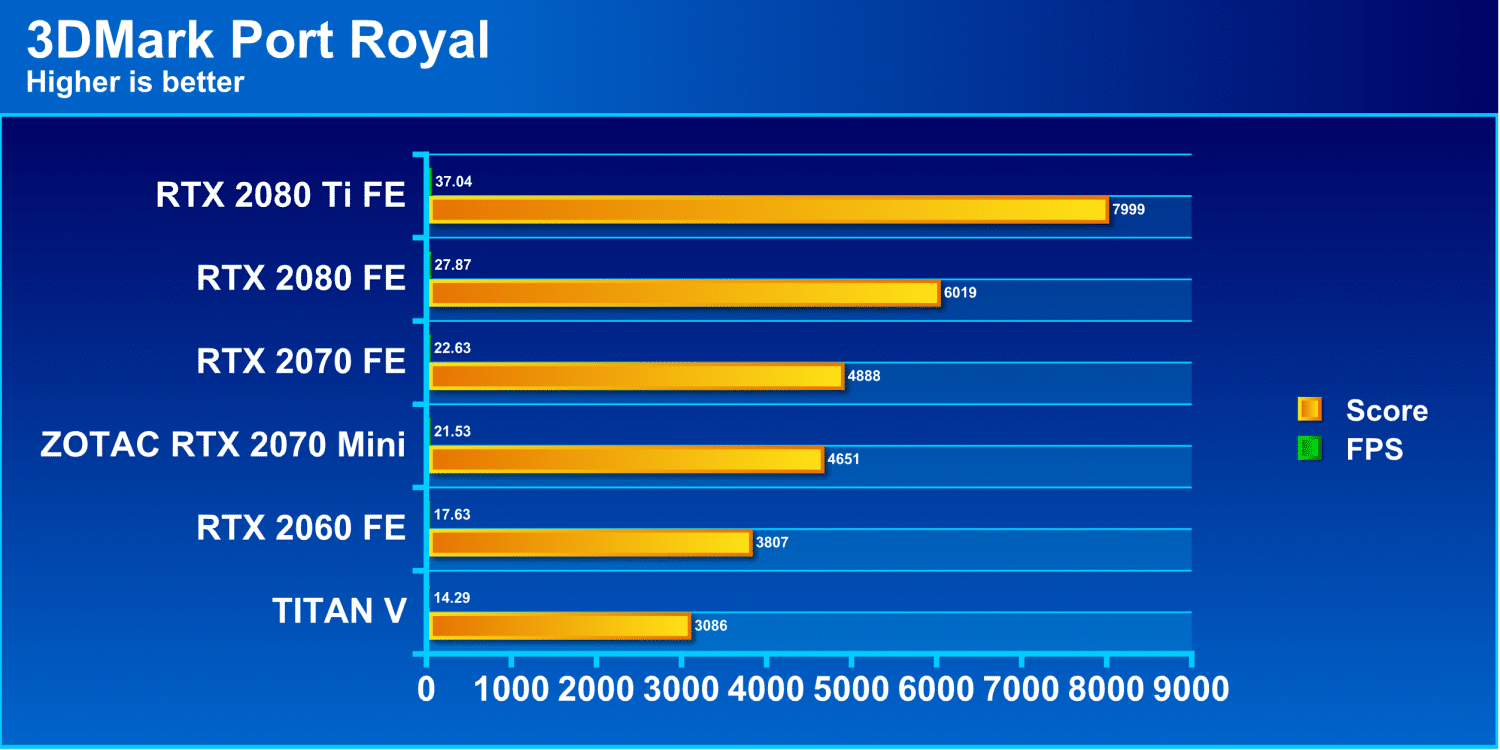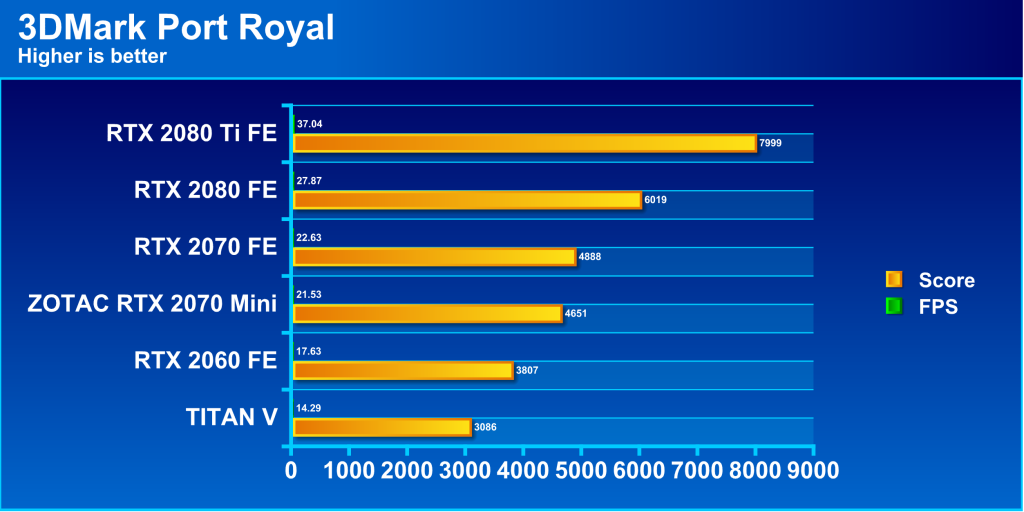 As you can see here, rough is the word of the day with Port Royal. This shows that it brings even the mighty 2080 Ti to its knees. This is likely the worst case scenario for ray tracing and im ok with this as this sets a really high bar for future products.
The benchmark is no joke watching it you can see the cjhop especially when you get down to RTX 2060.
I am really looking forward to see when we get a card that can pull a fluid framerate on the new Port Royal, but for now we have a repeatable benchmark to see exactly how hard you can beat up your GPU doing some real time ray tracing.
Let us know what you think seeing a benchmark that makes even the fastest gaming GPU on the market hit below 40 FPS?